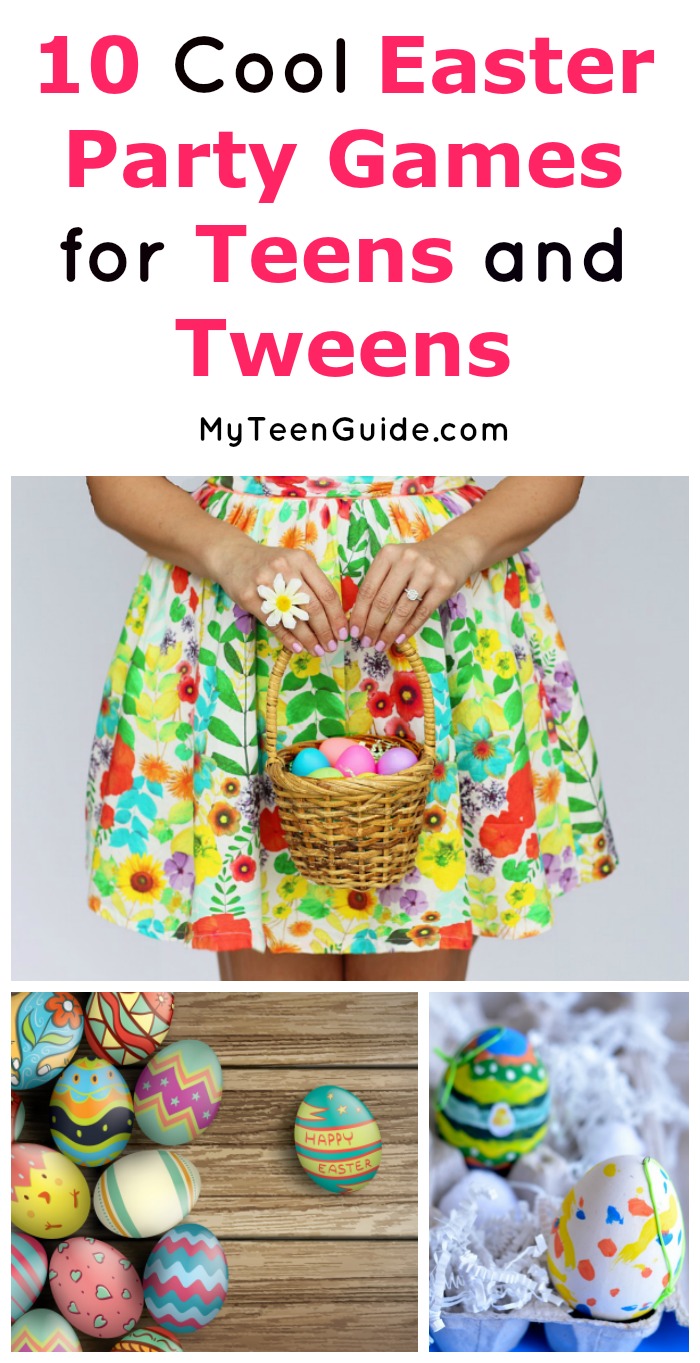 Looking for fun Easter party games that teens and tweens will love!
We've got you covered!
Whether you're throwing a huge neighbor Easter block party or a smaller event for just friends and family, these cool games will liven up your bash!
Easter Party Games for Teens and Tweens
This post contains affiliate links. We earn a commission if you make a purchase.
1- Easter Egg Toss
A plain old egg toss game is a fun choice for an Easter party if you can take it outside.
Serve up plenty of hard boiled, decorated Easter eggs for the game and perhaps mix a few decorated raw eggs in as well for some extra fun.
Pair up teens with each pair standing face to face, and have them toss eggs back and forth, trying not to drop them.
Teams that drop their egg are eliminated. To add a little more difficult, each person should take one step backwards away from their partner each time they catch an egg.
If you want to add some more drama to the game, have team members toss the egg across to their partner, then pass it to the person on their left.
Keep going until one team is left, then allow the two team members to toss their egg back and forth until one person misses.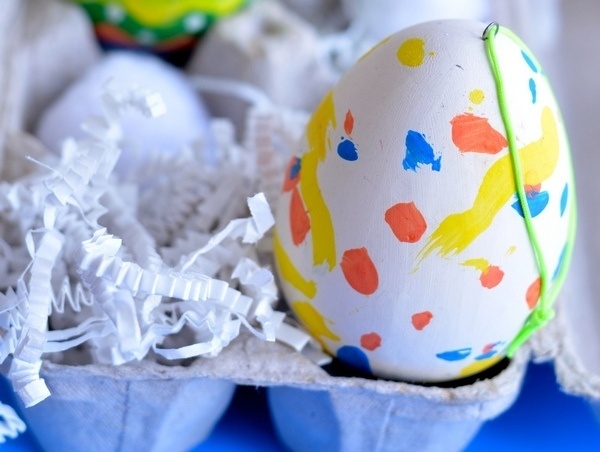 2- Egg Taboo
At the beginning of the party, give each person a small basket with a specific number of plastic eggs.
You can use any size basket and eggs you wish, but each person will need to keep their basket with them throughout the party.
Instruct everyone to pay attention to everyone else during the party. Choose an action or word that needs to be taboo.
It could be crossing legs while sitting, saying the word "Easter" or something else.
If someone observes another person doing the taboo action, they collect an egg from that person's basket.
At the end of the party, the person with the most eggs wins a prize.
3- Easter Egg Charades
Fill plastic eggs with papers containing specific actions or activities that can be acted out.
Have each person take a turn by grabbing an egg then acting out what is on the paper inside.
Give each person one minute, then the person who guesses get to take the egg from the person acting out or if nobody guesses, the actor keeps their egg.
At the end of the game, the person with the most eggs is the winner and gets a prize.
You need some ideas, don't you? Well, here are some word ideas from The Game Gal, Cul de Sac Cool and Thought Co.
4- Easter Egg Hunt
Kids of all ages — even teens — enjoy hunting Easter eggs.
Make it a little more interesting by adding fun prizes for teens in plastic eggs and putting a time limit on the hunt.
Add a little extra challenge by allowing each person the ability to steal no more than one egg from each person who is hunting — but they can only keep the stolen egg if they are not caught by the person they are stealing from.
For more ideas, check out these Extreme and Hard Easter Egg Hunt Ideas from Holidappy.
5- Easter Egg Bowling
You know that teens love bowling, right?
Well, why not put an Easter twist on the game!
To start with, have the teens color and decorate some hard-boiled eggs, leaving one of the eggs white.
The white egg is used as the bowling pin.
Then, players roll the eggs and try to get the closest to the white egg, without touching it.
6- Capture the Egg
Another game that is a favorite among teens is Capture the Flag.
Well, Capture the Egg is a fun twist on that popular game.
To play, you'll need to have 8 plastic eggs- 4 red ones and 4 green ones. Start by dividing everyone into 2 teams.
Then, give one team the red eggs and the other team the green eggs and have them line up their eggs.
The object of this game is to try and capture the other team's eggs, without being tagged.
If a player is tagged, they are out of the game!
Check out this Capture the Flag video for ideas:
7- Bunny Sack Race
Teens are never too old for a good old-fashioned sack race!
And Easter is the perfect time for a Bunny Sack Race.
All the players, standing inside a sack, line up at a designated start line. When the race begins, players start hopping towards a designated finish line.
Any player who doesn't stay inside their sack is out of the game.
The player who crosses the finish line first wins the game.
8- Spring Showers
This game is a ton of fun, but I do have one piece of advice you'll want to play this game outside because things are going to get messy!
For this game, you are going to need 2 shower caps, 2 cans of whipped cream and 2 bags of Cheetos.
Next, one person from each team puts on a shower cap and then squirts whipped cream over the shower cap.
The other players need to try and get as many Cheetos onto the shower cap as possible.
The team with the most Cheetos wins!
9- Easter Egg Push
This is one of the most hilarious Easter games I have ever played!
Okay, so you are going to need some eggs, a designated start line and a designated finish line.
To play the game, all the players line up at the start line and the object is to get their egg to the finish line, using only their nose!
The first player to do so is the game winner.
Hey, just because you have a teenager or two in the house, doesn't mean they can't enjoy playing Easter party games!
No, Easter party games are not just for young children!
Teens will love playing one or all these cool games this Easter!
Do you have any favorite cool Easter party games? Share below!