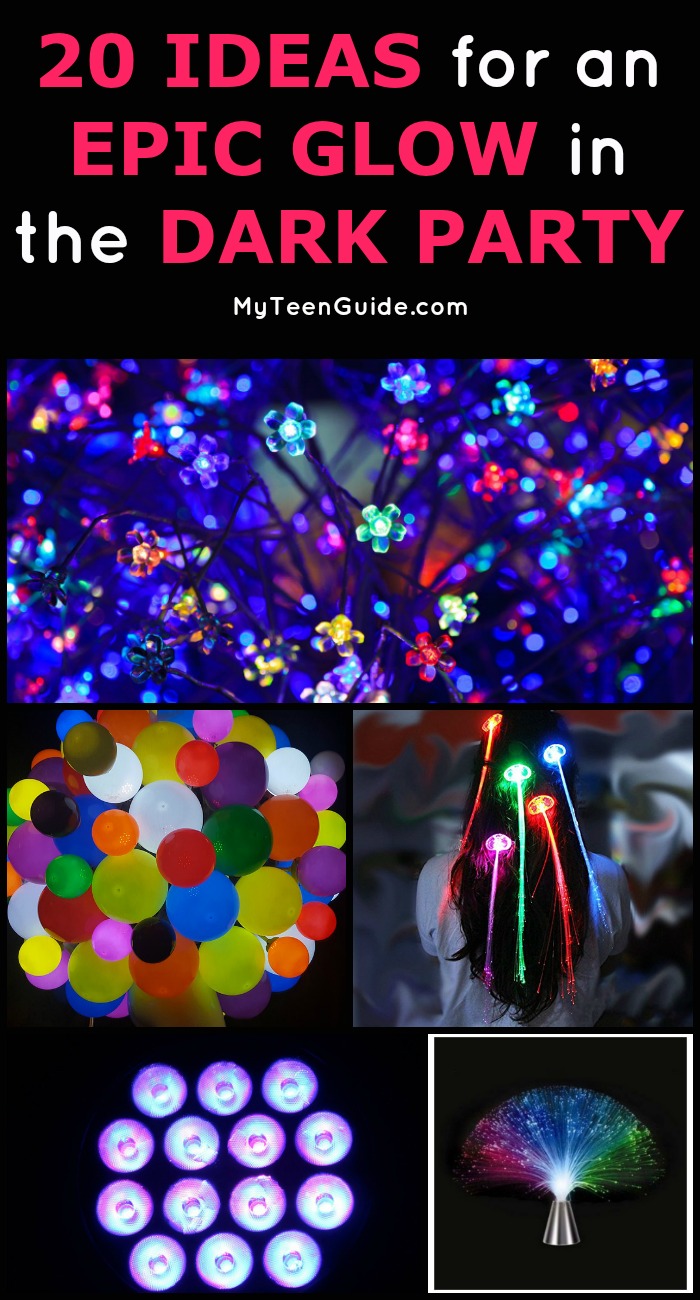 I have been looking for a way to help a friend celebrate her birthday, and we just came up with the most amazing idea for a glow in the dark party!
What better way to celebrate my friend's sweet 16 then with all her closest friends surrounding her glowing!
Here are some of the ideas we have rounded up so far.
Get our complete guide here ►►Your Complete Guide to Glow in the Dark Tween Birthday Party Ideas
Ideas for a Glow in the Dark Party
This post contains affiliate links. If you make a purchase through these links, we will earn a small commission at no extra charge to you.
1. Invitations
Customize and send online– With this Glow in the Dark Party Invitation, you can customize things like event details and guest list, before sending the invitation online.
Customize and print– With this Let's Glow Crazy Neon Paint Invitation, you can customize with your choice of 12 paper types, 6 shape options and 2 printing options, before printing out.
Ready-made invitations– These Glow Party Invitations come in a package of 8 invitations and envelopes. Just add party details!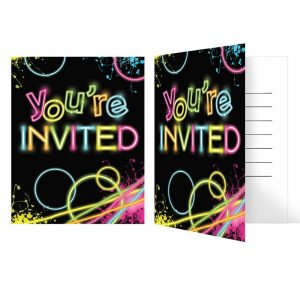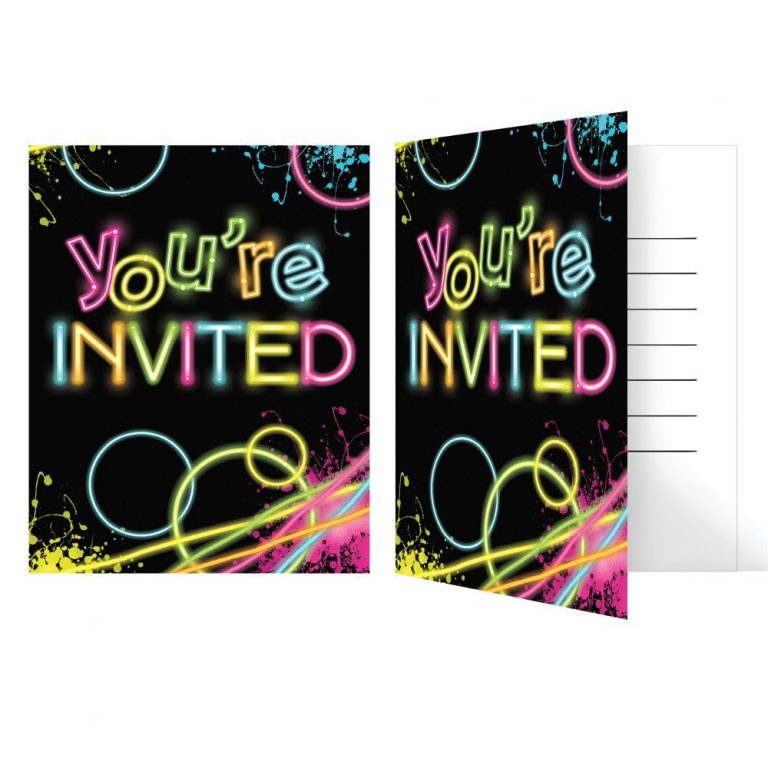 Decorations
2. Lots of glowsticks
So, the first thing we absolutely need to get this party started.
We decided that if we invested in a combo pack or two that will totes get us started.
I especially love that this party pack of glow sticks has lots of bracelets and necklaces that are going to make for fab pictures!
If you have extra glow sticks, break a couple of them and put them inside balloons for fun glowing party décor.
Grab the Etekcity 100 8″ Glow Sticks Lights Bracelets Necklaces Party Favors here.
3. Lighting
Next, we started thinking about how we were going to decorate the space. I love this rainbow twirling disco light.
Turn this light up and fire up your music and this party will ah-mazing!
You can pick up the Rotating Rainbow Strobe Light here.
Black lights are another must if you are throwing a glowing party.
I would suggest picking up a couple for the room, as the diameter of those lights only reaches so far.
A couple of these 24" Black Lights With Fixtures would help light up your place.
There are also black light bulbs you can put in regular light fixtures, but most of them seem to have not so great reviews for the reach.
I think I'm going to stick to the longer lights.
Custom neon signs uses low energy.The service life is more than 100,000 hours. No heat or noise.You can set your custom neon signs, is a kind of can change color, flashing neon signs, neon lights are not limited to any square or rectangular shape, this series of LED neon signs and light adopts LED high-effect, brighter, use cheaper and cheaper to buy. Super high quality LED neon signs, durable and bright!
Just enter the text and choose the font, color, and size to create your own logo.
4. LED beach balls
Your glow in the dark party will shine brightly with these huge LED beach balls.
These balls are 24-inches in diameter and can float around the party area.
5. Tape lights
Your glow in the dark party will light up with these Ultra Bright Tape Lights.
These tape lights, which can be set to have the lights fade, flash, slow color change, steady single colors or strobe, comes with a remote control and a wall plug.
Check out this video for some cool designs to make with your tape lights:
Want to play games? Try these ► 5 Incredible Party Games to Play in the Dark This Summer
Tableware
6. Fiber optic centerpiece
This Fiber Optic Party Table Centerpiece, lights up in blue, jade and red LED colors. Gorgeous, isn't it?


7. Neon plates and tumblers
Your glow in the dark party tables definitely need these Black Light Neon Plastic Lunch Plates, which come in blue, green, orange and pink, as well as these Black Light Neon Plastic Tumblers, which come in blue, green, orange and pink.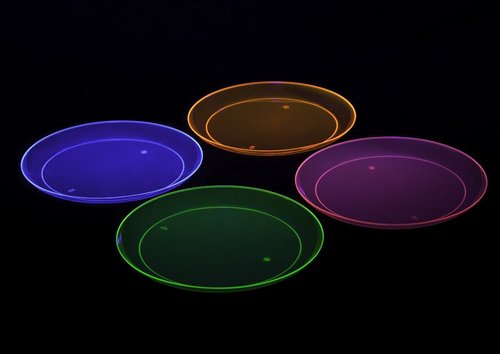 Food & Drink
8. Glowing Jell-O
When making a regular Jell-O recipe, instead of using plain water, use tonic water instead.
Tonic water contains quinine, which glows when exposed to black light.
Check out this tutorial:
9. Glowing Rice Krispies treats
Since the marshmallows in the Rice Krispies treats are white in color, they will stand out and glow under the black light.
10. Glowing lemonade
Making lemonade that glows in the dark is easy. In a punch bowl, add cold tonic water and powdered lemonade mix.
You don't want to add ice since it will dilute the tonic water.
Activities & Games
11.Glowing hair
OMG you guys, these clip-in hair lights are so perfect!
My friends would have so much fun with these little clip-in strands.
They come in so many pretty colors, and they flash. They will be such a hit at the party!
Check out the RioRand Light Up Strands here.


12. Shirts all around
So, we decided that it would be fun if everyone wears white t-shirts since they show up so well under backlights.
Rather than just tell everyone to wear a white shirt, I thought it would be fun if we gave them the shirts and then also passed out these black light permanent markers.
We can sign each other's shirts and draw all kinds of fun designs with these markers that will glow under those backlights I picked up.
Pick up the Blacklight Reactive Electric Fabric markers here.


13. Glowing sand
Following the easy instructions here, you can make your own Glow in the Dark Sand, using only Epsom salt and fluorescent paint.
14. Glow treasure hunt
This is basically just like an Easter Egg hunt, but with glow sticks instead of eggs.
15. Glow in the dark bowling
For this game, you'll need 10 water bottles, 10 glow sticks in an array of colors and a soccer ball.
Break the glow sticks, to activate them, and add one to each water bottle.
Then, line up the water bottles like bowling pins and have the players use the soccer ball to play the game of bowling.
Have glow sticks? Try these ideas ► 10 Cool Things to do with Party Glow Sticks
Party Favors
16. Glowing glasses
We decided we needed to up our selfie game with some fun glowing glasses.
These Aviator style glasses are perfect and come in so many fun colors!
I will be the one wearing either the pink or the turquoise glasses at the party, I just cannot decide!
Grab a huge pack of 50 Aviator Glow Eyeglasses in 8 colors here.
17. Glowing bracelets
These 8-inch glow sticks make Multicolor Glow Bracelets, in 5 assorted colors- blue, green, pink, purple and red.
18. Feather boas
Party guests will love taking home these 72-inch-long Black Light Neon Feather Boas.
19. Neon wigs
Spice up your party with these Glamorous Black Light Neon Pink & Green Wigs.
They make awesome party favors for all your guests to take home with them.
20. Glow masks
This 8-pack of Glow Masks, features 2 glow bat masks, 2 glow butterfly masks, 2 glow fox masks and 2 glow Mardi Gras masks.
With these ideas, I know we're going to have the most epic glow in the dark party ever.
Dare I say it will be the bash of the year?
What do you think? Have you ever thrown a glow in the dark party? Share your tips below!