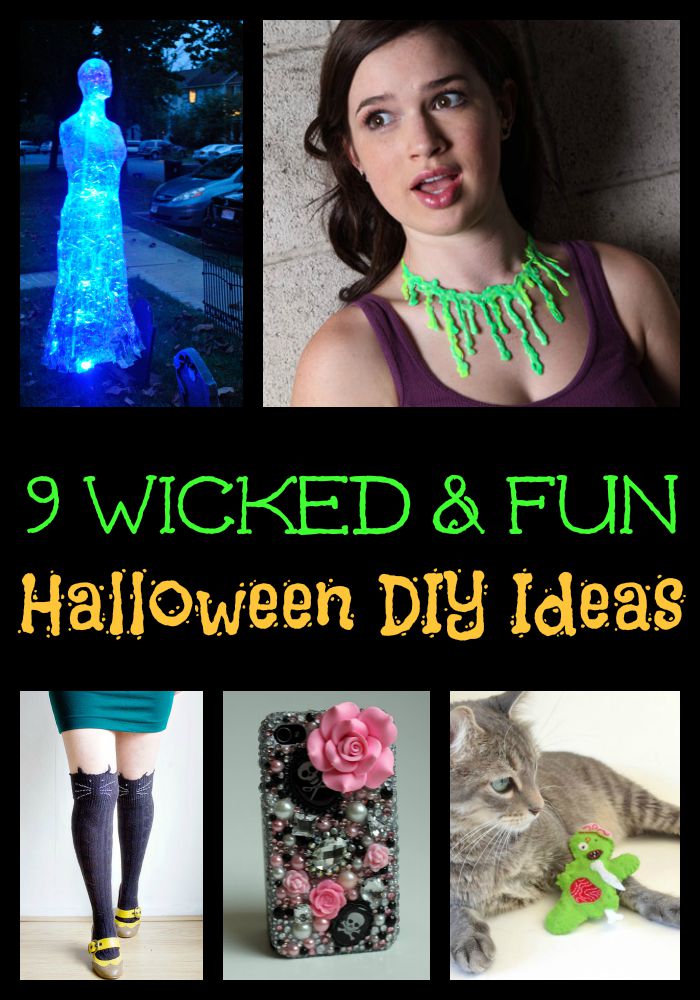 Hello all my lovelies! Halloween is one of my fav holidays, it is so much fun! I have rounded up some DIY projects that are on point for Halloween this year. I need to make all of these!
Halloween DIY Ideas
Related: 5 Best Nail Art Designs On Pinterest for Back to School
Zombie Cat Toys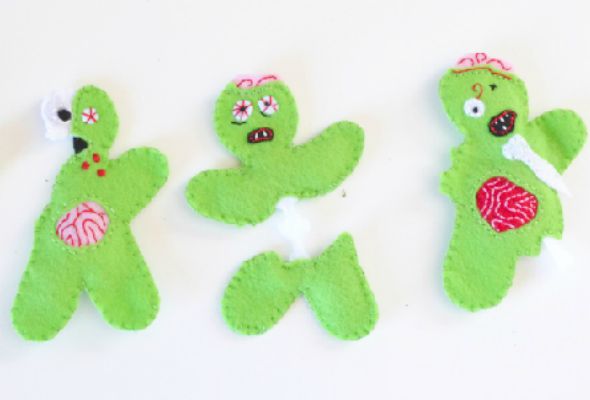 ZOMG, I love Zombies. If you have some kitties and can sew even the littlest bit, you need to try making these Zombie Cat Toys from Dream A Little Bigger. The best part is these can totally be customized. It totally does not matter if your stitching is straight as Zombies are supposed to look like they got ripped apart anyways.


Slime Necklace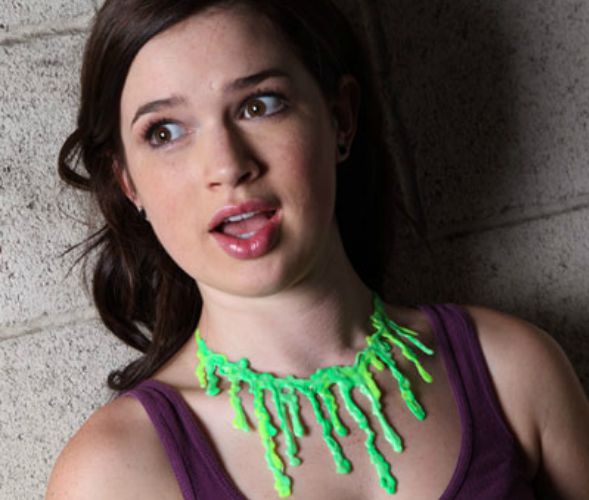 Here is a cool Halloween accessory you can easily DIY. I love this Spooky Slime Necklace over at I Love To Create. This looks so super easy to create your look, and you can make it as bold as you like. This is an amazing way to add a little splash of Halloween, plus with the right paint it will glow in the dark.
Sparkly & Spooky Phone Case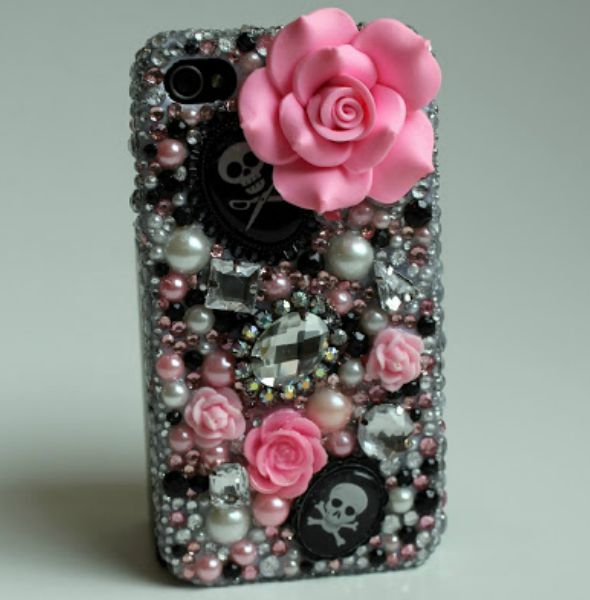 Give your cell phone (or even your tablet!) case a full makeover for Halloween with the Rock Your iPhone DIY case detailed over at Crafting Rebellion. If you like a little glitz sprinkled into your Halloween, then you need to make this phone case. I love how they mixed just the right amount of sparkle with a few undead touches. I could see myself going a bit crazy at the craft store, so make sure you scavenge for freebie decorations to add at home first.
DIY Cat Socks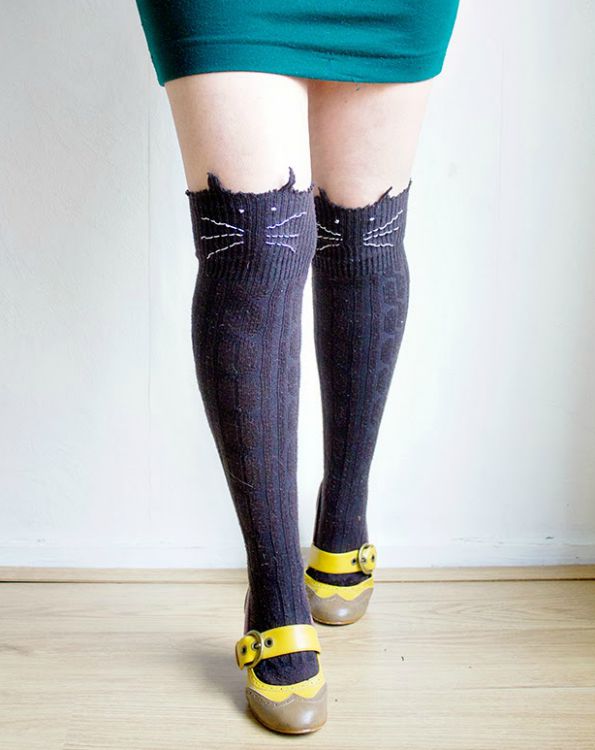 Give your style a Halloween look with these totally fab DIY Cat socks with full instructions over at Lana Red Studio. You can upcycle an old pair of socks into these darling cat socks in less than 15 minutes. These are perfect when the temperature starts to dip just a bit.
Creepy Spell Books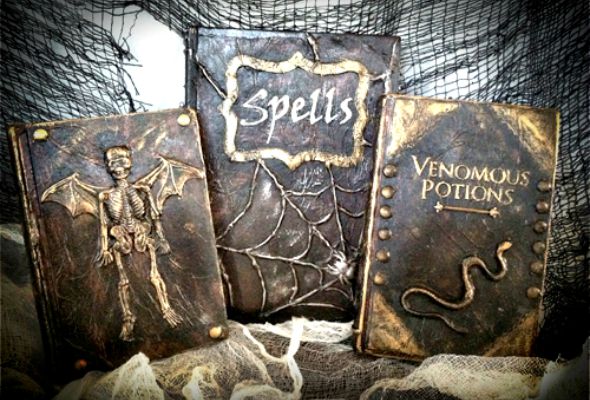 These creepy books would complete so many costumes, and would totally slay as a Halloween decoration. Check out the full Creepy Book Tutorial over at Better After. I absolutely <3 the cheapie decorations they turned into a bat skeleton. You need to make an awesome spell or potion book stat.
The Award Goes To…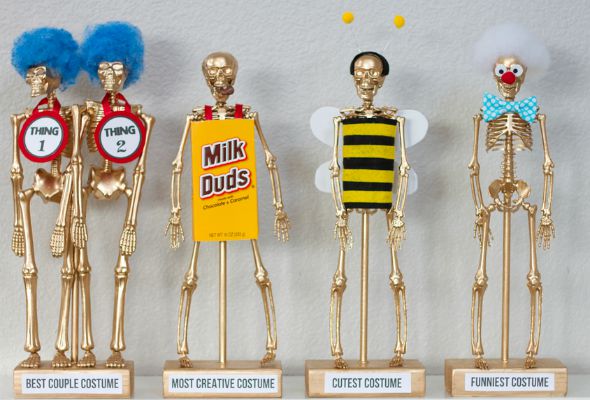 If you plan to have a Halloween party, you need to make this next DIY project. These creepy yet adorable Halloween Trophies over at Make It & Love It are THE perfect award to give out for your costume contest. These are totally customizable, so get creative with your categories!
Related: Make Your Mockingjay Party A Hit with Hunger Games Cupcakes
Duct Tape Pumpkins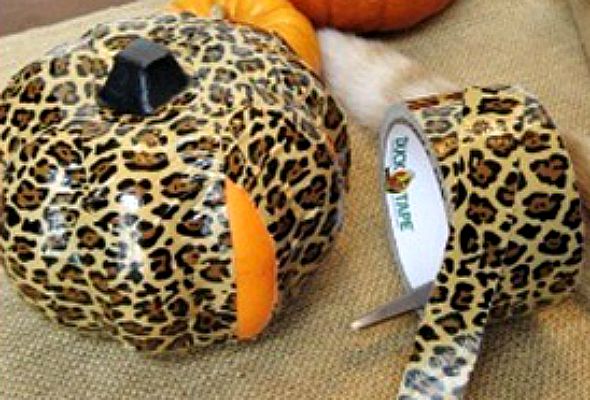 Duct tape and pumpkins together with no messy pumpkin guts? YEEEESSSSSS! I am so excited about trying these Duct Tape Pumpkins over at Confessions Of A Plate Addict. This project looks so super simple. Pick up your favorite pattern of duct tape, cover the pumpkin and admire your handy work. Winning!
Candy Corn Sugar Scrub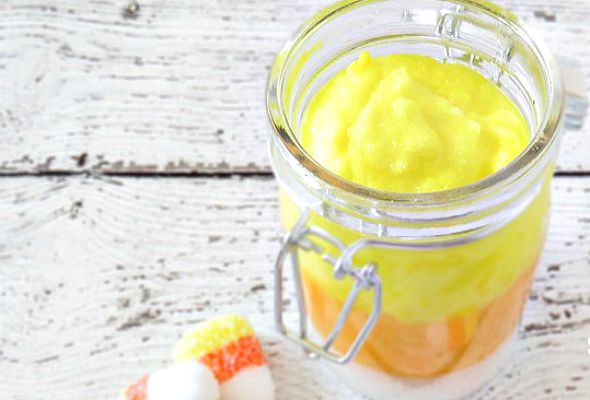 While we are making fun projects, add this Candy Corn Sugar Scrub from Smart School House. Skip the pricey scrubs from the store and make this adorable candy corn scrub instead. This makes a great gift if you are willing to share. #PrettyPrettyForMe
Glowing Ghoust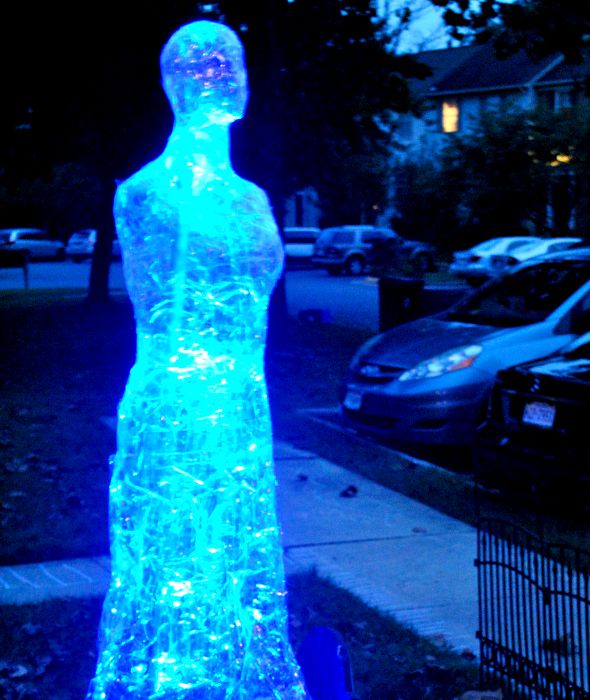 Oh, I totally love this idea! Make a Glowing Ghost for your front yard that is entirely made of clear packing tape. Shine a light up through the bottom, and the light will reflect through all of the tape for a creepy effect. I can NOT wait to freak out my Bae with this creepy ghost, it's going to be hilarious!
So which Halloween DIY projects are your favorite? Tell me in the comments!