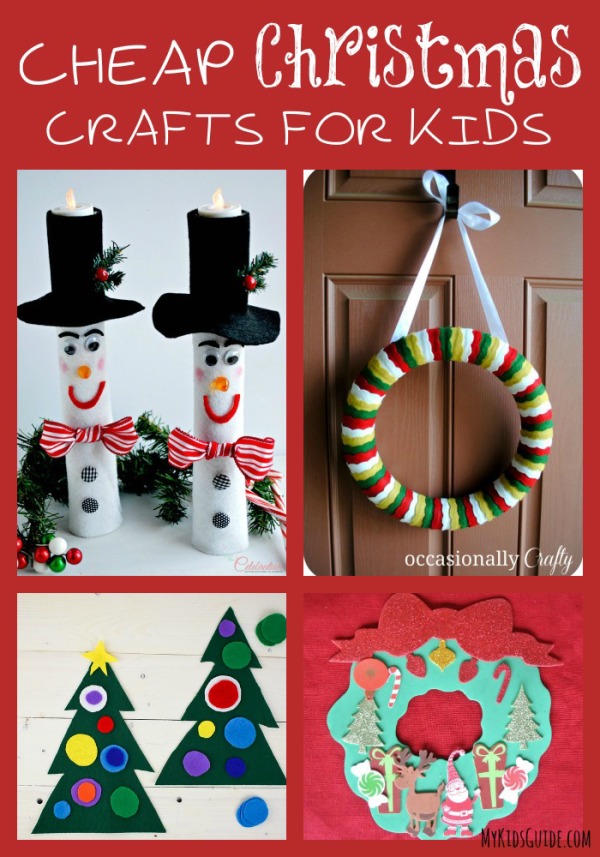 This season you can make some great Cheap Christmas Crafts For Kids that are sure to make your little ones happy, and not break your bank.  Not only are these fun for the kids to help you make, they can also be used as decorations and gift items.  Whether you make the simply felt wreath that hangs on your door, or the fun upcycled wrapping paper roll snowman candles, this list has something for everyone.  A few require a bit of supervision, but all are great for your kids to do.
CHEAP CHRISTMAS CRAFTS FOR KIDS
Wrapping Paper Roll Snowman Candles are a great fun upcycle craft that everyone will love.  Grab a few sheets of felt at your local craft store, empty wrapping paper rolls, some glue and a few small led tealight candles and get started with this great project your kids will love creating this year!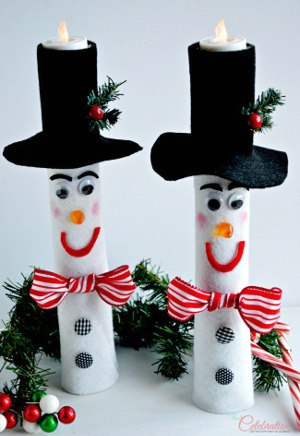 If you like to hang something festive, yet simple on your front door, this simple Felt Christmas Wreath from Occasionally Crafty is a perfect choice.  Kids will love helping you cut the strips of felt with your favorite craft scissors, and a simple foam wreath.  Go with red, green, and white for a classic holiday theme, or mix it up with blue, white and silver for a Frozen theme.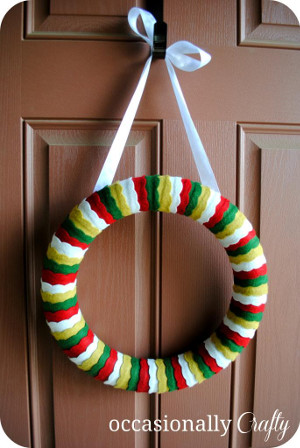 Want something simple and fun for the younger crowd?  Check out this great Felt Christmas Tree Craft that is perfect for the toddler and preschool crowd.  Not only does it help them with cutting skills, they can work on color recognition too!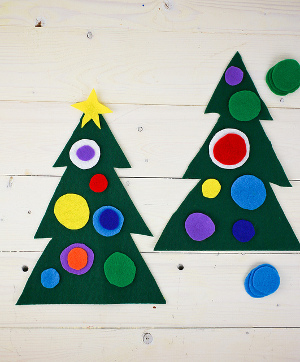 Everyone remembers these simple Snowflake Pipe Cleaner Crafts from their childhood!  A few fun colored and sparkly pipe cleaners with mini pom poms or pony beads and you have a great addition to your Christmas tree that kids will love helping you make this year.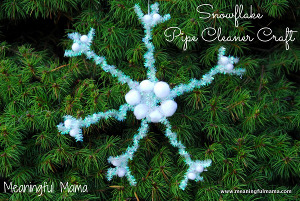 Every kids loves making something completely their own, and this Christmas Wreath Craft For Kids is not only cheap, but it is fun too!  Let your kids use basic foam pieces to glue and create their own unique design as a fun craft to hang on the wall, or give to a family member for Christmas.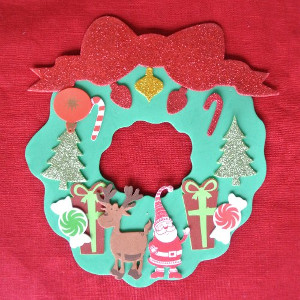 These great cheap Christmas crafts for kids are ones your little ones will have fun creating and be excited to do again each year.  Not only do these create a great way to bond with your children, they are great for working on those fine motor skills!  Fun, useful and educational all in one!
Which of these cheap Christmas crafts for kids do you love?