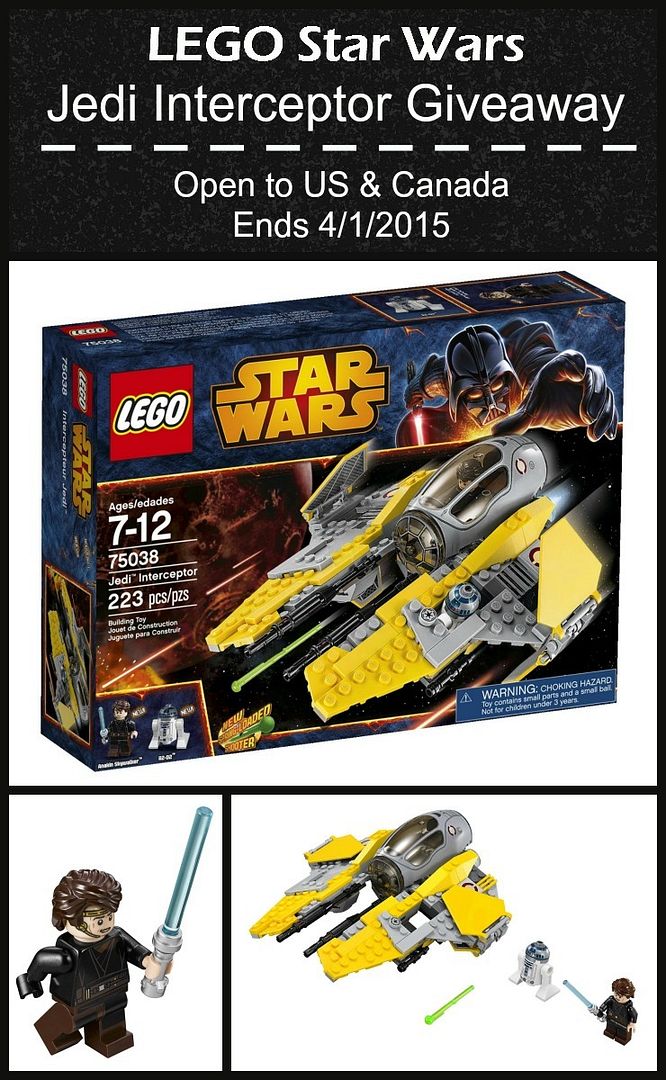 Get ready for another chance to win a great toy for your kids! Since we're currently giving away a gorgeous Cinderella doll (until March 26th), we thought this week we'd give away something for your little builders! Enter below for a chance to win this awesome LEGO Star Wars Jedi Interceptor set (affiliate link)!
LEGO Star Wars Jedi Interceptor Giveaway
Product details:
Recreate exciting battle scenes from Star Wars: Episode III Revenge of the Sith! Includes Anakin Skywalker minifigure with a Lightsaber and R2-D2

Features opening cockpit, folding wing flaps and new dual spring-loaded shooters

Open the cockpit, jump in and prepare for battle! Take aim and fire the powerful new spring-loaded shooters!

Measures over 2″ (6cm) high, 7″ (19cm) long and 6″ (17cm) wide

Create an even more exciting Battle of Coruscant with 75044 Droid Tri-fighter
Enter below for your chance to win! Giveaway is open to US and Canadian residents age of majority. (18+ in the US). It ends on April 1st (no joke!). LEGO Star Wars Giveaway

CHECK THOSE OTEHR GIVEAWAYS
Sweepstakes at Sweepstakes-Search.com
As seen on Hypersweep.com!
SandysRealm.com Sweepstakes & MORE! – Earn, Win & Save! FREE listing of prizes waiting to be won by YOU!
BigSweeps.com – Sweepstakes & Contests
Our sweepstakes is listed on ContestHound.com Enter to Win a $100 Gift Card at ContestHound.com!