This post on how to use your library to encourage reading in kids contains affiliate links.
When the school bell rings this fall, you should know that it will be essential you continue to encourage reading in your child. A local library is the perfect place to do this, as it will immerse your child with not only a large selection of books but other support and experiences as well.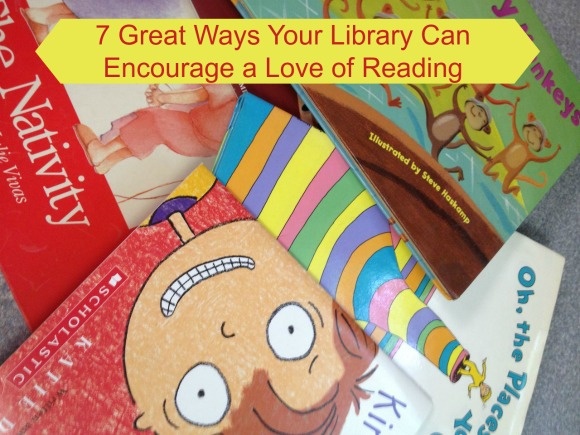 While many people are enjoying the convenience of e-readers these days, they may be missing out on the hands on experiences available at local libraries that an e-reader just does not offer. Take a look below at some of the offerings and experiences you and your child can look forward to when you visit your local library. You will find that while an e-reader is convenient, it is nothing compared to what your local library can offer to encourage reading in kids!
Encourage Reading in Kids: 7 Things Your Library Can Offer That Your E-Reader Can't:
1. Cheap Book Sales
Libraries need to liquidate extra books at times, and therefore will sell their used books for as little as a quarter each. Take advantage of these sales and use them as a way to stock up your own home library for you and your child. Having plenty of "new" books on hand is a great way to encourage reading!
2. Hobby Groups and Clubs
If you like gardening, pets, decorating, playing cards, chess, or other hobbies, ask your local librarian if any special clubs meet in your library. Chances are they do. This is a great way to meet others who share your interest and to learn more about it for free.
3. Game and Toy Rental
Don't buy new, rent a toy instead. Many libraries offer a variety of quality and educational toys for rent. Rent is usually free or a very nominal fee or deposit. This is a great way to try new toys without committing to the purchase of them. It is also a great way to keep a fresh rotation of toys in your home.
4. CD and Audio Rental
Pick out a new CD to try while on your next road trip or pick up some books on CD too. Audio rental is free at your local library and there are typically thousands of choices to pick from. Kids will love finding kid friendly songs, stories, and more. Choose music that is inspired by your child's favorite book to help encourage reading.
5. Ticket Rental
Do you have a local museum you and your kiddos love to explore? If so, many libraries offer free ticket rental to local museums. You can typically only rent them for about 48 hours, but it is a great way to enjoy these venues for free or at a very nominal cost.
6. Free Tutoring
If your child can use a little extra help on her homework, during the school year it is often available at local libraries for free or cheap. Local college students sometimes volunteer at libraries and are willing to help your child advance in her studies.
7. Free Story Hour
Kids love being read to, and libraries often offer a free weekly story time. If you are lucky, this story time may even include a craft with it or special guest reader. Ask your librarian for a schedule of such events so that when they happen, you can be there to take advantage of them.
Libraries offer a wide variety of services that are either free or cheap that your e-reader just can't! Encourage  reading in your child when you visit your local library and see all that it has to offer you. You might just be surprised!
Ask your librarian about what services may be available, or you can even visit your local library online. While there print a schedule of activities, reserve materials, and so much more. It is a great way to see all they have to offer and give your e-reader a little break too.
Looking for more ways to encourage reading? Check out our post on how cooking can help encourage a love of reading in kids!
Can you think of other ways your library can encourage reading in kids? We'd love to hear them!