If you're looking for ways to keep the holiday cheer going throughout your party, check out our favorite Christmas Minute to Win It Games!
Trust me, they're a lot more fun than sitting around playing Old Maid on Christmas Eve!
The best part?
They're great for all ages, from tots to teens to grandma.
Let's check them out!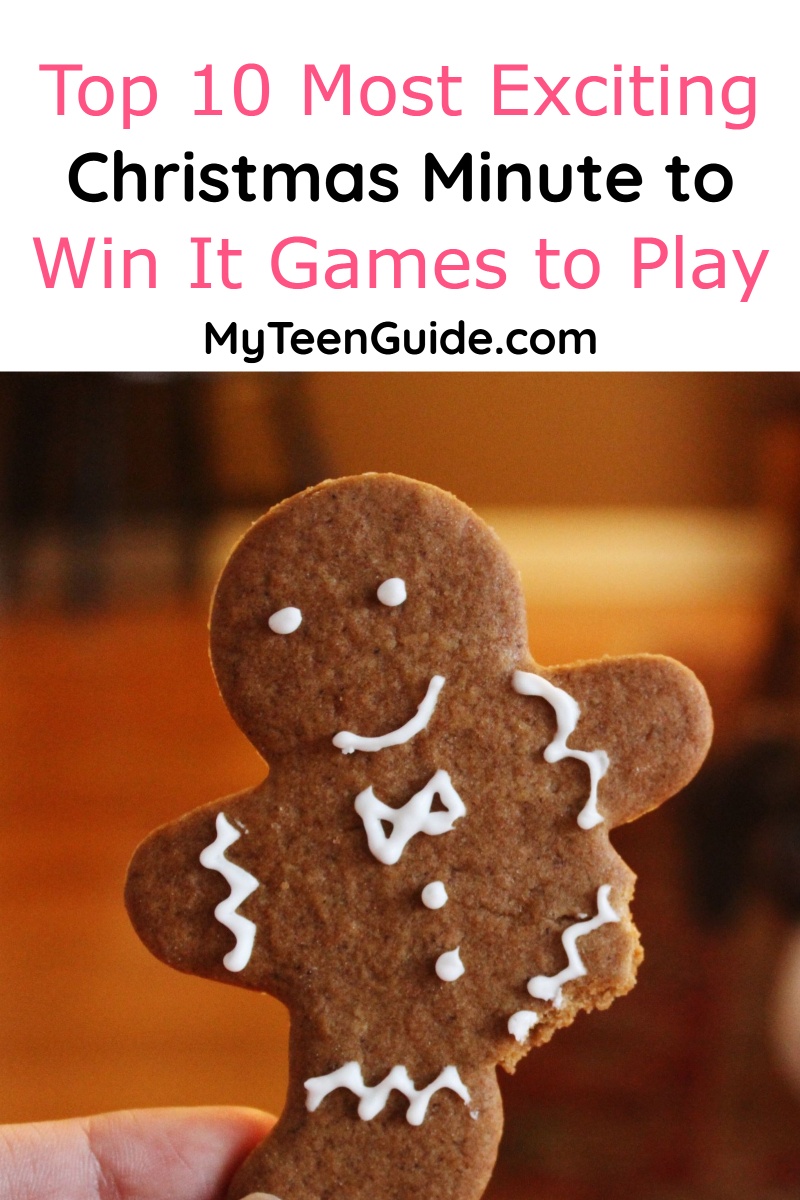 Christmas Minute to Win It Games
Christmas time is nigh! With Christmas comes holiday joy and family cheer. It's when the whole family gets together for nothing but fun.
Do you find yourself stumped on Christmas Eve not knowing which game to play?
Have you run out of ideas and are sick of boring old Go Fish?
We have the solution for you.
Minute to win it games give you excitement as you feel the adrenaline coursing through your body as you try to win the game before anyone else in a limited amount of time.
Check out our fun ideas below!
FYI, this post contains affiliate links. If you make a purchase through these links, we earn a small commission at no extra charge to you. 
1. Snowman Stacking
This is a fun game you can play with household items. Chances are for this holiday season you have a pack of marshmallows lying around.
It can be the big puffy ones or the small ones you use to coat the top of a mug of hot cocoa (for a bigger challenge).
The aim of the game is to make as many mini snowmen as you can and give them faces in under a minute.
2. Candy Cane Pile
Using the curved end of the official Christmas candy, you endeavor to move as many candy canes from one pile into a bowl in under a minute.
The only catch is you cannot use your hands, only your mouth!
3. Snowball Toss
This fun little game can be played indoors or out.
If played indoors, you can choose to use larger marshmallows or bunched up cotton balls to stand in for real snowballs.
Take a few Christmas wreaths and prop them together. Each wreath is worth a different point, label them from 1 to 10 or however many you wish.
Toss as many "snowballs" into the wreaths as you can. Tally-up the total at the end of the minute and identify your winner!
4. Rudolph's Nose
We all know the famed red-nosed reindeer, the red nose being his most coveted feature.
It's very similar to "pin the tail on the donkey", except it's pin the nose on the Rudolph poster.
You need some Vaseline, which will be the adhesive in this game and some red pom poms.
Put a dob of Vaseline on either side of the pom pom and attach one end to the blindfolded player's nose.
See which player comes the closest to giving Rudolph his nose back in under a minute!
5. Racing Baubles
Grab a few baubles off the Christmas tree, don't worry they won't break. If you're smart, you will pick plastic hollow ones as they are lighter.
Lay down a large piece of tape across the floor to act as a starting line. Then a few feet down the room set down another piece for the finish line.
Take paper fans or large pieces of cardboard and start fanning the ornaments to get yours across the finish line first!
6. Christmas Kisses
You might have seen this played with balloons, but for the sake of Christmas, we're going to use baubles again.
If you just finished playing the Racing Baubles game, you will already have the setup you need for Xmas Kisses.
All you need to do this time is to find a partner, balance the bauble between your lips and make it across the finish line without dropping it.
If you do drop it, you may have your first Xmas kiss without the help of a mistletoe!
7. Stocking Pong
Similar to beer pong, stocking pong adopts the same concept, except we swap out the beer cups with stockings, and no beer is involved.
Pin the stockings up on a fireplace or a wall and stand a few feet away.
Start tossing the ping pong balls and try to get as many as you can into the stockings. Remember, you only have 60 seconds!
8. Christmas Ring Toss
For this, you need to set aside a few presents that are not meant for anyone specific.
You can either use hula hoops or rings if you place bottles next to the presents you can use smaller rings.
Everyone gets five different colored rings and one minute to nab the present they want!
9. It Smells Like Christmas
Find objects at your local store with the scents of Christmas such as cranberries, cinnamon sticks, peppermint candies, gingerbread, pine cones, etc.
Put each of these objects in a box, and have the labels spread out on a table.
The blindfolded guinea pig needs to identify each of the objects in the box by placing it beside the right label.
10. Face the Gingerbread Man
Place a gingerbread man cookie on all the players' foreheads.
Choose the right size, the gingerbread man shouldn't exceed the length or width of the forehead.
The objective is to get the gingerbread man cookie into your mouth using only your facial muscles. Ready, get set, go!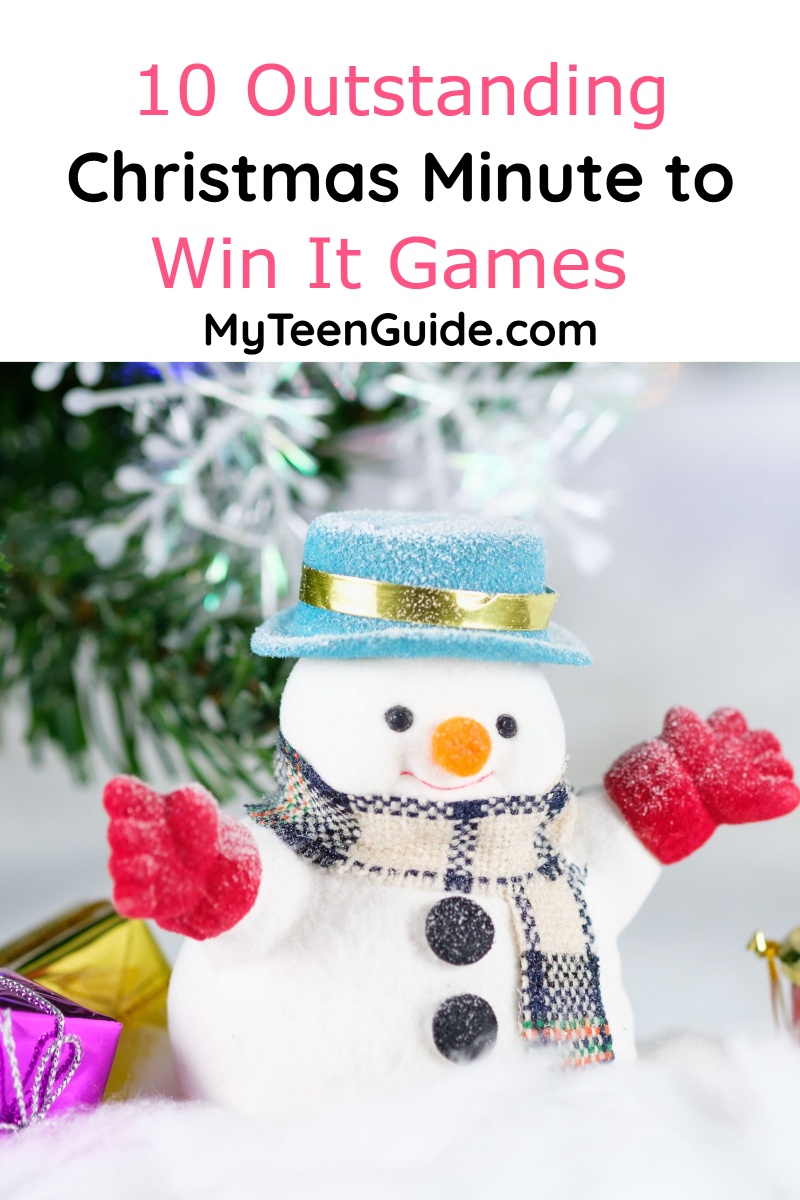 Christmas is a time that fills our hearts and bellies with warmth and love.
Share in the fun and joy by playing these games with your friends and loved ones.
Which of these Christmas Minute to Win It Games have you played before? Which would you like to try? Share your thoughts in the comments below!