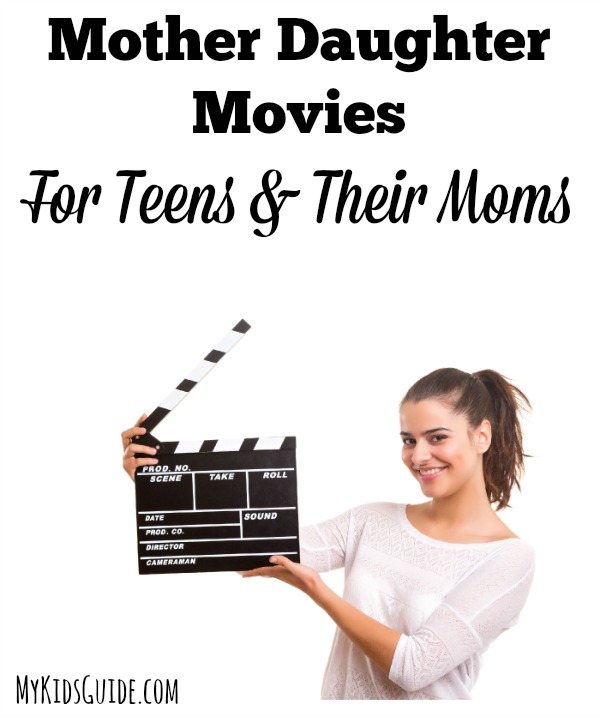 When I think about movies from my youth, almost all of these Best Mother Daughter Movies For Teens & Their Moms come to mind.  I have to admit, as a child born in the 1980's, a lot of these were new then.  However, there are a ton of movies from years before and since that make the cut.  These movies range from great relationships with moms, to those involving extended family that might be needed to help you connect with a child that is blended into your family now.  Mother daughter movies are great for girls night in, lazy summer afternoons, or to connect when you feel like your teen just doesn't want to listen to anything you have to say anymore.
Best Mother Daughter Movies For Teens & Their Moms
This post contains affiliate links.
Stepmom: This movie starring Susan Sarandon and Julia Roberts is a great movie that shows how a mom and stepmom can not only connect and agree for the sake of their children, but how a stepmom can truly learn to love their stepchildren and care for them as if they are their own.  It is a great one that will help teen girls appreciate their own mothers more, as well as help them to accept their stepmom in the process.
Steel Magnolias:  There is nothing more Southern or more heart wrenching than this movie.  This classic movie helped Julia Roberts become a household name.  Not only does it cover the relationship between a mother and their child, but also the need for strong supportive friends who are there for you no matter what happens in life.
Little Women:  Wynonna Ryder stars in this movie adaptation of the classic novel.  A group of sisters band together to make life better during a crisis.  Their love for each other, their mother and even the men in their lives will inspire you to seek more, all while your heart is tugging a bit at the hardships they suffer.
Mama Mia:  This musical movie adaptation of the hot Broadway play was vastly popular for the fun bonding, music and costumes.  Not only will the music have you singing along, the costumes and your favorite actresses will have you both laughing, smiling and maybe even crying a bit before the end of the movie.
Now And Then:  This movie was a great hit in the 1990's using some popular actresses to share about one fateful summer in their life as young teens.  It touches on common issues teens face including body image issues, relationships, sexuality and divorce.  It's a great movie to use for teaching your daughter about many aspects of life, as well as to just have fun and laughs along the way.
These best mother daughter movies for teens & their moms are sure to not only bring you and your daughter closer, but help you to teach some important life lessons that are needed.  For some teen daughters, these movies may not be their style.  Spending time bonding with your teen isn't just about finding a movie that will help teach a lesson, but about spending time with them showing them you love them and want to get to know them.  If your daughter prefers anime, comic book movie adaptations or even horror movies that may be what you need to find to make your afternoon of movies truly effective in your relationship.
For more ideas for Mother's Day, Father's Day and Teacher Appreciation Day, visit a few of my favorite bloggers.
Do you have a favorite Mother/Daughter movie? Share in the comments!