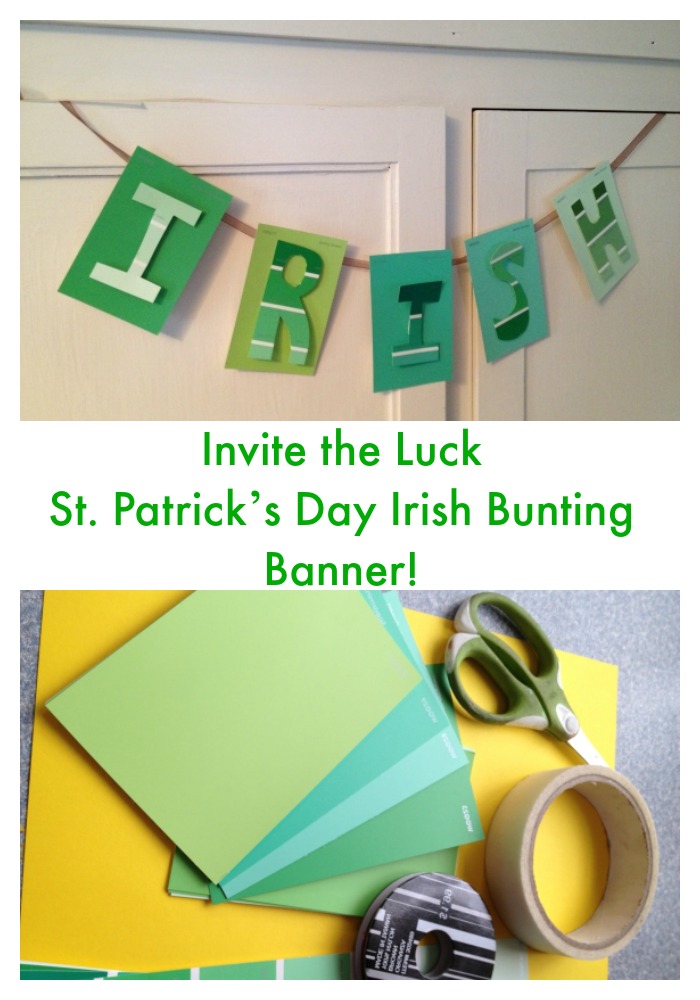 St. Patrick's Day is a wonderful time to bring some green indoors and liven up your space with the luck of the Irish! While you might be temped to purchase pricey St. Patrick's Day decor at a local retailer, the truth is you can whip some up at home for as little as FREE! Bunting banners are so cute, they create instant charm and color in any space, and are so easy to make. Bunting banners are great for every holiday and are a quick way to add holiday color to your room. It is so easy, why not try whipping up this DIY St. Patrick's Day paint chip banner for FREE this year? Yes, free!
Not only is this  St. Patrick's Day Irish paint chip banner cute and inexpensive, they are so easy to make that even little kiddos can help or make their own. And the best part? You can whip them up for FREE using free paint chips and a few items from around the house!
Take a peek at how to whip up your own St. Patrick's Day Irish Bunting Banner!
Supplies: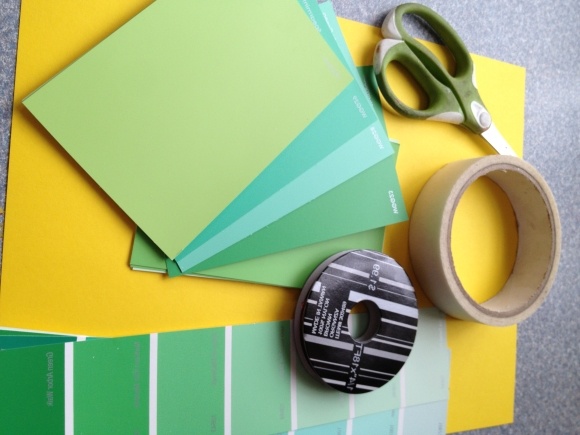 a selection of large-sized paint chips in the green family. These can be found at Walmart or any home improvement or art supply store.
a selection of small paint chips  to create your inner letters.
Scissors
string, ribbon, twine for hanging your banner
tape
Directions:
Create a pennant shape and trace it onto the back of your paint chips.
Cut out your banner carefully.
Trace and cut each letter shape from another paint chip.
Attach your shape to the front of your pennant.
Thread your pennants onto string, twine, ribbon or simply tape.
Hang your banner for all to admire from an entry way or fireplace!
For this banner, I put the word IRISH on my paint chips for some instant Irish charm. You of course can do any words you want such as LUCKY, or ERIN Go BRAUGH if you are really feeling enthusiastic. The choice is yours!
Be creative. You can make your banner as long or as short as you wish. You can add more embellishments such as glitter or stickers, even paint and markers if you want. The idea is to have fun, get creative, and see what you can come up with using items you already have around your home. Save some "green" and use items you already have around the house.
So gather your supplies, the kiddos, and the luck of the Irish and get crafting! St. Patrick's Day is just around the corner so you will want plenty of green on hand to add some festiveness and color to your home.
Happy St. Patrick's Day!