We received a complimentary Doodle Quest board game for kids to facilitate this review. All opinions are our own.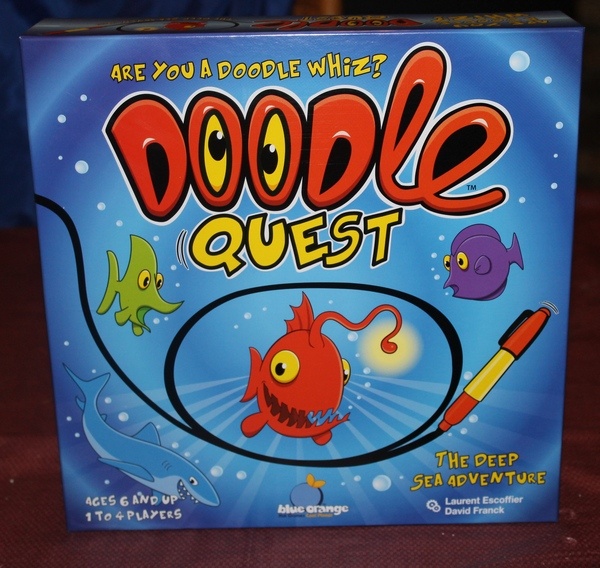 With rainy weather keeping us indoors this weekend, my son and I decided to try out Doodle Quest board game for kids. Back to school season has been crazy busy, so it was nice to just relax in the house and unwind together. Doodle Quest is a new game from Blue Orange, an awesome company with more that 200 awards for excellence under their belt. The game is incredibly simple to set up, yet challenging enough to keep even the adults interested.
Master Visual Perception Skills with Doodle Quest Board Game for Kids
The goal of Doodle Quest board game for kids is incredibly simple: navigate challenges using keen visual perception. I love that the game is easy to play right out of the box. It took me less than five minutes to read the directions and, even better, explain them to my son.
What's in the Box?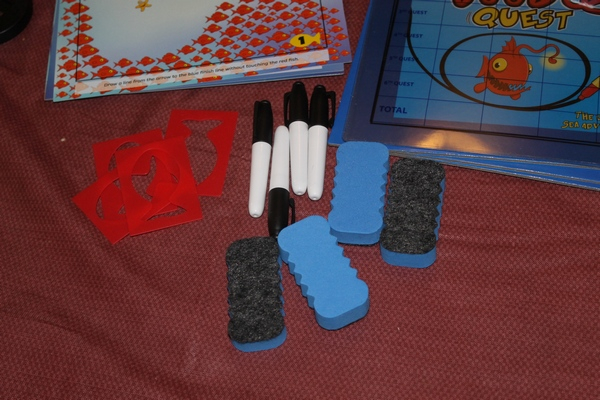 18 Double Sided Quest Cards
4 Transparent Doodle Sheets
4 Drawing Boards
4 Dry-Erase Pens
4 Erasers
4 Fish Stencils
Erasable Scoring Sheet and Instructions
How to Play this fun board game for kids:
Start by giving every player a marker, eraser, drawing board and Doodle sheet. Shuffle the stack of the Quest cards and stick them in the middle, where all players can see them. Start with the first card, and have players try to navigate the maze-like scenes or fulfill challenge missions as accurately as possible, without hitting any blocks. Here's the challenge, you have to basically look at the card and follow the path with your eyes, trying to mimic it on your Doodle Sheet. It's not as easy as it sounds, but it's also not so difficult that your child will give up after the first try.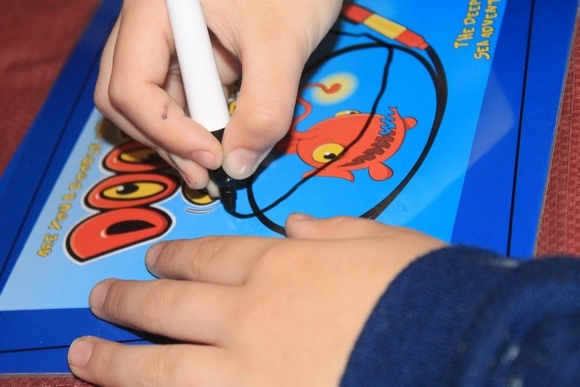 Once you've completed your journey on your sheet, simply place your Doodle sheet over top of the Quest card and see how your doodle lined up.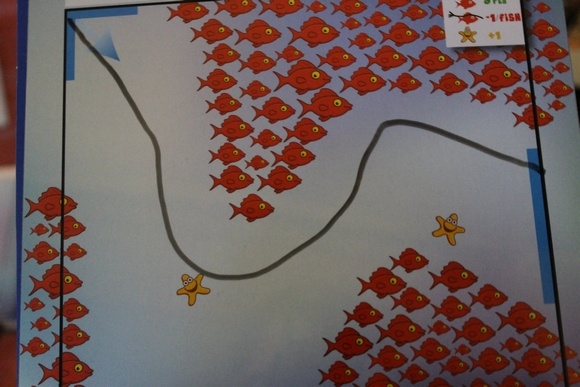 Score each player's attempt based on the scoring legend in the corner of the card. If you manage to hit no fish or go off the path at all, you get top points. If you hit the starfish, you get a bonus point, even if you went outside the line. Once you have your scores figured out, just erase the line and pick a new Quest card!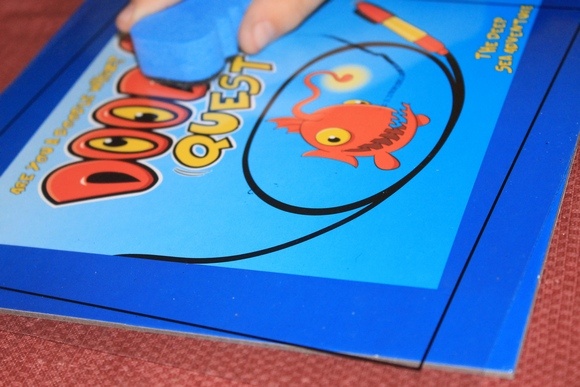 Once you've mastered all the quests on the yellow (easy) side, turn them over and try to become an ultimate Doodle Master with the harder challenges! The challenges are varied, so you're not just following a path every time. Some cards will ask you to pair up mermaids with their pet dolphins or take a bite out of worms without hitting the hook. The one thing I love about Doodle Quest is that it helps your child (and you!) develop better visual perception skills. It's also great for helping them increase their focus and attention to details.
Learn more about Doodle Quest on the Blue Orange Games website, then use the store locator to find a retailer in your area. You can also get it on Amazon. Check out Blue Orange on Facebook and Twitter to keep up with fun news.
Doodle Quest Board Game for Kids Giveaway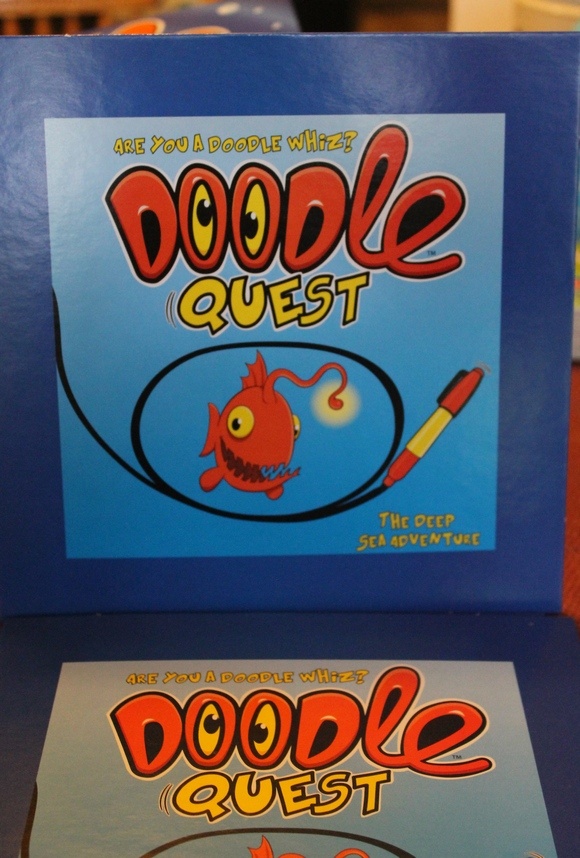 Enter below for a chance to win Doodle Quest board game for kids. Giveaway is open to US residents and ends on 10/6.