This Halloween Crafts for Kids post contains affiliate links.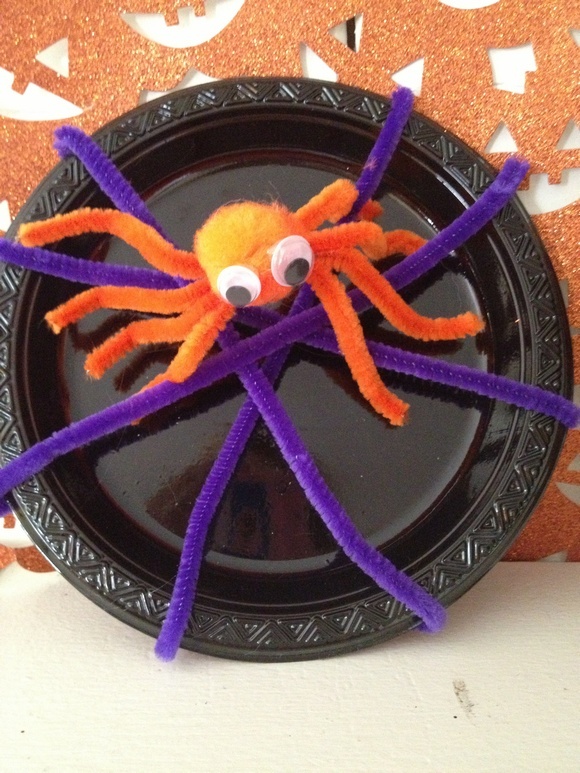 It doesn't feel like Halloween unless creepy crawly critters are involved, does it? Therefore, kids will love this creepy pipe cleaner spider craft which is the perfect mix of cute and crawly. It uses minimal supplies and can be made in just minutes, so it is a fun and frugal craft perfect for when you are looking for a quick activity to enjoy as a family. So gather the kids and head to the table, this is a Halloween craft you won't want to miss. When you are finished, you will have your very own pet spiders on a web. And the best part? These ones don't bite! Take a peek at how you can make your own.
Halloween Crafts for Kids: Creepy Pipe Cleaner Spider
Supplies Needed: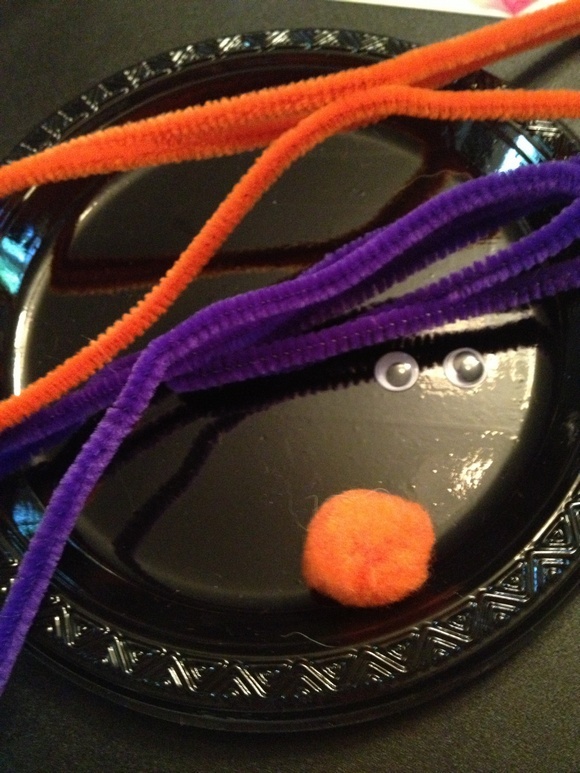 Assorted pipe cleaners
Small black disposable plate
Assorted pom poms
Pair of google eyes
Glue
I was able to find all of the supplies listed above at my local Dollar Tree store. You can check out your own local dollar store to see if they carry similar supplies as well. If not, head to your local craft stores where you should not have any problem finding these pieces. If you should visit Hobby Lobby or Michael's, be sure to check them out online first and print off your 40% coupon. This way, you can still do this craft for less.
Directions:
First, let's make the spider. To do this, you want to take four pipe cleaners. Bend the pipe cleaners in half, and then in half again. Snip the ends so that you have four pieces of pipe cleaner which you will then bend into eight legs.
Twist the center of the bunch of the pipe cleaners so they stay together. Add a generous dab of glue and place a pom pom on top. You now have your spider body.
Add a few drops of glue on the spider body to glue the google eyes on. Press the eyes firmly into place until you know they have adhered well.
Set your spider aside, as you now want to make the web.
To make the web, take your black disposable plate and pipe cleaners. Begin by crossing the pipe cleaners in all different directions across the plate
To secure them, you just need to bend the ends so they are hugging the rim of the plate securely.
Continue this process until the web is as complicated and thick as you wish.
Now, it is time to attach the spider to the web. To do this, simply wrap the ends of his little legs around the web pipe cleaners. This should secure him into place just right.
You can now display your creepy pipe cleaner spider on web any way you choose. Pin it or tape it onto a wall, prop it up on a bookcase, or even add some string and hang it from the ceiling. Either way, it is sure to be a piece of Halloween flare your child will have a blast doing and be proud of. Looking for more great Halloween crafts for kids? Check out our DIY Flower Pot Pumpkin!
Do you have any favorite Halloween crafts for kids that you love to make every year? We'd love to hear about it!