This fingerprint heart bouquet Father's day craft for kids post contains affiliate links. We only recommend products that we love!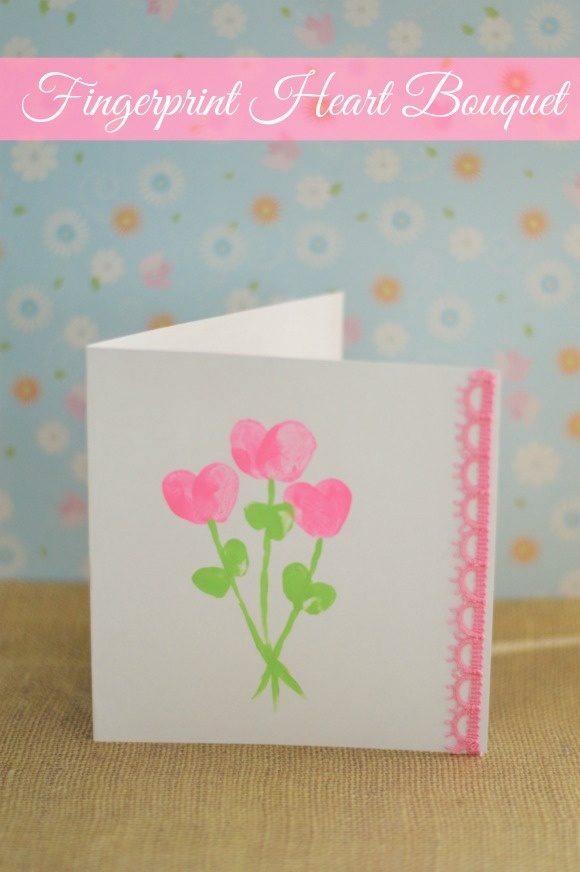 Fingerprint crafts are among my all-time favorites because they're such a great reminder of how small our children once were. They're also one-of-a-kind gifts, since no two fingerprints are the same! This fingerprint heart bouquet craft for kids is perfect for giving along with a gift at father's day. The great thing about this craft is that you can change the colors to fit the recipient. For example, if you want to give it for Father's Day, you can go with darker flowers.
How to make this cute Fingerprint Heart Bouquet Father's day Craft for Kids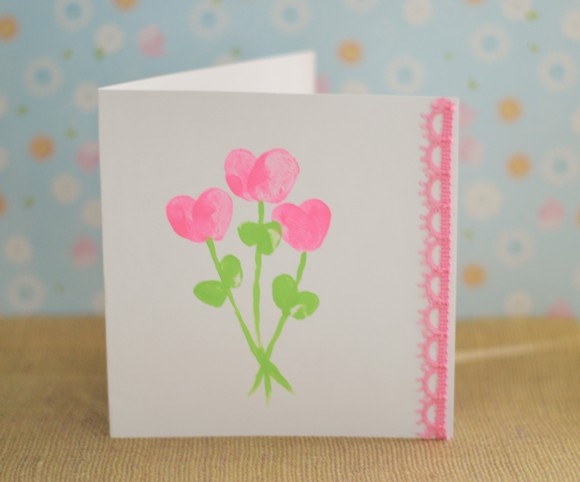 Supplies:
White Card Stock
Pink and Green Acrylic Paints (or any other color you choose)
Ribbon or Rick Rack (check the dollar bin of your local craft store for great deals)
Paint Brush
Directions for this Father's day craft for kids:

Cut the card stock to the desired size and fold.  The card shown is an 8.5" x 11", cut down to 4.25" x 11".
To make the flowers, dip your index finger in the pink paint.  Press against a piece of scrap paper a couple of times to blot off excess.   Stamp two prints on the card to form a heart.  Repeat until your bouquet is full.  Allow to dry.
Using the paint brush, paint a thin line for each stem.
Make the leaves by dipping your pinky finger in the green paint, blotting off excess.  Press on card.
Adhere the ribbon or rick rack to the side of the card.
That's it! So easy to make, and your recipient will have a unique card to celebrate the special day. Give it along with a handmade gift or all by itself.
Who would you make this adorable fingerprint heart bouquet Father's Day craft for kids for? Dad? Grandpa? We'd love to hear about it!