Everyone needs a good cry sometimes! These 10 movies on Netflix are guaranteed to help you let it all out! Check them out!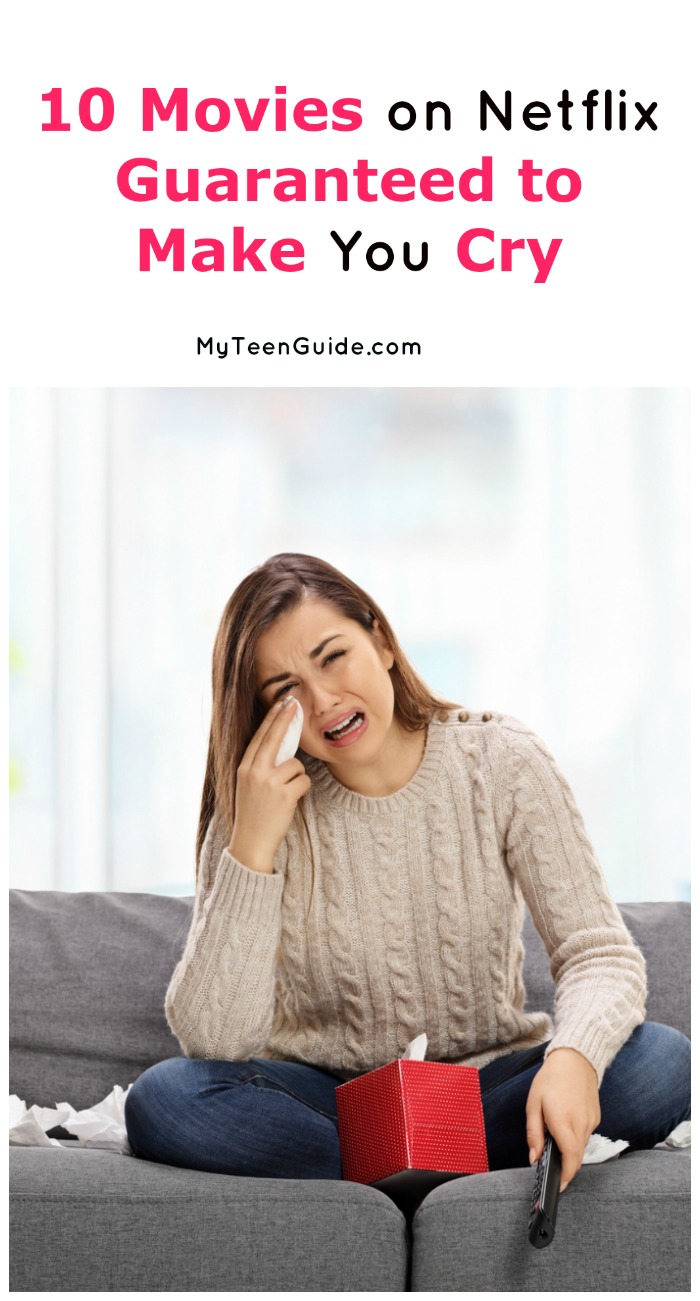 Ever have one of those days where you feel like if you could just bawl your eyes out for an hour or two, you'd feel a whole lot better? Yeah, me too! Sometimes I'm sad for legit reasons, like a sick family member or my bff moving away. Other times, nothing bad happened but I just feel so emotionally wound up! When I get that way, a good tearjerker always makes me feel better. Funny, right? A sad movie making me feel better? Like I said, sometimes you just need a good cry!
There are so many movies where it is hard not to get through the entire movie without shedding a tear, and Netflix is home to a ton of them. Here are some of our favorite tearjerker movies that you'll find on Netflix!
Best Tearjerker Movies on Netflix
1-Becoming Jane
Becoming Jane is a 2007 biographical romantic drama movie that is partially based on the 2003 book- Becoming Jane Austen- by Joe Hunter Spence. The movie showcases the early years of Jane Austen, the famous English author and her love interest, Thomas Lefroy, a politician/judge. Becoming Jane stars Anne Hathaway and James McAvoy.
2- The Bucket List
The Bucket List is a 2007 comedy drama movie. Edward Cole and Carter Chambers, two elderly men, diagnosed with terminal lung cancer, head out on a road trip, with a bucket list of things they want to do and see before they die. The Bucket List stars Jack Nicholson and Morgan Freeman. Yes, it's full of hilarious moments, but it's also a major tearjerker at times!
3- Charlie St. Cloud
Charlie St. Cloud is a 2010 drama movie that is based on the 2004 book- The Death and Life of Charlie St. Cloud- by Ben Sherwood. When Charlie St. Cloud's brother dies tragically in a car accident, he discovers he can still interact with him in a physical universe. But, when Charlie falls in love with Tess Carroll, he must choose between them. Charlie St. Cloud stars Zac Efron and Amanda Crew.
https://www.youtube.com/watch?v=MzgOvvMi8Lg
4- Cyberbully
Cyberbully is a 2011 drama movie. Taylor Hillridge, a high school student who is bullied online, after joining a social media website called Cliquesters. Cyberbully stars Emily Osment.
5- August: Osage County
August: Osage County is a 2013 comedy movie that is based on the 2007 play, of the same name. When the patriarch of the dysfunctional Weston family goes missing, the family reunites under the same roof. August: Osage County features an all-star cast, including Sam Shepard, Meryl Streep, Julia Roberts, Ewan McGregor, Abigail Breslin and Juliette Lewis.
6- Fruitvale Station
Fruitvale Station is a 2013 biographical drama movie that is based on the real-life death of unarmed Oscar Grant, who was killed by Johannes Mehserle, an officer with the Bay Area Rapid Transit Police Department in Oakland, California on January 1, 2009. Fruitvale Station stars Michael B. Jordan.
https://www.youtube.com/watch?v=CxUG-FjefDk
7- Safe Haven
Safe Haven is a 2013 romantic thriller movie based on the 2010 book, of the same name, by Nicholas Sparks. Erin Tierney/Katie Feldman, flees to a small town, trying to escape her mysterious and dark past and falls in love with Alex Wheatley, a widower who is raising his two young children. Safe Haven stars Julianne Hough and Josh Duhamel.
8- Before We Go
Before We Go is a 2014 romantic drama movie. Strangers Nick Vaughn and Brooke Dalton are stuck in Manhattan for a night, where they are forced to confront everything wrong in their lives. Before We Go stars Chris Evans and Alice Eve.
https://www.youtube.com/watch?v=VxJsGKn2kyA
9- Boyhood
Boyhood is a 2014 coming-of-age drama movie. The movie focuses on Mason Evans Jr., growing up with parents who are divorced, living with his mom, Olivia and older sister, Samantha, from age 6 to age 18. Boyhood stars Ellar Coltrane, Patricia Arquette and Lorelei Linklater.
10- Cake
Cake is a 2014 drama movie. Claire Bennett is trying to deal with the tragic death of her son, as well as the suicide of her friend, Nina Collins, whom she met at a support group. Cake stars Jennifer Aniston and Anna Kendrick.
Oh, the heartbreak! Seriously, any of these tearjerker movies on Netflix will give you that emotional release you're craving! For those really rough weeks, go ahead and binge. Just make sure you stock up on tissues!
What are your favorite tearjerker movies on Netflix that always make you cry? Share below!