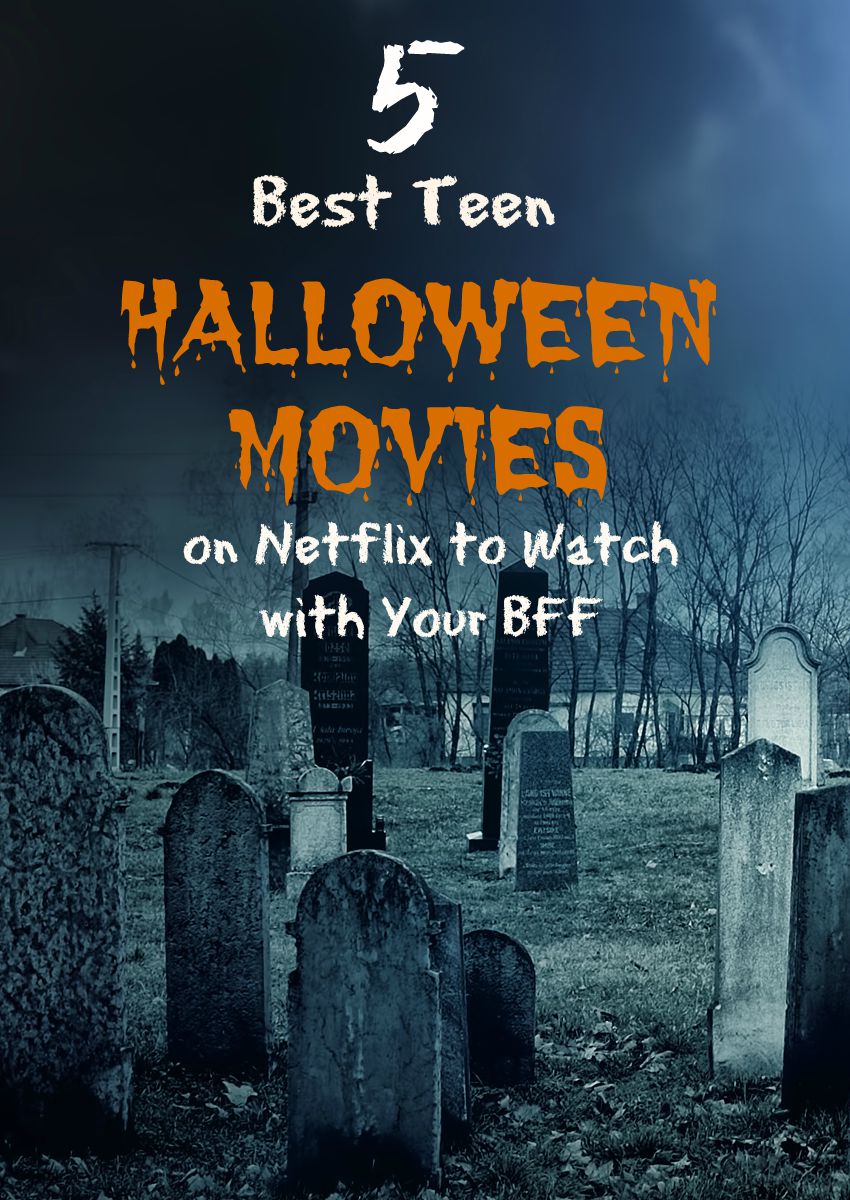 If you have been scrolling through Netflix lately, you might be seeing more scary movie titles than usual.  It is that time of year again, where we feel the need for a good scary movie, but don't watch them alone!  There is nothing worse than hearing bumps in the night while watching a scary flick.  So grab some BFFs and popcorn and settle in for a scarefest with some of these best teen Halloween movies on Netflix!
5 Best Teen Halloween Movies on Netflix to Watch with Your BFF
Scream (also 2 and 3): A 1996 cult classic!  This slasher film was directed by Wes Craven and stars Drew Barrymore.  You can say it's a comedy, mystery, slasher film, that sort of pokes fun at the horror cliche of movies like Halloween.  Don't get me wrong, you will most likely still jump at parts, and then laugh at yourself.  Watch it with a few BFF's (and a couple blankets to block your eyes from the obvious scary parts-at least that is what I do).
Halloween: The Curse of Michael Myers: This is my ultimate scary movie, Michael Myers scares the crap out of me!  Something about a man, with a mask, standing in the dark, in the distance, just watching you.  Then you look again, and he's gone.  Gah!  I get chills just thinking about it!  In my opinion all the Halloweens are ultimate slasher films.  Released in 1995, it is also number 6 of the Halloween movies.  Taking place in 1989, Michael Myers and his niece Jamie are abducted by a creepy man in black, thought be part of a cult.  Jamie is able to escape 6 years later when she gives birth and a nurse helps her run.  I don't know how he did it, but Michael Myers is also free and forces Jamie off the road and kills her.  And that is just the beginning!  There is still so much more blood to be shed still!
The Lost Boys:  The vampire craze, yes it started way back in the 80's.  Another cult classic, this one is about 2 brothers, Sam and Michael, who move to California from Arizona.  Michael meets a group of vampires (and a girl, of course) and is given 'wine' to drink (c'mon dude, it's blood!). Apparently drinking the blood makes you half-vampire and it can be reversed, but the head vampire has to be killed.  The girl (Star) is actually a half -vampire as well and wants to be cured.  Apparently in order to become 'full vampire' you have to kill someone,and Michael was supposed to be her first kill.  Together they plot to kill the head vampire.  How do you do that?  With a stake to the chest of course!
Troll: A 1986 fantasy horror movie starring a young Julia Louis-Dreyfus.  The troll (who used to be a powerful wizard) is taking over an apartment building by possessing it's residents.  His newest victim is Wendy, the daughter of a family who has just moved in.  Her family starts to notice her behavior change (she is biting, roaring, tossing people across the room) but they just think she is stressed from the move.  Yes, because when I am stressed, I toss people across the room and no one bats an eye!  Troll is your typical 80's fantasy horror film complete with witches, goblins, and magic staffs that shoot bolts of energy.
V/H/S: Viral: VHS are what came before DVDs and Blue-ray, you know, back in the day.  This movie is a bit different in that it is a series of short films ('found footage').  These include a story about a homemade machine that allows you to enter a parallel world; a Mexican death cult who uses a teenage skater as their target; and a crazy illusionist who has an object that holds great powers. This one scares me a little bit, because technology can go haywire and you never know what might pop up on your smartphone!
Scary movies are not my fave, but watching one is like watching a car wreck on the side of the road, you just can't stop watching.  I won't pick one out on my own, but I will watch one (through my fingers) if someone else wants to.  But there is something about this time of year and watching scary movies and getting spooked.
 Have you seen any of these teen Halloween movies on Netflix?  What are  your faves?  Post below in the comments!