Looking for more shows like Bitten that will satisfy your paranormal cravings? Check out 5 more of our favorites featuring vamps, werewolves & witches (oh my)!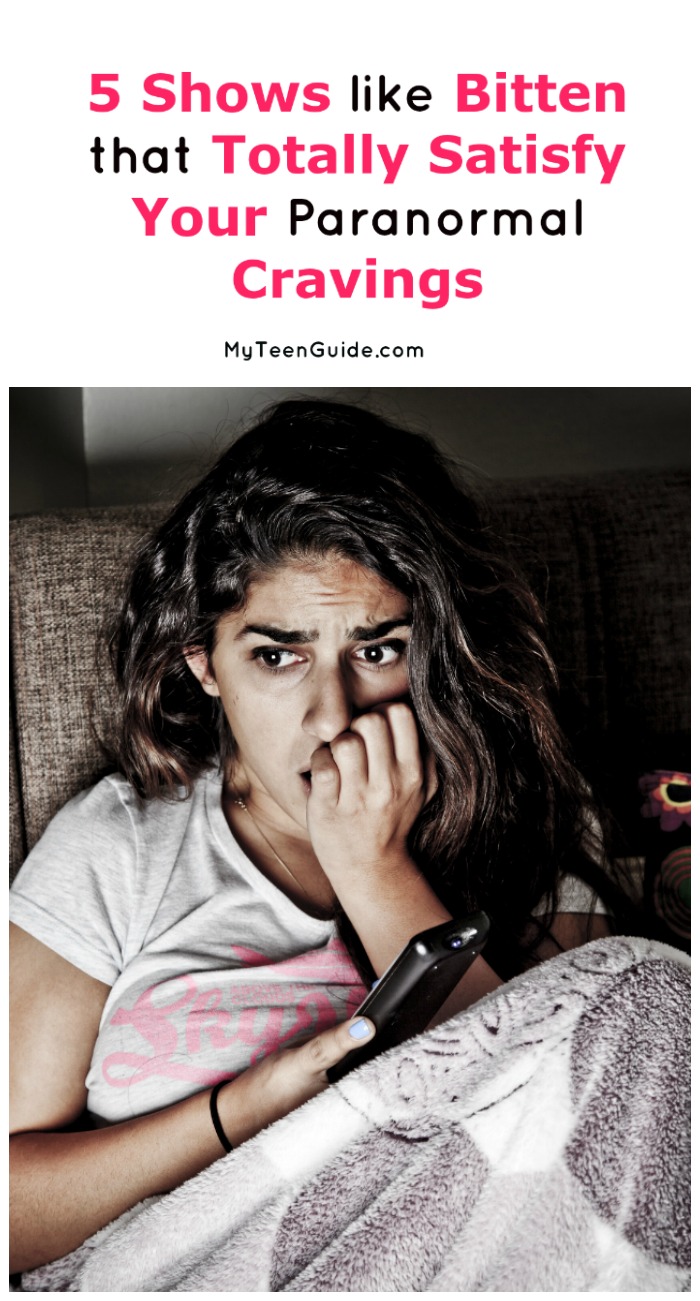 If you're into werewolves and witches, it's likely that you've watched the show Bitten. Though a Canadian production, the show was a hit in the U.S. and around the world! Sadly, Bitten will not be returning for another season. But each of the 33 episodes kept us on our toes and wanting more. Thankfully, this isn't the only show that can fulfill your need for exciting fantasy-based television. Here are 4 shows like Bitten that will fill the void.
Paranormal Shows Like Bitten
Affiliate links included below.
1. The Vampire Diaries
This show is one of the supernatural dramas that you don't want to miss. The Vampire Diaries was on air for 8 seasons, so prepare to be addicted for at least a few weeks! If the name wasn't enough, the show is all about a young girl who falls in love with a 162-year-old vampire. With any romance like this, you know there is nothing but drama. With plenty of villains, twists, and turns, The Vampire Diaries will keep you entertained until the last minute. Binge on the entire series on Netflix!
2. True Blood
This HBO show is the perfect combination of fantasy, horror, and a lot of darkness. True Blood
is all about a waitress who lives in a rural town. During this time, synthetic blood is created, which lets vampires come back to life, so to speak. The vampires struggle to fit into society while others want the creatures gone. Sookie, the waitress, falls in love with one of the vampires and must make her way through the problematic lifestyle of dating someone who is hunted and 173 years old! True Blood is available for streaming on HBO Go. Don't have HBO? You can get a subscription through Amazon.
3. Lost Girl
We'll give you a break from vampire series. Lost Girl is more supernatural focused than fantasy, but it is worth watching. The show follows the life of a succubus, named Bo, who has to control her superhuman abilities. She learns to help those around her while also investigating her past. The show ran for 5 seasons and is a SyFy production. If you want supernatural with drama and romance, this is a good pick. Lost Girl is on Netflix.
4. Being Human
Being Human is a BBC series that offers you episodes of horror and supernatural themes. The show follows several supernatural beings who live alongside human beings. Some of the supernatural beings want to live peacefully while others want to retain their individuality. With differing wants, the supernaturals find themselves in internal and external problems. Both the BBC and the Americanized version of Being Human are on Netflix.
5. Supernatural
You can't have a list of supernatural shows without including the epitome of all things that go bump in the night! Supernatural, the longest-running CW show, comes back in the fall for its 13th season. Over the last 12 years, we've watched the Winchester boys go through some of the most unspeakable and insane journeys, all to save the world from everything from angels, demons and even God's sister! All 12 seasons are currently on Netflix.
https://www.youtube.com/watch?v=4kmA86_hnbo
All of these fabulous shows like Bitten will satisfy your cravings for the paranormal! For my top picks, it's a toss-up between Vampire Diaries and Supernatural! If you're looking for straight-up excitement, a lot of laughs and a huge variety of "monsters of the week,", go with Supernatural. If you want something with a bit more romance, The Vampire Diaries is a good place to start.
Do you love paranormal shows? What are your favorite shows like Bitten?