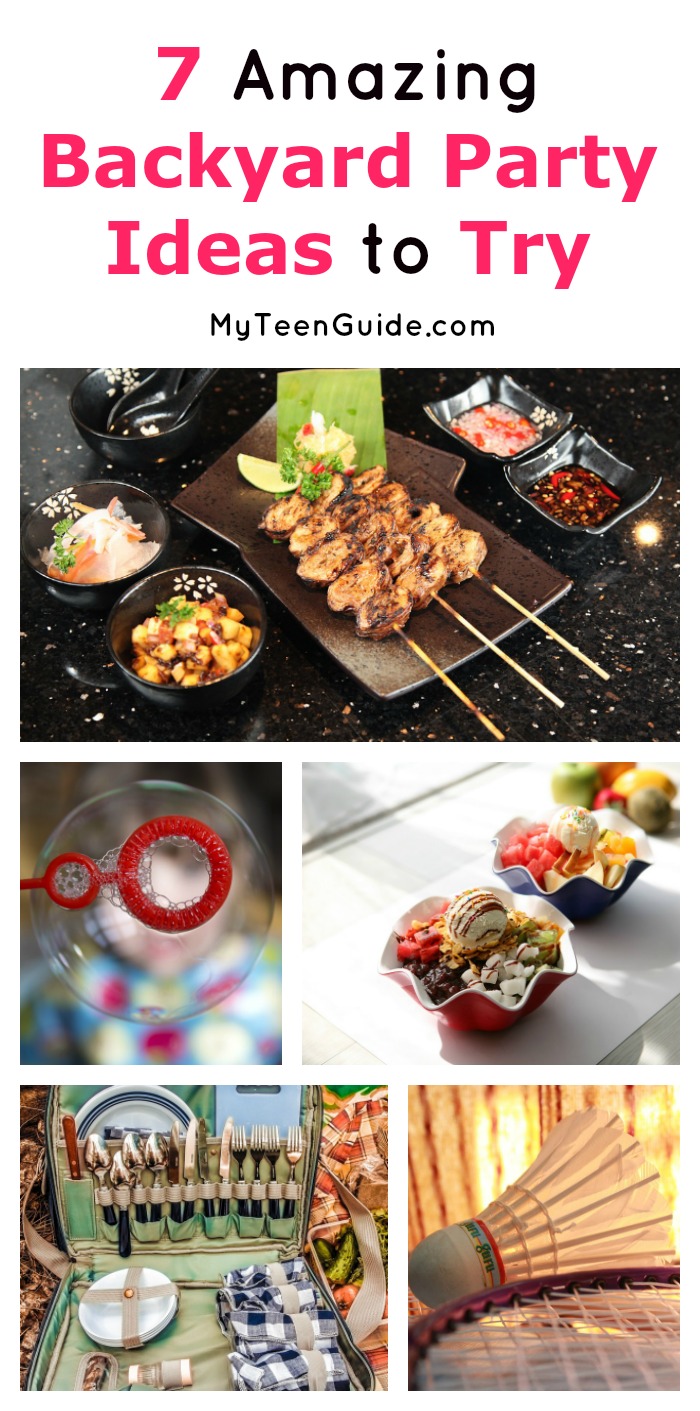 Warm weather means more time spent outside! No matter if it's a weekday or a weekend, there is no wrong time to host a backyard party with your friends. Backyard parties are a great way to have fun, eat good food and spend time enjoying the best that summer has to offer. They're the perfect theme for an impromptu gathering, too, because you can go in so many directions with it. From S'mores parties to glow-in-the-dark fun, the skies the limit. Literally. Here are 7 backyard party ideas to consider when planning your party.
Backyard Party Ideas You'll Love
Affiliate links included below. Thanks for your support!
1. Have plenty of games available
https://www.instagram.com/p/BN38AUKgg1f/?tagged=lawnscrabble
Even in your backyard, there are tons of outdoor party games that can be played to entertain your guests. Some of the most fun lawn games are outdoor Twister, lawn dominoes, lawn Scrabble
and even old-fashioned badminton.
2. BBQ at home
No one hosts a backyard party without BBQ! Offer guests a variety of BBQ 'd meats to choose from, including chicken, pork and even beef. Provide various BBQ sauces so that everyone can pick their own BBQ flair!
3. Bubbles for added fun
https://www.flickr.com/photos/nevilleslens/14449492976/
Who doesn't like playing with bubbles? No matter how old you are, there's always something exciting about bubbles! For your backyard party, fill a plastic dispenser with bubble solution. Be sure to provide small cups and plenty of wands for your guests.
4. Don't forget bug spray
https://www.instagram.com/p/BT9GNQ3lF9U/?tagged=bugspray
When it comes to the great outdoors, bug spray is a must. You can purchase individual cans at a local store or use a natural bug spray recipe. Remember, with the warmer weather comes plenty of bugs! If bug spray is not an option, citronella candles also work well!
5. Ice cream bar
https://www.instagram.com/p/BT8-gICjFNR/?tagged=icecreambar
As the day ends, your guests will want a delicious way to cool off. An ice cream bar is the perfect way to keep your guests cool while fulfilling their sweet tooth. Offer vanilla and chocolate ice cream with a variety of toppings, such as sprinkles, whipped cream, hot fudge, nuts, cherries, and anything else!
6. Consider decorating using a picnic theme
A picnic theme for a backyard party is definitely ideal! Use red and white plaid tablecloths
, place food in baskets and create a comfortable space for guests to sit on the ground. The theme can also be carried into the colors you use for balloons, banners and other decor. Everyone loves a good picnic!
7. Kiddie pools aren't just for kids!
https://www.instagram.com/p/BTzxvrMhkQd/?tagged=kiddiepools
 Don't have a built-in pool in your backyard? No problem! Grab a few kiddie pools
, group them together and fill them up for a fun cooling station for your guest. Trust me, if it's blazing hot out, everyone will have just as much fun in a bunch of tiny pools as they would in one ginormous one!
Have you hosted a backyard party? What's your favorite idea on our list? Tell us in the comments!