Teaching your kids about nature and how climate changes affect the daily reports is a great way to help them connect more with the world around them. If nothing else, it will prevent them from asking about the chances of a snow day in May! Then again, with the way the weather has been acting lately, that's not so far-fetched! We have some great weather activities for kids to help you teach them about the climate and seasonal changes.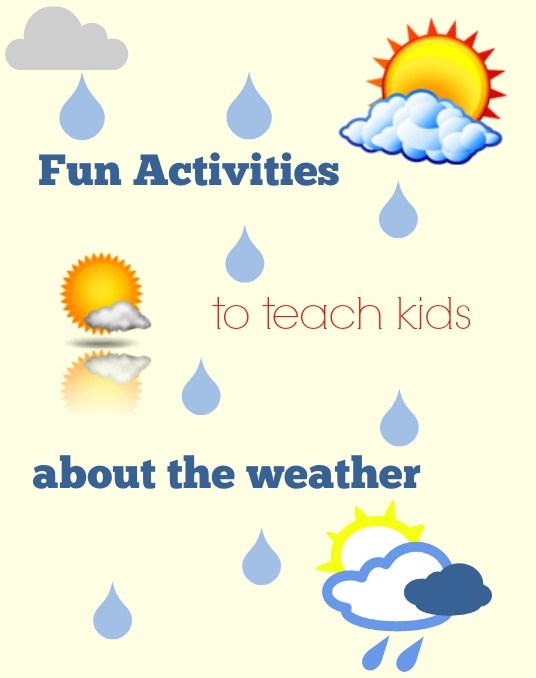 Fun Weather Activities for Kids
1. Rainy day nursery rhymes: At an early age of 3 or 4 years it becomes very complicated for young kids to understand different natural phenomenon like rain, hailstorm, fog or a thunder. Special rainy day poems help to learn the climatic process with an ease and fun. You can make some up or do a search for nursery rhymes about weather.
2. Easy art and craft handmade projects: Cloud painting with the use of domestic cotton and colorful paper sheets is one of the best weather activities for kids. The paintings enable to develop the concept of rain and formation of clouds with color recognition among very young kids of 4 to 5 years of age. During the colder months, snow spray art painting also makes for fun weather activities for kids.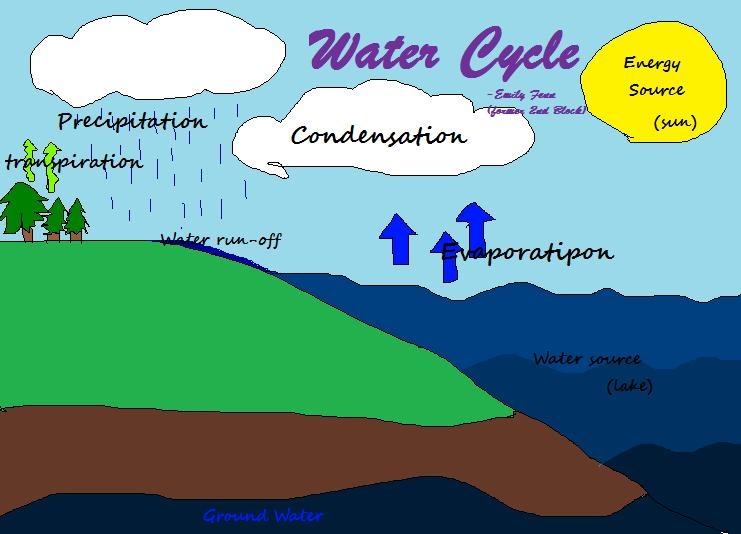 3. Water cycle drawing: This vibrant project with different hues enables scientific viewing on the weather conditions. Kids learn the principle steps of rain, water vaporization, cloud formation and water reversal in rivers by beautiful drawings and use of amazing props. Use the picture above to help guide your little ones in their project.
4. Exhibition practice Thermometer: There are stupendous weather activities for kids which help in understanding some crucial topics like knowing, practicing and reading a thermometer. With the effect of weather change there might be a sudden rise of temperature in body and kids learn the entire process once they make a toy thermometer with different useless articles.
5. Collage on different seasons: Seasonal collage making motivates kids to know various climatic periods which come during a year and how they ought to prepare themselves for the inevitable natural changes. Using pictures, props, drawing and pasting them on a specially arranged sheet is a great joy with rhyming climatic songs in the background for the collage.
6. Weather science experiments: Natural procedures like evaporation, condensation, perspiration and many more can be taught with a great effect by making use of some amazing fun science projects. Using boiling, freezing and sweating techniques can be helpful in demonstrating the real conceptualizations.
7. Hurricane experiments: Teachers display special natural phenomenon like hurricane with the use of diagrams and sketches. Storytelling and even incorporating mixer grinders encourage students to learn with fun. Such activities for kids enable them to know severe side of climate and natural happenings.
8. Rainbow screening: A rainbow is one of the rarest sights as it becomes very difficult to anticipate on them. Science teachers make use of domestic fuel such as kerosene oil to make a rainbow of 7 colors over water or ground and showcase to the curious kids.
There are numerous fun weather activities for kids, including those that include forest expeditions and visit to a science museum. More kids learn by live demonstrations and art experiments, which makes these hands-on activities great for kids of all ages. For more ideas, check our activities for kids section!