If you haven't already heard, there is a brand new Madagascar movie hitting theaters. This time, though, it doesn't feature your animated favorites from the Dreamworks series. It's all about the real animals of Madagascar! Take the opportunity to teach kids about nature with tons of great educational activities for kids that celebrate everyone's favorite Madagascar inhabitants- the lemurs!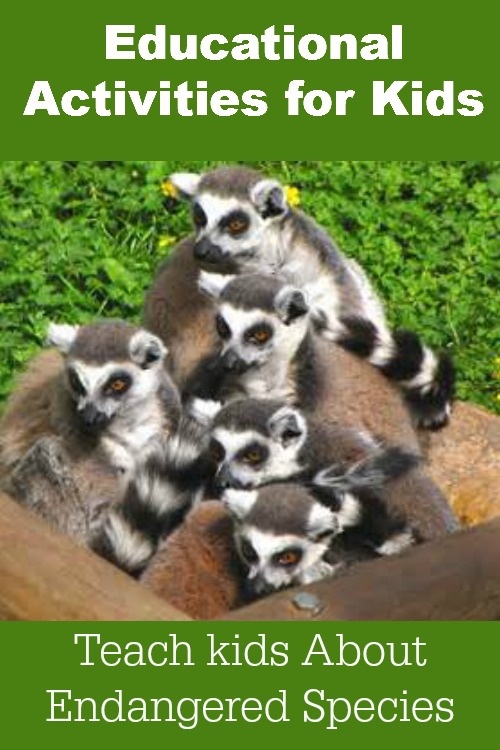 The new Madagascar movie, Island of the Lemurs, is a documentary voiced by the beloved Morgan Freeman. It follows the journey of the evolution of the fun lemurs, who are now endangered species. With Earth Day coming up soon, now is a a great time to help your children understand exactly what it means to be an endangered species and what we can do to keep the lemurs from vanishing forever.
Activities for Kids to teach about Endangered Species
Endangered species scavenger hunt: Cut out pictures of endangered species from magazines or print them out on the computer. Mount them on cardboard to make them sturdier. Hide them throughout the yard and provide clues. If you can do clues that somehow fit the animal, that would be best. For example, kids think that gorillas love bananas, so hide the gorilla picture in the banana basket. Explain to kids that, as challenging as it was to find the endangered species in the yard, if they continue to vanish it will be even harder to find them in nature.
Create a collage: Take the pictures from the scavenger hunt and help your children create an endangered species collage. This is a great way to combine two activities for kids and reuse those pictures. After all, Earth Day is all about recycling! Proudly display the collage on your child's bedroom wall.
Snack like a Lemur: The Island of Lemurs: Madagascar Movie educator guide has a great recipe for a Lemur fruit and nut bars snack. It would also be fun to look up the diets of other endangered species and come up with some fun snacks based on their diets. You may need to get a little creative if they eat bugs, though!
Adopt an endangered species: Organizations like the World Wildlife Fund often have programs where you can "adopt" an endangered species. Typically, you get a picture of the animal or maybe a stuffed animal. Kids also get updates about the efforts to protect their animal.
Protect species closer to home. Engage in activities for kids that help protect their local habitat. Organize litter cleanup days. Research endangered plants and other fauna, then go on a nature hike to see if you can find any of them. Kids need to understand that lemurs and other fuzzy cuties aren't the only endangered species on our planet.
These activities for kids to teach about endangered species are a great way to celebrate Earth Day and the release of Island of Lemurs: Madagascar movie. I suggest using the more familiar Madagascar movies as a gateway to the documentary version. We have some great ideas for Madagascar toys for kids and a cute Alex the Lion craft to help you out!