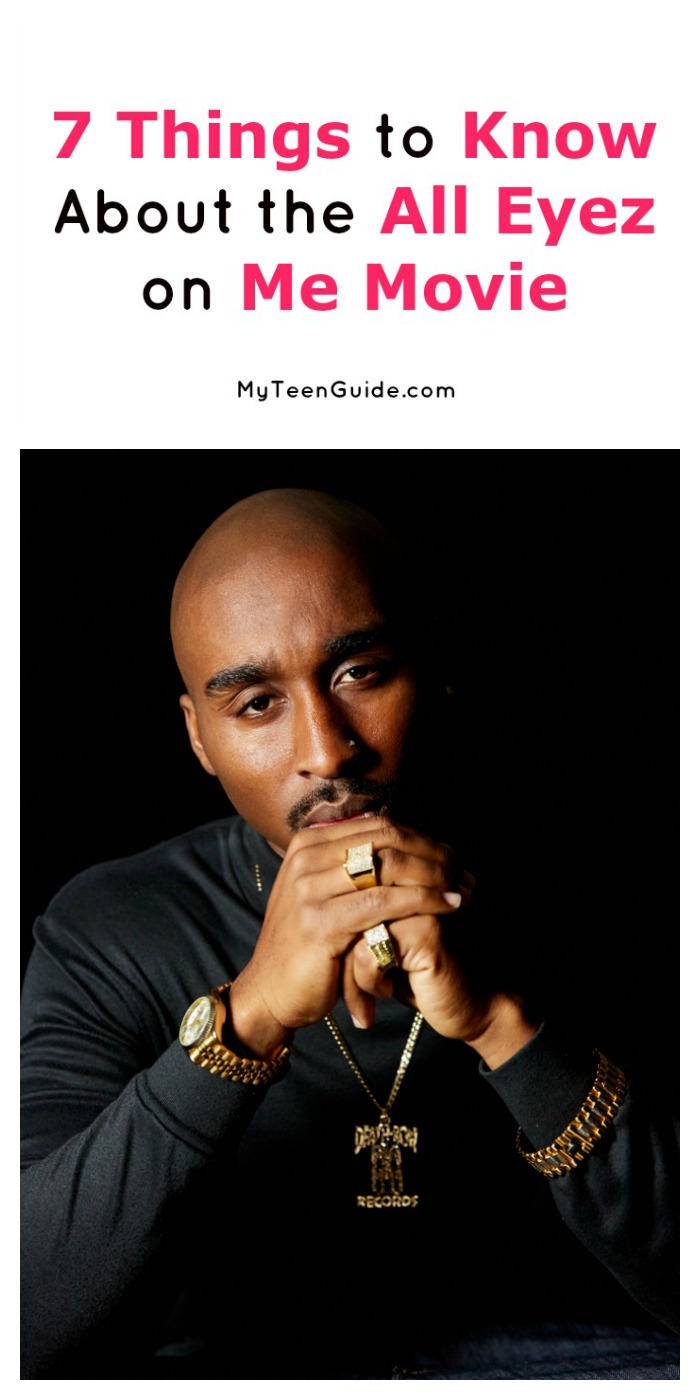 Looking for all of the All Eyez On Me movie trivia you need to know? We've got you covered! All Eyez on Me is an upcoming movie that portrays the life of Tupac Shakur, the famous rapper, who was gunned down in a drive by shooting in Las Vegas and died at the age of 25, on September 13, 1996. The biopic, action, drama movie will be in theaters on June 16, 2017. Here is some trivia you may not know about the movie and Tupac Shakur.
All Eyez on Me Movie Trivia
Affiliate links included below. Thanks for your support!
1- The movie's taglines, which appear in the trailer, pretty much say everything that needs to be said about the synopsis of the movie: The Untold Story, The Voice Behind the Music, The Truth Behind the Headlines and The Man Behind the Legend!
2- The movie will be released on what would have been Tupac Shakur's 46th birthday, June 16, 2017. Tupac was born in East Harlem, New York on June 16, 1971.
3- All Eyez on Me is not only the name of the movie, but is also the name of Tupac's 4th studio album
, which debuted at #1 on the Billboard charts 200 and has sold more than 10 million copies in the United States.
4- This is the first movie to solely feature the life of Tupac Shakur. However, there have been 4 other movies that have showcased Tupac's life including the 2001 television movie Too Legit: The MC Hammer Story, the 2016 television movie Surviving Compton: Dre, Suge & Michelle, the 2009 film Notorious and the 2015 film Straight Outta Compton.
5- This is the first movie role for Demetrius Shipp Jr., who plays the role of Tupac Shakur. His father, Demetrius Shipp Sr., was an in-house producer at Death Row Records and produced Tupac's 1996 song, Toss It Up.
6- Jamal Woolard, who plays the role of The Notorious B.I.G., also played the same role in the 2990 movie Notorious, which showcases the life and death of Christopher Wallace, The Notorious B.I.G. Woolard is a real-life rapper, known as Gravy, who appeared on Tupac's song, Untouchable, released after Tupac's death.
7- The All Eyez on Me movie director is Benny Boom, who also directed the 2009 movie Next Day Air. In addition, Boom has produced numerous music videos for artists such as 50 Cent, Akon, Busta Rhymes, Ciara, Keyshia Cole, Lil Wayne, LL Cool J, Nicki Minaj, Snoop Dogg and Trey Songz.
Planning to see All Eyez on Me when it comes out? Sign up for a Fandango Fanalert so you can skip the lines!
Are you planning to see the Tupac biopic? Have you heard any interesting All Eyez on Me movie trivia? Share below!