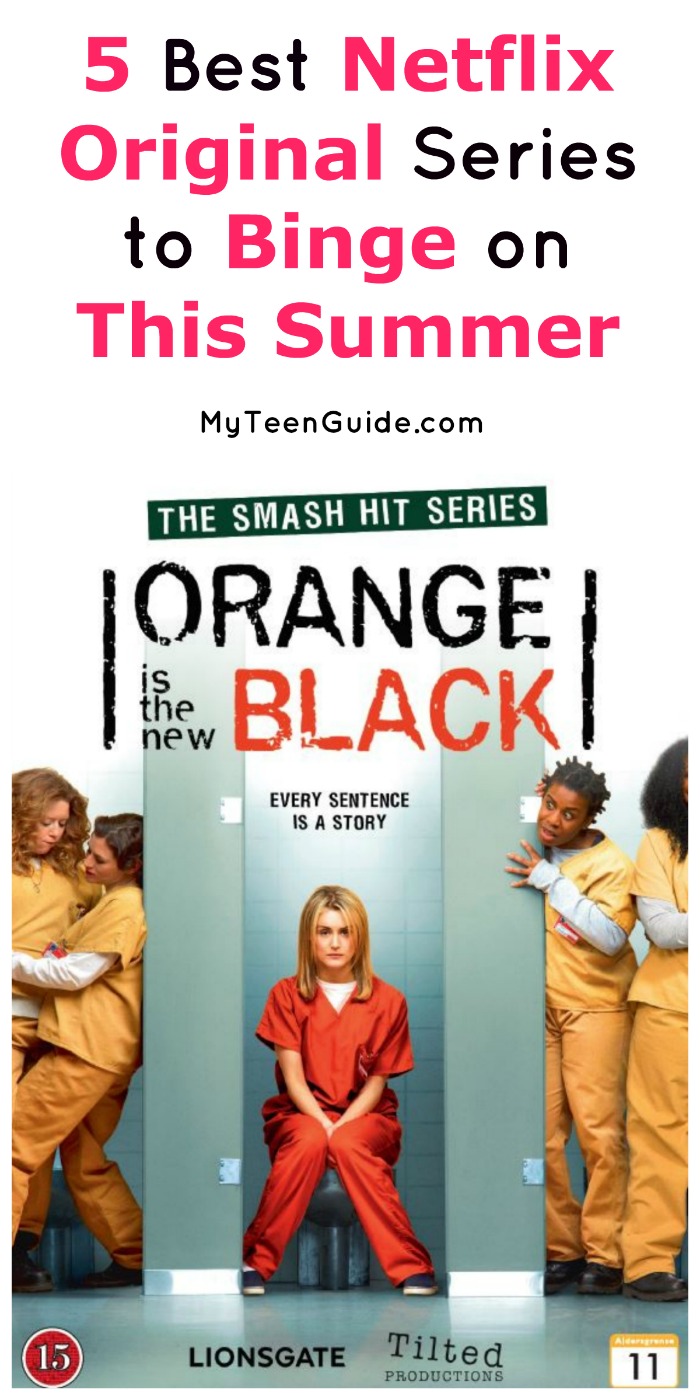 If you want to get the most out of your membership, Netflix Original series are where it's at. Sure, Netflix has a TON of movies and shows from pretty much every network or studio, but it's their original programming that really stands out.  The best part? You can binge like crazy on entire seasons the day they come out. No waiting until May to find out how they wrap up that big mystery from the premiere or forgetting what happened during a long winter hiatus. Check out our favorites that just beg to be binged on this summer!
Best Netflix Original Series
1- House of Cards
House of Cards is a political drama television series that premiered on February 1, 2013, with season 5 released on May 30, 2017. It is based on the UK television 4-episode series of the same name and the 1989 book of the same name by Michael Dobbs. House of Cards showcases the lives of Frank Underwood (Kevin Spacey), congressman-turned Vice President-turned President, and his wife Claire (Robin Wright), Second Lady-turned First Lady-turned Vice President-President.
https://www.youtube.com/watch?v=ULwUzF1q5w4
2- Luke Cage
Luke Cage is a television series that features action, crime, drama and superhero. It is based on the character, of the same name, from Marvel Comics. Luke Cage premiered on September 30, 2016 and has been renewed for season 2, set to be released in early 2018. The series focuses on Luke Cage (Mike Colter), an escaped convict, serving time for a crime he didn't commit, and now fights crime with his superhuman strength.
https://www.youtube.com/watch?v=ytkjQvSk2VA
3- Narcos
Narcos is a biographical crime drama television series that premiered on August 28, 2015, with season 2 debuting on September 2, 2016. Netflix has renewed Narcos for season 3 and 4. Narcos tells the story of Pablo Escobar (Wagner Moura), a Columbian drug kingpin, who made billions producing and selling cocaine.
https://www.youtube.com/watch?v=U7elNhHwgBU
4- Orange is the New Black
Orange is the New Black is a comedy drama television series that is based on the 2010 memoir titled Orange is the New Black: My Year in a Women's Prison, by Piper Kerman. It premiered on July 11, 2013, with season 5 to be released on June 9, 2017. Netflix has renewed the series for seasons 5, 6 and 7. The series centers on Piper Chapman (Taylor Schilling) and her trials and tribulations at Litchfield Penitentiary, where she is serving a 15-month sentence for transporting drug money.
5- Stranger Things
Stranger Things is a sci-fi, horror television series that premiered on July 15, 2016, with season 2 set to debut on October 31, 2017. Stranger Things tells the story of Will Byers (Noah Schnapp), who mysteriously vanishes from his home in Hawkins, Indiana. His mother, Joyce (Winona Ryder), the town's police chief, Jim Hopper (David Harbour) and Will's friends, Mike Wheeler (Finn Wolfhard), Dustin Henderson (Gaten Matarazzo) and Lucas Sinclair (Caleb McLaughlin), start a search for him, facing mysterious and terrifying forces along the way.
https://www.youtube.com/watch?v=XWxyRG_tckY
Of these 5 best Netflix Original series, I think Stranger Things is my favorite. Honestly, I didn't think I'd like it so much! A friend recommended it and I was hooked by the middle of the first episode. I watched the entire first season in two days (not as impressive as it sounds, there are only 8 episodes). I can't wait until October to find out what happens next.
Do you have any favorite Netflix Original series? Share below!