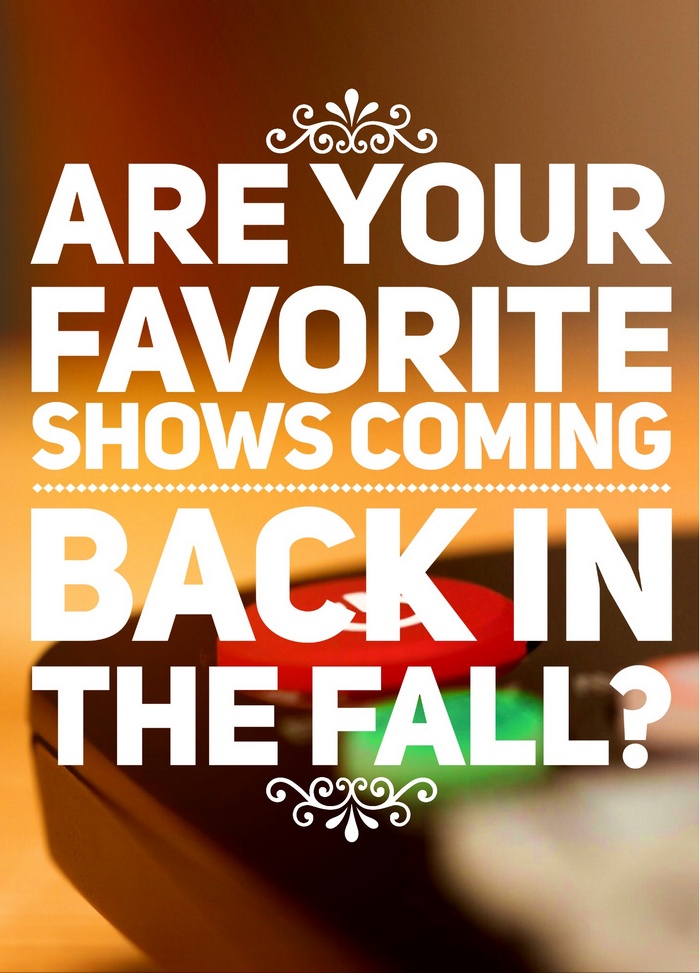 Every year, the networks put out what they call the "upfronts," where they announce the shows coming back in the fall  and shows that got cancelled. I'm not going to give you an exhaustive list of all the canned and renewed shows because, let's be honest, half of them are boring anyway. I dug out the shows that we really care about and found out their status!
So here you have it, a condensed list of your favorite shows coming back and, sadly, a few that got canned. Some of what goes was completely expected. Some, well, let's just say I cried for a moment. Then again, some of what was renewed made me cry a little too! Hopefully your favorite shows made the list and are returning in the fall!
Shows Canceled in 2015
First, the bad news. Then again, for some of these shows, maybe it's good news! I hope none of your favorite shows are on this list!
Constantine (NBC)- again, any show based on a movie with Keanu Reeves in it? Chanceless. Also, Constantine wasn't the most lovable comic book character of all time.
The Following (Fox)- you shouldn't have been watching this one anyway, but if you were, it's over. Thank goodness, because it started out awesome. Then it just got weird.
Glee(Fox)- I wept tears of joy when I saw that Glee got canned! Tears of joy! Does this mean they have an opening to bring back Firefly now?
The Messengers (CW)- Not a surprise. I watched the first episode, then lost interest. I only watched the first one because the Supernatural cast promoted it on their Twitter stream. Thanks a lot for the cruddy recommendation, boys!
The Millers (CBS)
The Mindy Project (Fox)- I'm a little surprised that this got canceled, it was such a funny show.
One Big Happy (NBC)
Parenthood (NBC)- We saw this coming and thankfully got plenty of closure, so while it's sad, I've made peace with it.
Revenge (ABC)- another one we saw coming and got closure for. I'll miss Emily/Amanda's vengeful ways, but I'm at peace.
Selfie (ABC)- makes sense in so many ways
Two and a Half Men (CBS)- about time!
Utopia (Fox)- I'm not really a fan of reality shows, so to me, this is one down, way too many to go.
Weird Loners (Fox)- huh? Must have been really weird loners, because I never even heard of it!
Favorite Shows Coming Back in 2015
2 Broke Girls (CBS)
The 100 (CW)- YES! One of my favorites! Although I wish Clark and Bellamy would get together already, or that they'd stop killing everyone.
American Idol (Fox)- I personally don't like it, but I included it because I know a lot of you do.
Arrow(CW)- Will Oliver and Felicity's peace last? Doubtful!
Beauty and the Beast (CW)- I'm starting to question this one, because it was supposed to come back on May 21, but it's not in my listings.
The Big Bang Theory(CBS)- I'm pretty sure this has been renewed for like the next century!
Dancing with the Stars (ABC)- Eh, not my thing, but if you love it, I'm happy for you!
The Flash (CW)
Fresh off the Boat (ABC)
Gotham (Fox)
Grimm (NBC)- So, anyone up for Nick and Adalind?
iZombie (CW)
Jane the Virgin(CW)
Marvel's Agent Carter (ABC)
Marvel's Agents of S.H.I.E.L.D (ABC)
The Middle (ABC)
Modern Family (ABC)
Mom (CBS)
New Girl (Fox)
Once Upon a Time (ABC)- Why can't someone just say "Rumpelstiltskin" three times and be done with it?
The Originals (CW)
The Simpsons (Fox)- guys, this has been on since I was in high school and will probably be on when your own kids are in high school!
Reign (CW)
Sleepy Hollow (Fox)- I heard they're going back to a story of the week theme, rather than an ongoing drama theme.
Supernatural (CW)- Have to wait until tonight's season finale to see what kind of sarcastic or smarty pants response I can come up with. Still mad at them for recommending Messengers.
Survivor (CBS)- I cried. Seriously? Isn't it time to take these survivors off life support?
The Vampire Diaries (CW)
So there you have it, a very shortened list of what I personally think are the important upfront announcements regarding favorite shows coming back and going. Stay tuned for an update of what's new this fall!
So, are your favorite shows coming back or did they get cut? Did I miss any of your favorites that you want to know about? Talk to us in the comments!