On your child's next playdate, why not plan some fun educational activities that will both teach and entertain?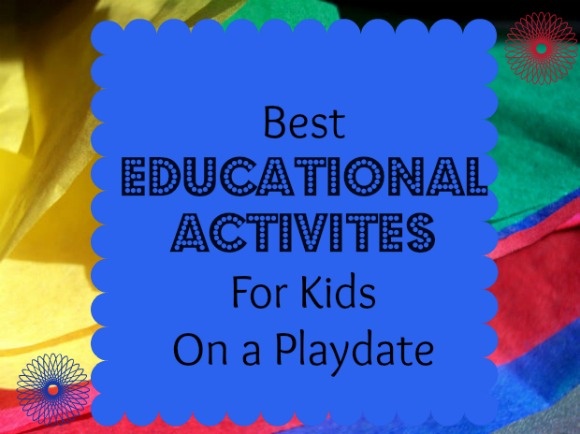 Children often learn more when they play in groups. Organizing play dates at home is the best way to encourage group playing among children. But, if you are organizing play dates frequently at your home then you might be falling short of ideas to engage the children in educational activities. Here are few educational activities that are worth involving your child's team on play date.
Educational activities for children on play dates
 Craft work: While inviting the children for a play date ask them to collect few items they would love, such as small shells, feathers, colorful leaves etc. On the play date pile up things brought by the children and guide them to decorate the greeting cards in a way they love using the available items. They can use these cards as gifts for their friends on days like Thanksgiving. This develops creativity and social skills such as co-operation and sharing among children.
Puppet show: This is an ideal game to help children speak and express their hidden ideas. Prepare a variety of puppets and give them to children on the play date. Ask the children to tell a short story using the puppets. This makes the children think and they even come up with some of their experiences. This gives an opportunity for the children to share their feelings and is also a best way for the parents to understand their children's feelings.
Group singing: Play a few of the children's' favorite songs. Give each child a copy of the lyrics of the song and ask them to sing in group along with you. This activity develops flair towards music and s reading ability among the children. By singing in group they even overcome timidity.
Word scramble: Give each child a set of alphabets. Ask the first child to make a word using the letters he possesses. Now, the second child should make a word that starts with the last letter of the word given by first child. The game continues until all the children complete their turn. This helps the children learn spellings of different words and improves their vocabulary. You can even print out some fun word scramble games for kids!
As you can see,  each of these educational activities develop various skills among children. Activities like painting help children suffering with disorders such as autism who are verbally poor communicate efficiently using their drawings. On the whole, play dates should be planned well to make it enthusiastic and fun filled for all children.