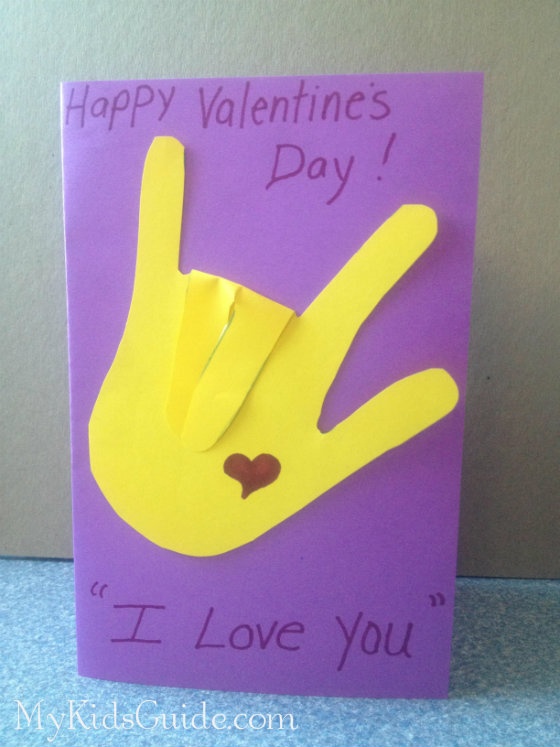 Valentine's Day is a wonderful time to talk to children about how we can show our love for others. Children should know that people communicate love in many ways, but mainly by telling someone else "I love you" verbally. So what happens when someone is unable to verbally communicate? Sign language can be a new and confusing concept to children if they have yet to encounter someone who is hearing impaired. However there is no better time like the present to teach children that sign language is just another form of communication!
One of the easiest signs in American Sign Language is the sign for "I love you." This would be the sign where the middle and ring finger are bent into the palm, while the index and pinkie finger remain open and straight. The thumb stays out in its normal place as this sign is made, and the final result is the sign for "I love you."
This Valentine's Day, why not celebrate this other form of communication with a sign language greeting card? A sign language greeting card allows for you to have the conversation about sign language and the various signs with your child, all while creating a card to give in the process! The supplies are simple to gather and this card only takes minutes to assemble. Here is how!

Make this Valentine's Day Craft for Kids

Supply List:
Colorful Construction paper
Pens or pencils
Markers
Scissors
Glue

Directions:
Start by tracing your child's hand onto a piece of construction paper. They love this and how much it tickles!
Have them carefully cut the hand design out.
Bend the ring and middle finger forward on the cut out.
Take a separate piece of paper and fold in half to create a card.
Glue your cut out hand onto the front of the card, being careful to keep glue off of the fingers that are suppose to remain bent forward.
Allow your child to use the markers and pens to create a personal greeting in their Sign Language Valentine's Day card! They can even write "This means I love you," under their cut out hand if they wish to decipher the sign for the recipient of the card.
That's it! When you are finished you will have a beautifully three dimensional sign language embellished Valentine's Day card ready for gift giving! Not only will you have this finished project, but you will also have enjoyed some valuable conversation time with your child about the different ways people communicate and how sign language plays an important role in the lives of many people!
So gather the kids around and enjoy this wonderful conversation time with them, then create your own sign language Valentine's Day cards. They are sure to enjoy making them! Be sure to check out our Purposeful Play Valentine's Day banner to help decorate for the day of love!