What is the best karaoke machine for parties?
Well, that depends on your budget, of course!
Whether you're wallet is feeling a bit light or you have a "spare no expense" attitude, I can promise you one thing!
You'll find the absolute perfect karaoke machine for YOUR next party below!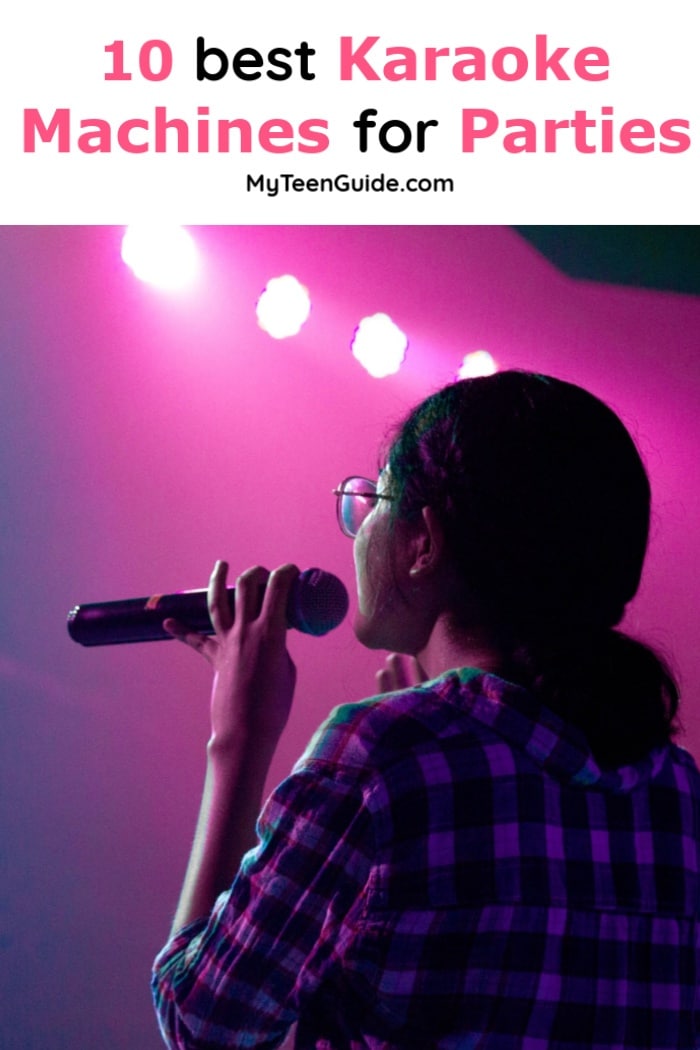 What's the #1 best karaoke machine for parties?
If you want to skip all the reviews and just grab my favorite machine, check out the KaraoKing.
(FYI, this post contains affiliate links. If you make a purchase through these links, we earn a small commission at no extra charge to you.)
Want to know why it's my top pick? Check out #1 in my karaoke machine reviews below.
Best Karaoke Machines for Parties (with reviews)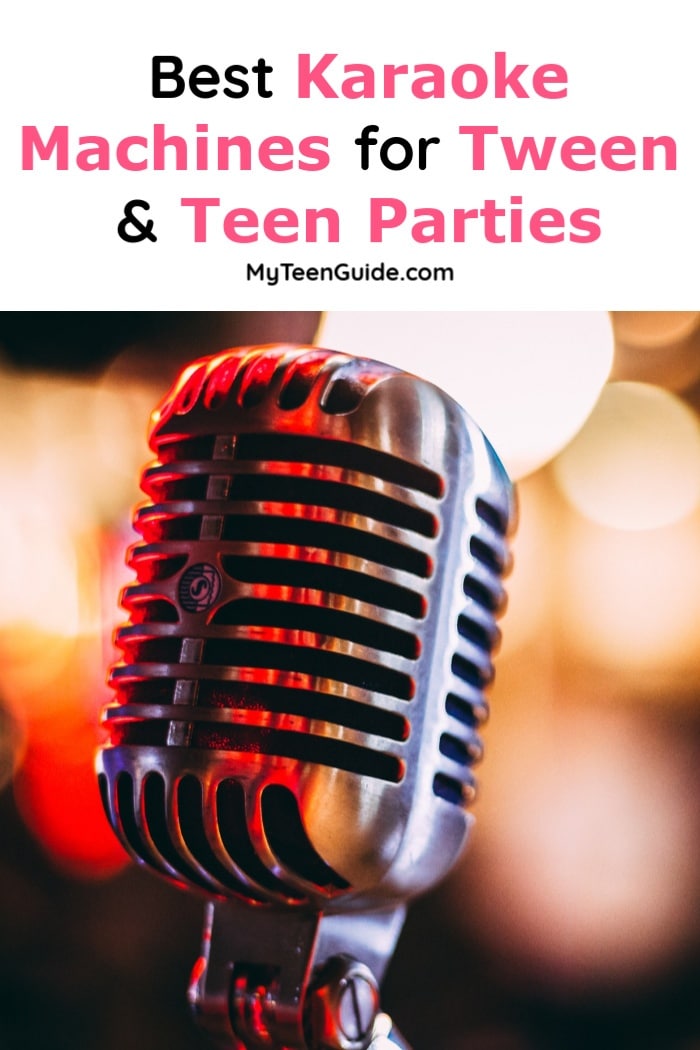 Start by checking out the table below (and above #6 for the next batch) for a super fast peek at my top picks. Then, read on for the complete reviews.
1.   KaraoKing Machine for Kids & Adults 
The KaraoKing isn't just my top pick for the best karaoke machine in 2020 , it's my #1 overall pick for all time. Let's take a look at the pros and cons.
Features & Pros
Comes fully loaded, with a Wireless Microphone Speaker with Disco Ball, 2 Wireless Bluetooth Microphones & Free Phone/Tablet Holder
Super easy to connect. Use USB, AUX, Bluetooth, even FM radio!
It's crazy durable, so even younger kids can use it.
Built-in wheels make it a breeze to move from an indoor to outdoor party and back.
A lifetime warranty means the fun never, ever stops. If it does, they'll fix it!
Cons
It's among the pricier karaoke machines.
Disco ball is just plastic and not as durable as the rest of the machine.
While sound is good, it's not exactly professional quality.
Recommendation 
If you want the best karaoke machine for home parties, this is it, in my opinion!
Just make sure you have reasonable expectations in regards to sound quality.
Look, unless you want to spend mega bucks for a "good enough to put in a karaoke lounge" machine (one of which I'll share later on), you're not gonna get pro-quality sound.
2.  Singing Machine  SML385BTBK
The Singing Machine is a little more budget-friendly, but don't let the low price scare you. It's actually a sweet little machine if you manage your expectations.
Features & Pros
Use your favorite karaoke CDGs (CDs with graphics).
Top-loading CD player makes it easy to pop new music in and out.
Plays the CD plus displays graphics.
Bluetooth for wireless audio streaming (to compatible devices).
Connect it with USB to record your songs.
Use the USB port to load songs from a flash drive.
54 pretty LED disco lights make it a hit at parties.
Built-in speaker
Connect to your TV set for scrolling lyrics.
Cons
Must be hooked up to a TV to see the lyrics.
Graphic quality isn't the best (don't expect high-def lyrics)
Again, not exactly pro-quality audio.
Power adapter is prone to breaking.
Recommendation 
While it's not my top choice for the best karaoke machine for parties, it's a solid low-budget option for those who just want something they can use occasionally.
Again, you get what you pay for, especially in terms of sound quality. I'd recommend it for a kids or tween party.
3.  InAndOn KV-V5 Plus Karaoke Player
Before we go too much farther, I do want to give you one massive splurge machine, since I promised you a pro-quality pick.
While there are a lot of professional machines, this one caught my eye because it's actually kind of nice to look at. Let's check it out.
Features & Pros
Includes a beautiful 19.5" touch screen
Download 270,000 songs for free from the cloud
Comes with a microphone (which they make sound like a perk, but at that price, it's a standard feature).
Supports multiple different languages
Broadcast live, stream your session, or play it through the TV.
7.1 Surround sound and 4K video output
Record and share your songs.
Cons
Mega pricey!
Super bulky
Wired touch screen (has to be connected to the machine)
Tricky to set up
Recommendation 
Okay, so honestly, unless you're planning to host karaoke parties every single week, you probably don't need this mega machine!
Still, if you have the cash for it and really want something top-of-the-line, go for it!
4.  Singtrix Smart Karaoke Family Bundle
Want something a little more robust than my top pick but not quite as insane as that last one?
The Singtrix Smart Karaoke Family Bundle is a good middle-of-the-road option.
Features & Pros
Super simple set up, just plug and play.
Includes a Pro Mic with Hit Effect Control
Fairly compact and portable.
Machine actually tunes to your voice and creates backup singers for you.
Access free online music and apps
Pro Vocal technology and hi-fi sounds.
Comes with 40 Watt Speaker with Subwoofer
Connect to receiver and play it through even better speakers if you want.
Cons
A bit pricey
Backup harmony voices aren't the best, according to a few reviewers.
While sound is decent, if you want amazing you'll have to hook it up to another speaker.
Not all of the online music is free.
Recommendation 
The Singtrix is a great little machine for families who love to belt out tunes on Karaoke night.
One reviewer had a great recommendation, though. Rather than paying the $20 a month to download songs through the app, just search for Karaoke channels on YouTube.
5.   Singsation All-In-One Karaoke System 
The Singsation All-In-One Karaoke System  gets my vote for one of the best karaoke machine for teenage girls. Let's see why.
Features & Pros
Connect to your smartphone or tablet using Bluetooth.
Comes with a microphone and stand that also holds your tablet
Easily grab Karaoke videos/songs right off YouTube.
10 different voice effects, including some really funny ones (make your voice sound like the Chipmunks!)
8 funny sound effects, like cheers and air horns.
16 different light shows to accompany your performance.
Cons
Can't change the voice effects without pressing the buttons on the main unit.
Speaker quality isn't exactly pro-grade
The microphone that comes with it isn't the best
Recommendation 
With 4.5 stars across over 280 ratings, it's clear that the Singsation is a sensation! It's a great little party machine for all ages.
That said, you may want to get another mic to go with it, as a few people complained about both the quality and durability of the included one.
6.  BONAOK Wireless Bluetooth Karaoke Microphone
The BONAOK isn't a karaoke machine, but it does let you turn your phone into one.
I'm including it here because not everyone has the money (or the space) for a whole big machine, right?
Features & Pros
Compatible with most karaoke apps.
Bluetooth module can be used as a speaker, player, or recorder.
Connect either through Bluetooth or with a cable connection.
Also supports a microSD card (up to 32GB).
Multi-function buttons make it easy to switch to different modes, change the volume, and so on.
Comes with a Rechargeable Battery
Comes in 11 colors (including plain old silver, black, or gold)
Cons
Some say it has a funky smell.
Speakers are about what you'd expect from a handheld mic (not all that powerful)
Some of the features are hard to figure out (recording, setting up apps)
Recommendation 
If you just want something for occasional karaoke nights and don't want to drop $100+ on a while machine, the BONAOK is a-ok (get it?)! 😀
Seriously, it's a 4.5 star mic with over 5,400 ratings. That says it all!
7.  Ankuka Portable Bluetooth Karaoke Machine
Next up on our list, we have the Ankuka. I love this guy because he's not just a karaoke machine. Keep reading to find out what else he can do.
Features & Pros
Comes with built-in Bluetooth for wireless audio streaming
Not just for karaoke. Use it as a PA system, music player, and even a guitar amp.
Perfect for indoor and outdoor parties.
Advanced audio controls let you build your own mixer effects.
Echo effect makes it a great surround sound syste,.
Comes with a fun USB disco light!
Rechargeable battery lasts about 4 hours non-stop at the highest volume. .
Comes with 2 wireless mics, remote control, adjustable stand, the disco light, and even a dust cover.
Cons
Doesn't come with any music
Difficult to connect to larger speakers
Mics are a bit cheap
Recommendation 
While the included mics are on the cheap (as in, won't last long) side, overall this is a very well-liked machine!
I'd feel confident calling it my #2 pick for the best karaoke machine for parties.
8.  iKaraoke KS303W-BT Bluetooth CD&G Karaoke System
Want something that's perfect for slumber parties and won't bust your budget? Let's check out this super cute iKaraoke machine.
Features & Pros
Totally affordable
Connects to your smartphone or tablet with Bluetooth
You can also use CDs and CDGs with it.
Multi color lighting effects for added fun
Comes with one wired mic
Also comes in black if you're not loving the white one.
Cons
Not exactly the most powerful speakers
Included mic is on the cheap side
Recommendation 
While I wouldn't recommend this one for huge parties, it's a great little karaoke machine for teens and tweens who have a lot of sleepovers.
9.  Karaoke USA Complete Rechargeable Karaoke System 
This Karaoke USA System gets my pick for the best machine for outdoor parties.
Features & Pros
The all-in-one design makes it easy to grab and go.
Includes 2 mics, power cables, remote, and more.
Rechargeable battery lasts up to 8 hours.
70W speaker with synchronized LED lights
Works with all devices with Bluetooth, RCA, AUX, SD memory cards, and USB.
Also works with most iPhone and Androids.
Comes with 2 discs with a total of 300 songs.
Allows you to record your singing as well.
Cons
Average sound quality
If you want to connect it to a TV, you have to use CDs to see the lyrics
The songs on the included CDs aren't really what one would call hits.
Recommendation 
Like I said, this is perfect for those on-the-go outdoor parties (or camping trips!).
However, I'd definitely grab some different CDs for it, as the songs on the included ones are old and kind of corny.
10.  Croove POP Box Karaoke Machine for Kids
While this last one is far from the best karaoke machine for adults or older teens, it's super cute for the younger crowd.
Features & Pros
Budget-friendly
Comes with 2 mics
Connects via Bluetooth, AUX, and USB.
Long-lasting rechargeable battery makes it super portable.
Fun disco light effect that can be turned on or off.
100% SAFETY CERTIFIED (which is why it's such a great pick for kids)
Cons
No volume control on the mics
Not the most powerful sound (although surprisingly better than expected)
No power cord, so when the battery dies, the fun is over until you recharge it.
Recommendation 
Again, this isn't exactly an adult-quality machine. However, it's a fun affordable gift for kids who love to belt out tunes!
Final Recommendation
I already gave you my #1 pick way up above. However, I do have a few other recommendations.
If you plan on hosting A LOT of karaoke nights, I do recommend splurging on the best machine possible. That would be the super pricey #3.
On the flip side, if you just want something that you can grab and take on the go, I love #9.
Honestly, though, all of these are great machines. The best karaoke machine for parties is the one that fits your needs. That's all there is to it!
Do you have any other picks for the best karaoke machine for parties? Share below!