Get ready to celebrate Fat Tuesday in style with our favorite Mardi Gras party games for teens!
From super simple "Minute to Win It" ideas to over-the-top fun, we've got you covered.
Take a look!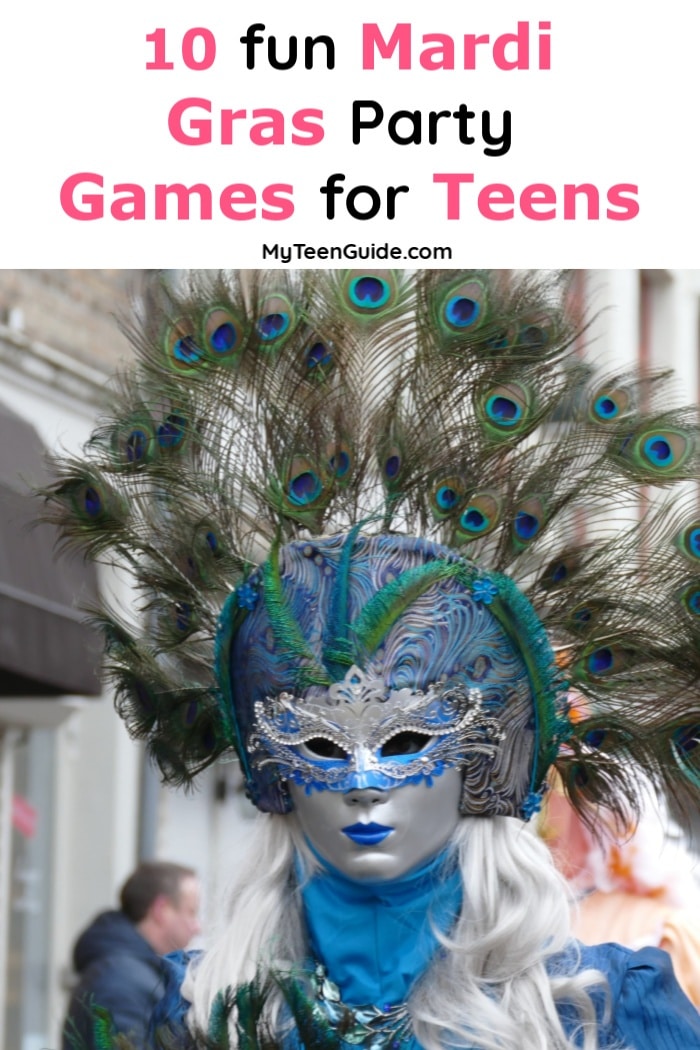 Mardi Gras Party Games for Teens
Mardi Gras is actually French for "Fat Tuesday", and is the day before Ash Wednesday.
It is the last day in which we can eat rich and yummy food before the Lent fast begins.
However, modern-day has made Mardi Gras a day to celebrate and throw big parties!
Let's check out our favorite games!
FYI, this post uses affiliate links for product recommendation. We earn a small commission if you buy through these links.
1. Mardis Gras Masks
People often parade around in the streets in colorful costumes during this joyous occasion.
Why take away from that tradition when you can make it a part of your celebration?
Hand out different masks (like those below) at the beginning of the party and make it a game of trying to figure out who's who by the end of the evening.
You can only ask yes or no questions. It's sort of like hosting your own masquerade ball in your living room!
[amazon box="B07DQR95CW"]
2. Murder Mystery
There is always an added dose of fun when you turn a classic game such as murder mystery into something more with elements of Mardis Gras.
Create different characters and concoct ideas on their background and formulate a whole story involving everyone present in some sort of Mardi Gras mystery.
Not many tools and props are needed, just your friends, maybe some drinks and a whole lot of imagination!
Not up to creating your own? Here's one that's done for you:
[amazon box="B000P8HPIM"]
3. Pinata Fun
[amazon fields="B01NAH1TVA" value="thumb" image_size="large" image_alt=" Mardi Gras Pinata"]
Mardi Gras has always been known as a colorful celebration with weird and eccentric costumes and props.
If your city doesn't do Mardi Gras parades, you can bring a bit of it home with a fun Pinata game!
Make it a group activity to make and decorate a pinata and fill it with all sorts of goodies such as candy, small prizes and even noisemakers. See who busts the pinata open with the final blow!
4. Pass the Beads
Beads are the mascots of Mardi Gras (can mascots be inanimate objects?) It's only natural that you may want to incorporate a game including these colorful little decorations.
Make two teams, hopefully with at least three people on each team. Stand in a line and have one person at the end of each line wear all the beaded necklaces.
The goal is to pass all the beaded necklaces to the person at the other end of the line.
The beads must make their way around each person's neck without any team member touching them with their hands!
[amazon box="B07MHRT4W5″]
5. Mardi Gras Ring Toss
Or might we say "bead toss", it's very similar to the ring toss game but instead you use beaded necklaces (or bracelets for an added challenge).
What you do is you try to toss the bracelets around the prizes you want.
Prizes can be small things like a pencil holder to jumbo prizes such as a new Mp3 player or anything you can afford to include.
6. Costume Contest
You can encourage guests to come in plain clothes and attempt to make their costumes at your place.
Only allow a short time (an hour or so) to create the most stunningly jaw-dropping costumes. When everyone is finished, you hold a vote for the Mardi Gras King and Queen (ones with the best costume).
Hopefully, you have the budget for a really cool prize for the winners!
7. Mardi Gras Trivia
Most people don't know the history of Mardi Gras, so what better time is there to brush up on the origin story than right now?
You can make it fun with trivia cards and teams and prizes. Make it sort of like Family Feud for more fun! Go down the line and add up all the answers and see which "family" has the most points.
Although it will be hard to be as hilarious as Steve Harvey if you're the host!
8. Mardi Gras Scavenger/Treasure Hunt
Hide things around the house or neighborhood and task the participants with the job of locating the "pot of gold".
Or you can go the scavenger hunt route and leave clues around the house. Just make sure the winnings you prepare for the winners are worth it!
9. Mardi Gras Musical Chairs
Mardi Gras is most celebrated in Louisiana, on the Bayou, in the French Quarter. It's so interesting with all the voodoo and witchcraft history in that part of the country.
Find music that reflects the history of Mardis Gras and turn it into a fun musical chairs game! Last one sitting wins!
10. Mardi Gras Spells and Potions
New Orleans has a rich "witchy" history! Try to put together a "potion" with things you have around the kitchen but with cool labels (ketchup could be lizard's blood, etc).
Divide into a few teams and come with the "best" recipe you can make with the ingredients provided.
Make sure you don't add anything you wouldn't want to eat because everyone needs to taste the potions after to vote for the best tasting one!
You don't need to leave your house to celebrate this colorful festival! You can bring all the vibrancy and infectious spirit home with you with the right games and right people.
Which Mardi gras party games for teens would you like to try the most? Tell us in the comments below!