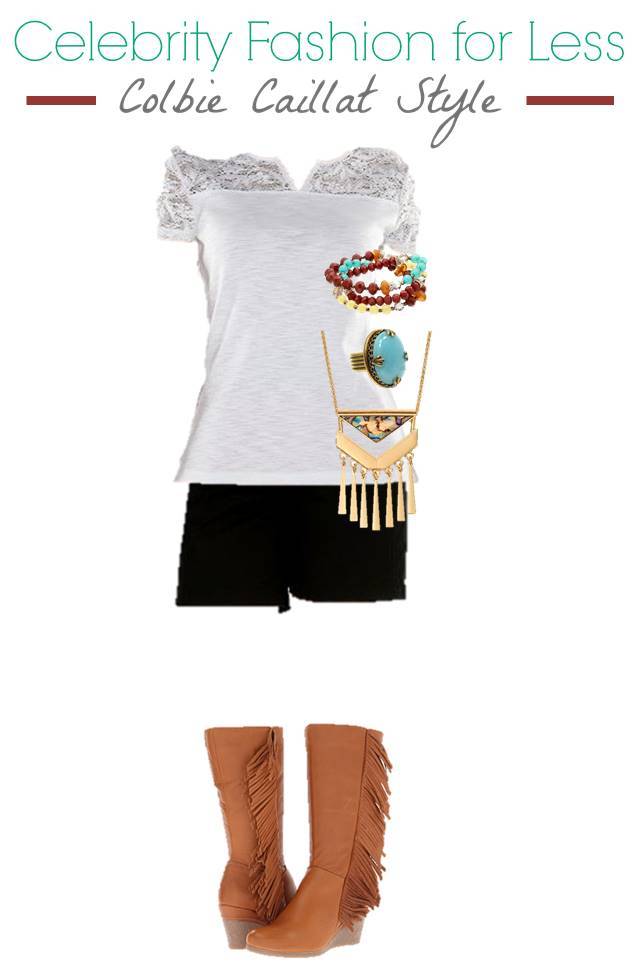 Love how American singer-songwriter Colbie Caillat dresses, but don't have a pop star budget? We've put together a Colbie-inspired outfit that costs less than $225! The boots are the most expensive part, and you can wear those with other outfits. In fact, each piece of this Colbie Caillat outfit can be worn with other pieces, stretching your wardrobe much further.  Read on to learn how to dress like a celebrity for less!
Colbie Caillat Fashion for Less
Affiliate links included below.
Core Outfit
Accessories:
The small details really make a celebrity look-alike outfit. Of course, they're also the hardest to "fake." Think about it: most celebs have the cash to splurge on one-of-a-kind jewelry at super upscale Beverly Hills boutiques. Thankfully, Colbie Caillat maintains her beachy cowgirl look right down to the last detail, so you can grab some inexpensive accessories at Kohl's and Amazon to emulate her style. Pictured above:
Mudd Bead Stretch Wrap Bracelet (Kohl's) $16.80
Apt 9 Long Chevron Necklace (Kohl's) $13.00
Jan Michaels Large Cocktail Ring (Amazon)$32.95
Colbie Caillat isn't just a laid-back fashion icon, she's also quite charitable! Did you know that a portion of the proceeds from her "Girls Night Out, Boys Can Come Too" tour goes to benefit two charitable organizations: Givewell and Music Cares? Check out tour dates on her official page.
Five Fun Facts about Colbie Caillat
If you're going to walk the walk of Colbie, you should be able to talk the talk, right? Check out these five fun facts about Colbie!
She wrote a song for The Walking Dead Soundtrack Vol. 2- Songs of Survival, called "The Way I Was," but you can only get it on the Walmart exclusive version.
Her father, Ken Caillat, co-produced Fleetwood Mac albums.
Colbie is a huge supporter of Farm Sanctuary, an animal welfare organization that protects the well-being of farm animals.
Her song, Midnight Bottle, not only appeared in a Brazilian soap opera, Colbie actually played herself in the episode and sang it!
Colbie auditioned for American Idol, but was rejected because she was too shy to sing in front of the judges.
Do you know any other fun facts about Colbie Caillat? Have another celebrity that you'd like to see us do a fashion board for? Share in the comments!