If you are looking for a Christmas craft for kids that is not only festive but frugal, this Simple Santa Candle Holder is it! It only takes a handful of supplies, all of which I was able to purchase as my local dollar store. This post contains affiliate links.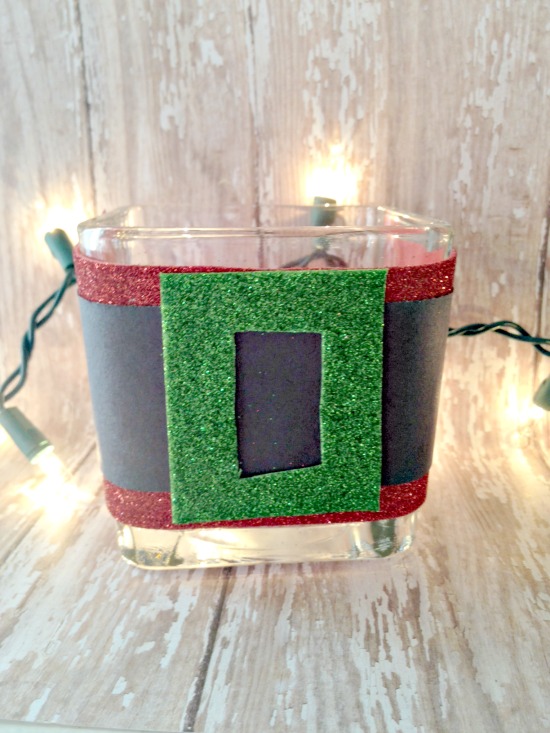 It does not require a great deal of time either, in about 30 minutes you are done and have the perfect holiday candle holder, ideal for using in your own holiday decor or to even give as a gift. Want to learn more? Take a look below at how easy it is to make this Christmas craft for kids on your own.
Simple Santa Candle Holder Christmas Craft for Kids

Supplies Needed: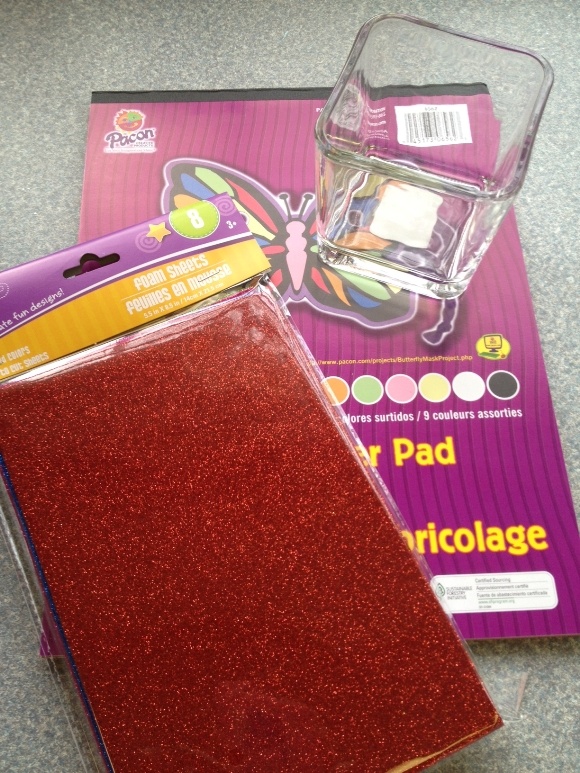 Square glass candle holder. You can get a set of 12 for $11.99 on Amazon if you're planning to make a lot of these.
Glitter foam board in red and green. Text-Ur Foam also works great, just add a little glitter!
Black construction paper
Glue
Scissors
As mentioned, I was able to find all of the supplies at my local dollar store. If you are unable to find the glitter foam board we used (sold in a pack of six in various colors) construction paper or felt will work just fine too.
Directions:
Begin by cutting a 2 inch strip of red glitter foam. Wrap it around the candle holder and add a dab of glue to secure it. This will act as Santa's coat. Cute, huh?
Next cut a strip (about 1 inch will do) of black construction paper. This will act as Santa's belt. Wrap it around the candle holder as well and secure it with glue.
Now you are going to make Santa's belt buckle. To do this, cut a square of green glitter foam. Cut an additional square out of the inside of the shape to make the buckle effect. Add a dab of glue to the back and secure it to the belt.
That's it! You will now see that your Santa has taken shape! All that is left to do is put a battery operated or traditional votive inside and you are all set to "glow." As mentioned, this Simple Santa Candle Holder is the perfect Christmas craft and would make a great holiday gift. It is perfect for teachers, babysitters, neighbors, or any unexpected guests that stop by. For this low price, you can easily make several to keep on hand for when unexpected guests stop by and you are in a need of a quick gift.
Head to your local dollar store and get all of the supplies to make your own Simple Santa Candle Holder. It is the perfect Christmas craft for kids if you are looking for something festive that won't break the bank and your budget.
Happy crafting!