We received a complimentary Pinypon Weekend Getaway Toy for Kids in exchange for an honest review. All opinions are our own.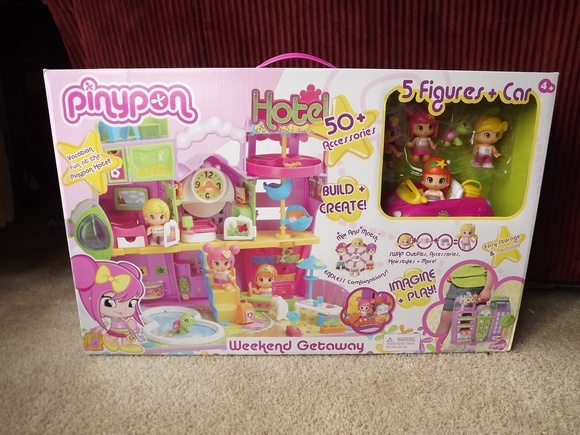 The Weekend Getaway Hotel is the latest item launched by European toy maker Famosa and one of its many marketed brands, Pinypon.  Famosa was established in 1957 and has become a leading toy and doll manufacturer based out of Spain.  They pride themselves on their reputation for safe, high quality products for young children.
The Pinypon Weekend Getaway Hotel Toy for Kids
The Pinypon Weekend Getaway Hotel has captured quite a bit of my kids' attention lately! From the minute I started taking it out of its packaging their little hands just couldn't wait to dig in.  The age recommendation noted on the box is 4+ years, but my 2 ½ year old daughter and 4 year old son have both taken a lot of interest in this toy.  The box includes: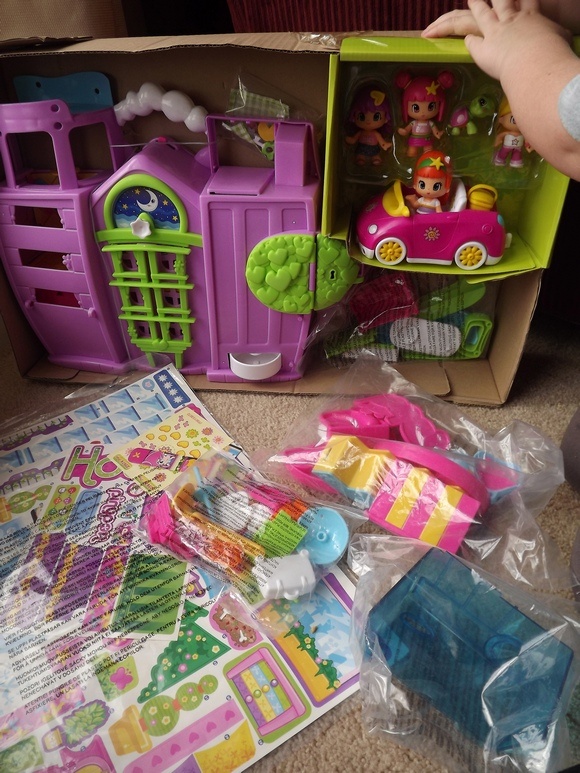 1 Weekend Getaway Hotel with carry along handle
4 mix and match dolls
50 doll and hotel accessories
1 convertible with drop down trunk and 1 sheet of decorating stickers
1 pet turtle
1 key to lock the hotel closed complete with a string for the child to wear
2 sheets of decorative stickers to apply to the hotel and coordinating accessories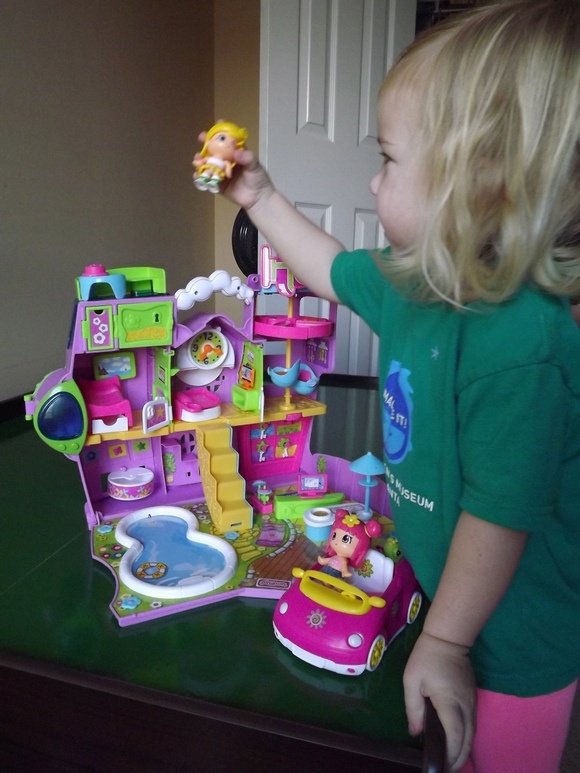 By just observing (and maybe playing along once or twice) I noticed that my children treated this toy like a dollhouse.  They enjoyed rearranging the furniture, placing the dolls in different rooms, and acting out little scenarios by the pool or in the pet play area.  Both my son and daughter frequently mixed and matched the dolls hair, skirts, and accessories and thought this was pretty cool.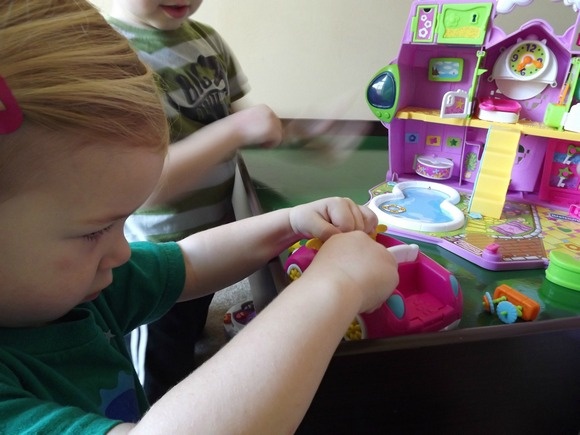 Now, even though the box notes that this toy is recommended for ages 4 and up, my 2 ½ year old daughter spent quite a bit of time with it.  The first day I opened the hotel she spend a good 45 minutes playing with it on her own.  For a child of her age, I thought that was pretty impressive.  However, I'm pretty sure the age recommendation has a lot to do with the tiny accessories that came with toy.  These are cool little details like cups, forks, spoons, a bottle of lotion, and even a fishbone.  I found it best to set these aside when my daughter was playing with the hotel because they were so small.
If you plan on purchasing this toy as a Holiday Toy for preschooler,  I recommend opening it ahead of time to apply all the decorative stickers.  There are well over 70 of them all numbered between 2 sheets.   While there are directions included showing you where each number goes, it still got a little confusing and took me about an hour with two little ones hovering over my shoulders.  Unfortunately, one sheet of stickers didn't even line up correctly when it was cut so none of the stickers on that sheet were accurate.  This wouldn't have been a big deal if they were cut a little off, but they were so badly cut that the main hotel sign at the top of the toy turned out mostly unreadable.  I didn't try to call the company for a replacement, but I'm hoping this is something they'd rectify if it were to happen to anyone else. Update- The company saw the review and sent me a new sheet of stickers! How is that for some amazing customer service?
All in all,  both my son and daughter have really liked the Pinypon Weekend Getaway Hotel, whether it be while playing with each other or just by themselves.  I really appreciate how this toy for kids is all inclusive- the hotel, accessories, dolls, and even their convertible all come together and can be enclosed inside the hotel.  No need to purchase additional items to get the most out of it.
If you are interested in purchasing the Pinypon Weekend Getaway Hotel, it is sold exclusively at Costco stores for $29.99. Don't have a Costco near you? Amazon has some other great Pinypon items, like the Pinypon Ski Lodge toy for kids. You can also find additional online activities for kids by logging onto www.pinypon.com. Follow Pinypon on Facebook, Twitter,  and YouTube to keep up with news.