This Planes-Inspired DIY craft post contains affiliate links.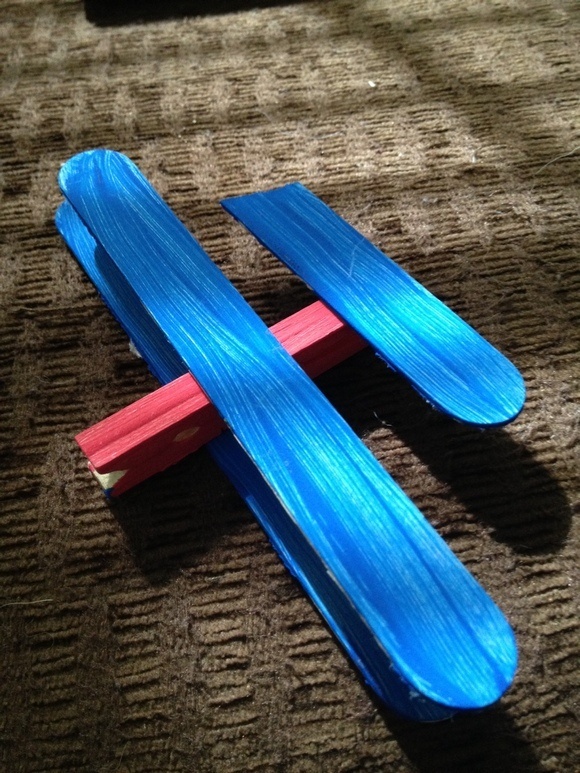 If you and your children recently saw the movie Planes, you might have kiddos who are now obsessed with these high flying wonders. Planes was not only a fun family movie, but also an opportunity to enjoy some fun plane themed crafts with your kids. With just a few supplies and few minutes, you can make your own handmade airplane for your child to display or even play with. Take a look below at how to make your very own planes and take the movie Planes to a whole new level of understanding!
DIY Planes Airplane Craft: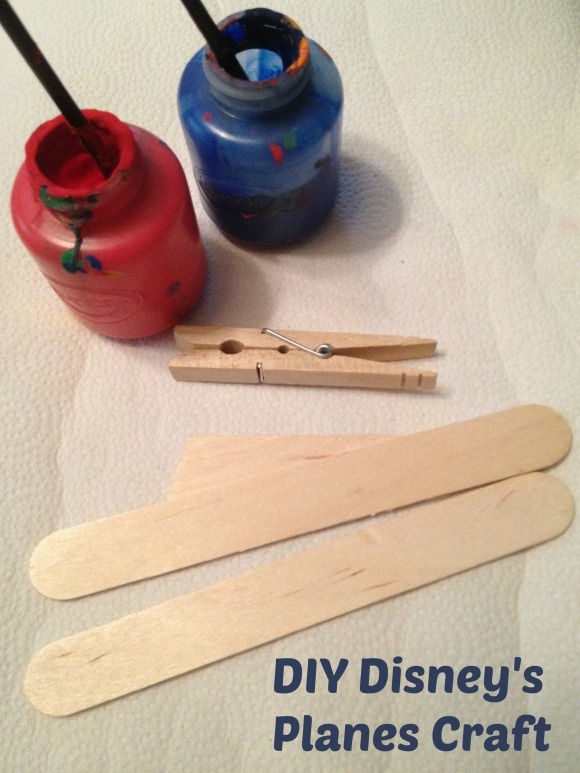 Supplies Needed:
Craft glue
Craft paint
Paint brush
Clothespin
I was able to find all of these supplies at Dollar Tree. If you do not already have these supplies on hand, peek at Dollar Tree or your local dollar store to see if you can find what you need there. You should not have to spend more than a few dollars on these items, and you will have to enough supplies to make several planes if you wish. You can also check Hobby Lobby, just be sure to print off your 40% off coupon before you go so you can enjoy additional savings.
Directions:
The first thing you want to do is paint the popsicle sticks and clothespin. It is easier to paint them now as opposed to when they are all glued together.
Lay the wood pieces on some scrap paper and start painting. Allow some drying time before applying a second coat.
Once the wood piece are dry, it is time to start gluing them to create the plane. Lay the clothespin flat so the part that snaps opens (like teeth) faces to your left.
Glue a popsicle stick to the underneath of this portion and one directly above it. Press firmly and hold for several seconds to make sure the glue is holding the pieces tightly.
You know have the front of your plane constructed, so now you need to add a tail to the back. You can use an entire stick or break one in half if you wish for this portion. Apply some glue and press it to the rear of the clip. Press firmly.
You can now add any embellishment you want including paint details, stickers, glitter, or anything else that may appeal to your kiddos. Allow them plenty of room to get creative and enjoy the creative process of this craft. As mentioned, you will have enough supplies to make several of these planes, so why not make a whole fleet? You can display them on a bedroom shelf or even attach string and hang them from the ceiling.
Give this fun and frugal Planes themed craft a try and see how easy it is to take the fun of Planes home with you. This is a fun hands on craft the little ones are sure to get a kick out of! Want to take the Planes play even further? Check out these fun Planes Toys for Toddlers and play those great Planes Party Games for kids