Get kids into the spirit of Earth Day when they make their own Earth Day craft. This Earth Day sign can be displayed proudly as a reminder of Earth Day 2014, and to let others know your family is Earth Day prepared!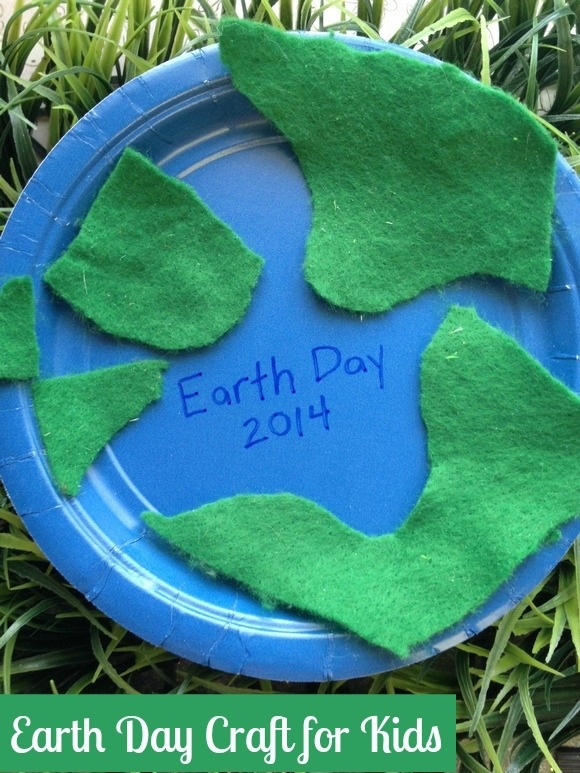 Using just a few basic materials, you can craft your own Earth Day craft for kids in just minutes. When done they can be displayed anywhere. So take a peek and see how to make your own. This is an easy and budget friendly Earth Day craft that can become a new family tradition. If your kids need a little help understanding why this day is so important, check out our books to teach kids about the environment.
Easy Earth Day Craft for Kids
Supplies needed (affiliate links included):
Green felt or green craft paper
Scissors
Glue
Markers
We were able to find all of these materials at our local craft supply store. They have a huge variety of colored paper plates to choose from (as do most dollar stores) as well as felt sheets to choose from.
Directions:
1. Begin by laying your paper plate flat so the blue side is exposed.
2. Begin cutting out sections of green felt or green construction paper. You want them to look like land mass, so cut out just random shapes by eye.
3. You can now begin gluing the green felt to the plate. Arrange them in different ways with space in between each other so they start to look like land and water, or like a globe would.
4. With your marker, write "Earth Day 2014" on the plate. You can write directly on it.
You can attach a piece of string to hang your Earth Day sign, which is a great idea if doing this craft with a whole classroom. Or, just add a little bit of tape to the back and hang it on the wall. Either way, this is a fun and frugal way to celebrate Earth Day and all of the fun that comes with it.
Gather your supplies and get started on this fun Earth Day craft for kids! How do you celebrate Earth Day? Need more ideas? Check out our great Earth Day activities for kids!