Can't wait for your favorite shows to return to prime time? Check out all of the best Fall 2017 TV show premiere dates!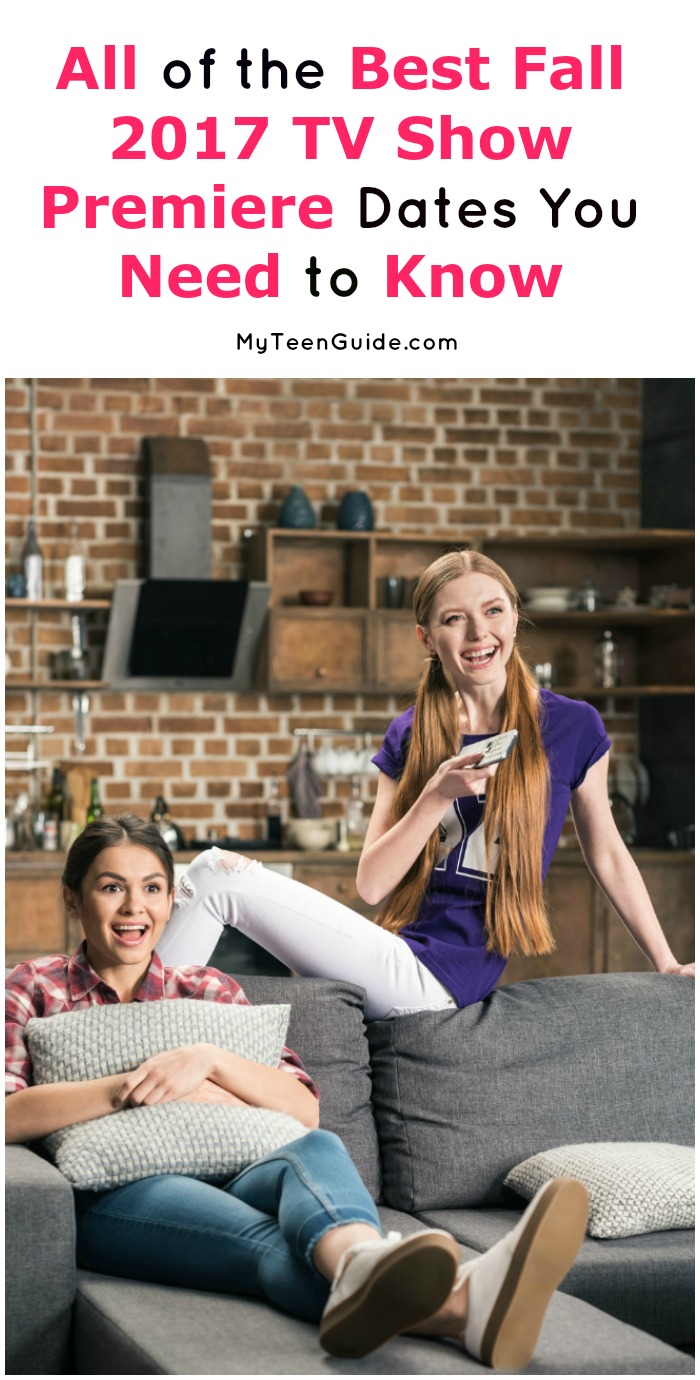 Yes, it may still be summer, but fall will be here before you know it! I know, when you're waiting to find out what happened to your favorite characters after those major spring finale cliffhangers, it can't get here fast enough, right? Don't worry, you don' t have much longer to wait! Want to know when all your favorite TV shows come back on? Here is a list to help you find out. Note: There are some TV shows that don't have a premiere date currently, so those are not listed here.
SEPTEMBER FALL 2017 TV PREMIERE DATES
Friday September 1st
NETFLIX
Sunday September 10th
STARZ
Thursday September 14th
FX
Friday September 22nd
NETFLIX
Monday September 25th
CBS
Kevin Can Wait- Season 2
Scorpion- Season 4
The Big Bang Theory- Season 11
NBC
Tuesday September 26th
CBS
Bull- Season 2
NCIS- Season 15
NCIS: New Orleans- Season 4
FOX
Brooklyn Nine-Nine- Season 5
Lethal Weapon- Season 2
The Mick- Season 2
NBC
Wednesday September 27th
CBS
Criminal Minds- Season 13
Survivor- Season 35
FOX
Empire– Season 4
Star- Season 2
NBC
Chicago P.D.- Season 5
Law & Order: SVU- Season 19
Thursday September 28th
FOX
NBC
Chicago Fire- Season 6
Great News- Season 2
Superstore- Season 3
The Good Place- Season 2
Friday September 29th
CBS
Blue Bloods- Season 8
Hawaii Five-O- Season 8
MacGyver- Season 2
FOX
Hell's Kitchen- Season 17
The Exorcist- Season 2
OCTOBER FALL 2017 TV PREMIERE DATES
Sunday October 1st
CBS
NCIS: Los Angeles- Season 9
FOX
Family Guy- Season 15
The Last Man of Earth- Season 4
The Simpsons- Season 29
HBO
Curb Your Enthusiasm- Season 9
Monday October 2nd
FOX
Tuesday October 3rd
ABC
Wednesday October 4th
NBC
Friday October 6th
ABC
Once Upon a Time- Season 7
Sunday October 8th
CBS
Madam Secretary- Season 4
Monday October 9th
THE CW
Tuesday October 10th
THE CW
Legends of Tomorrow- Season 3
The Flash- Season 4
Wednesday October 11th
THE CW
Thursday October 12th
THE CW
Arrow- Season 6
Supernatural- Season 13
Friday October 13th
THE CW
Crazy Ex-Girlfriend- Season 3
Jane the Virgin- Season 4
Friday October 27th
NBC
NETFLIX
Stranger Things- Season 2
Monday October 30th
CBS
Superior Donuts- Season 2
Thursday November 2nd
 CBS
Life in Pieces- Season 3
Mom- Season 5
So many great shows that I can't wait for, I don't even know where to start! I've been waiting for season 2 of Stranger Things forever, so I'm really looking forward to that one. Riverdale drew me in super fast, too, and I can't wait to find out what happens next!
What fall 2017 TV premiere dates are you most looking forward to? Share below!