These outdoor kids crafts will help your children soak up the last weeks of summer and explore the beauty of nature! Post contains affiliate links.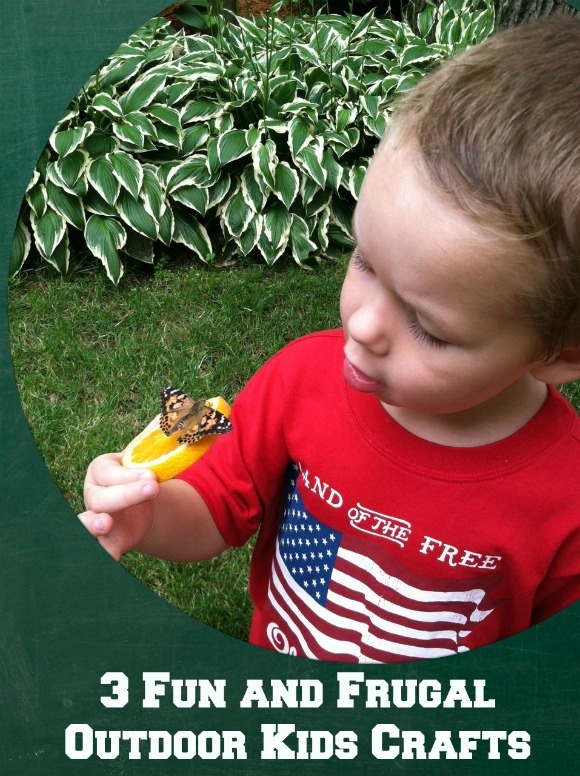 Getting crafty doesn't necessarily mean you need to spend the day indoors at the kitchen table. In fact, summer is the perfect time for getting outside and using the crafting supplies that Mother Nature gives you. There is a variety of fun and frugal outdoor kids crafts that you child will love to jump into. The best part is, you can find most of your supplies right in your own backyard and no kitchen table is required. Just take a blanket outside with you and your crafting station can be right on your lawn. If you are itching to get crafty, take a look at these 5 fun and frugal outdoor kids crafts.
3 Fun and Frugal Outdoor Kids Crafts:
1. Make Butterfly Bait

Supplies Needed:
1 orange
1 banana peel
Water
Shallow dish
Drinking straw
Directions: If you love butterflies, why not try making your own butterfly bait? This way, you can get up close and personal with these colorful little critters! To make your own butterfly bait, you want to mimic the flower nectar they love to eat. A great way to do this to feed them the juice of an orange and the sweet stickiness of a banana peel. Simply cut these items up and place them in a shallow dish. Add a few drops of water. Butterflies have long, straw like tongues they use to drink with, so take your drinking straw and see how easy it is to taste the orange when you place the straw on it and suck. After you give that a try, place your shallow dish in a flower bed or garden. In no time butterflies will flock to it trying to get a sip. Study them, identify them, but avoid touching or capturing them.
2. Make a nature collage.
Supplies Needed:
Poster board
Glue
Assorted nature specimens
Directions:
Make a collage out of all of the beauty that nature provides. Collect specimens of leaves, acorns, seeds, sticks, flowers, feathers and anything else you can find. Arrange the pieces on the poster board and glue into place. Choose a random pattern or go for something with more design and thought. When you are done you can either leave as is or label the various samples you collected with a marker. So fun and simple!
3. Create a Firefly Lantern
Supplies Needed:
Jar with lid
Grass and twigs
Fireflies
Directions: This is a great activity to do in the evening! Take your jar and make sure there are plenty of holes poked around the lid. In two of the holes, string through your pipe cleaners to create a handle. When night falls, fill your jar with grass and twigs to create a welcoming environment for the fireflies. Once the fireflies come out, see who can catch the most. Then, place them in your jar. Your lantern will no doubt begin to glow once you have a dozen or so fireflies in it. For a little extra fun, try this firefly poem!

FireFly
Firefly, firefly,
Wow, how you glow!
Under your body
You light up below!
Firefly, firefly,
Wow, how you shine!
At night in the dark
I can see you just fine!
Written by Meish Goldish
See how easy it is to enjoy nature and get crafty at the same time? Give one or all of these activities a try and see how fun it can be to enjoy some outdoor kids crafts time!