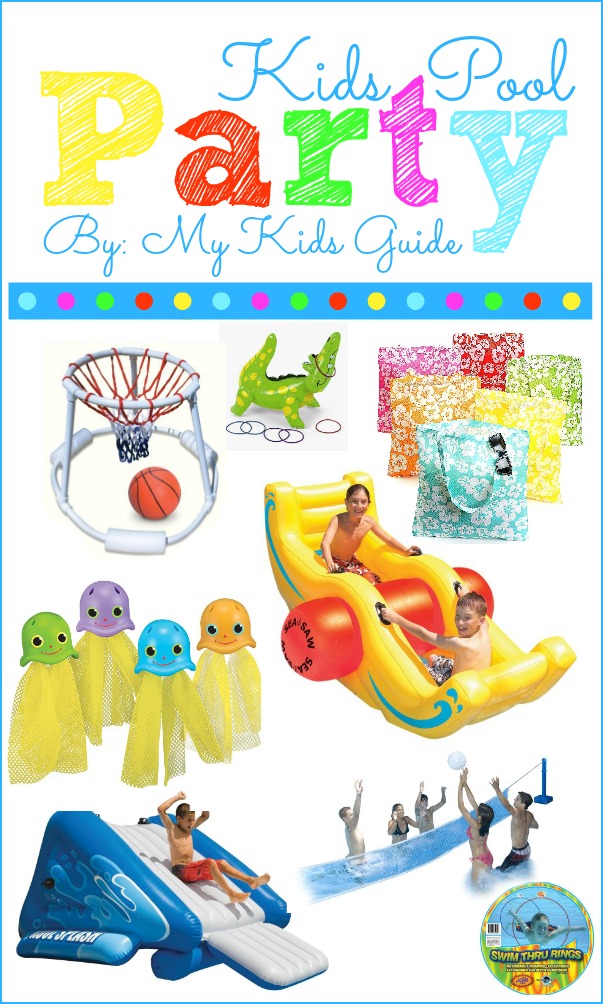 With summer in full gear, we thought it would be fun to share some of the coolest pool party toys for kids! A pool is not a pool for kids until toys are tossed into it! Kids want to dive for toys, float on inflatables, and slide in as fast as possible. The list below is full of the toys that will fill all of these needs. Whether you are having a pool party, or enjoying a fun afternoon with friends, no pool is complete without these fun toys!
Pool party toys for kids that really make a splash!
(This post contains affiliate links. Thank you for your support). We recommend only what we love)

Intex waterslide. Make a splash all summer long!. Attach garden hose for sprayers to wet slide surface. 8 heavy duty handles. Inflatable bases for stability. 7 air chambers

Test your aquatic agility with Stream Machine Swim Thru Rings. Innovative, collapsible rings, with adjustable air chambers, allow you to change the underwater depth. Spice up your swimming routine with the ultimate test of aquatic athleticism. Whether you're an avid swimmer or a budding novice, Swim Thru Rings are challenging and fun. Perfect for tournaments and aquatic games, these rings turn ordinary swimming into an engrossing sport. You can use these rings for swimming lessons or for aquatic recreation. The inflatable chambers are decorated with turtles and fish and adjust to your desired depth.
Arcade Shooter Water Float Toy

This game is a show stopper. Lather the kids up with sunscreen for they will spend hours at this arcade. Inspired by the carnival game, the arcade comes with 2 constant supply water guns. See who can get all the balls out of the tube first!
Super Hoops Floating Basketball Game


This floating basketball game sets up in minutes, requires no deck space or counter-weight. It floats right in the pool so you can shoot from 360 degree angles. Perfect for all ages, this game is a party favorite and is designed to last for many seasons. Each game comes complete with foam floats, net, stand, and ball.
Swimline rocks your world with the fun see-saw aquatic toy. Rockin' cool time for kids!
Inflatable Alligator Ring Toss Game

What could be more fun at a pool or beach party than an inflatable Alligator Ring Toss game? This friendly gator measures 22″ and is great activity for a kids' party. Kids' throw 6 assorted color, 5″ plastic rings and try to make on the Alligator's mouth or tail.
Water Gear Deluxe Water Fun Pack


Four fun games in one! 6-inch dive rings (3), dive disks (4), diving seahorses (3) and turtle-in-egg (4)
Melissa & Doug Sunny Patch Jolly Jellyfish Sinkers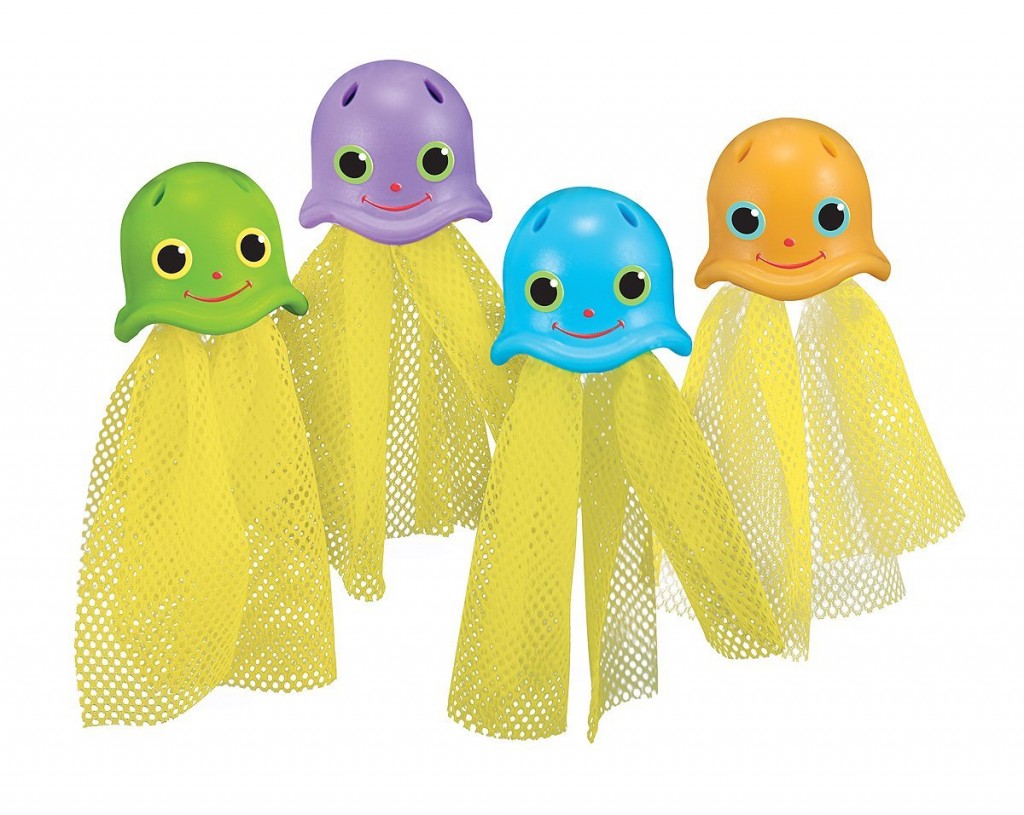 Drop these cute sinkers into the pool to kick off diving games, counting activities, races and more. Four sinkers, whimsically shaped like jellyfish with mesh bottoms, are brightly colored, numbered 1-4 and cheerfully decorated with big smiles that will have kids giggling right along with them. Set comes with game ideas to inspire hours of pool-time fun.

Sturdy Blow-Molded Posts with Water Weighted Bases. Fits Inground Pools up to 20-ft in Width. Includes Heavy Duty Net and Real Feel Game Ball.
12 Large Hibiscus Hawaiian Luau Pool Party Tote Bags


Large polyester hibiscus design tote bags are fun summer accessories and tropical party favors. Fill with treats and goodies to use as goodie bags at beach parties, pool parties and luaus.16 1/2″1 dozen assorted colors.
Which are your favorite pool party toys for kids? Tell us in the comments!