Summer is coming soon! The warm weather is already starting to peek out here and there around the northern hemisphere. Before you know it, the days will be long and hot! Time to find some fun toddler toys to help your little one cool down and explore during the warm summer days! Toddler toys for the summer should include some fun water toys as well as items that can be played with in the shade.
Our picks for great toddler toys for summer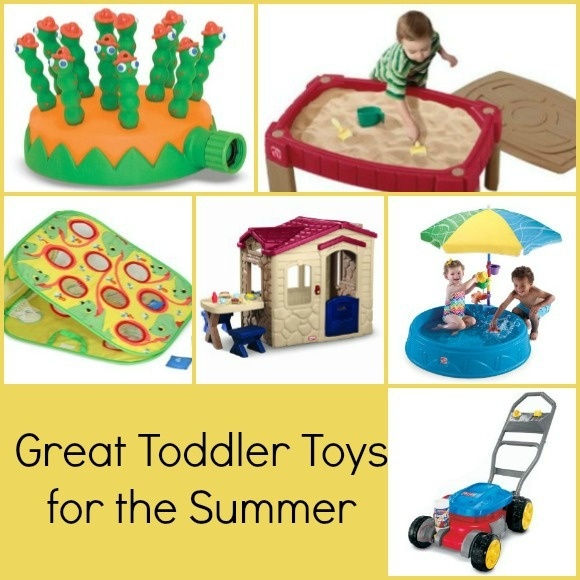 Step2 Naturally Playful Sand Table
– This sand table is one of the best toddler toys for exploration time! Bury some dinosaurs or other surprises in the sand and let your toddler find them. Keep the table in the shade and the sand will stay nice and cool. Perfect for hot little hands! When you're done playing for the day, put the included lid on to keep the sand clean. I had one of these for my son, and it lasted years! The lid has roadways molded into the surface, so you can use it for small cars or other imaginative play.
Step2 Play and Shade Pool
– While this pool is a bit on the small side, there are two really great things about it. First, it's made of plastic, so it's not going to pop if your pet manages to dig a nail into it or you accidentally place it on a rock. Second, it comes with an umbrella to help keep sun from beating down on them. The shallow water is just right for younger toddlers, while older toddlers can still enjoy a cooling dip.
Little Tikes Picnic on the Patio Playhouse
– At $269, this one is a bit of a splurge, but it's worth it! Little Tikes playhouses last a very long time. My son got his when he was 2. He's 7 now. His playhouse has held up against two hurricanes, several major snow storms, one move, and a lot of everyday wear and tear. It's still in amazing shape. In fact, the only things that have faded on it are the stickers! The Picnic on the Patio Playhouse is adorable because it also has a little seating area. It's just right for toddlers!
Fisher-Price Bubble Mower
– Let little ones pretend to mow the lawn with this fun bubble mower! They'll get exercise pushing it back and forth across the yard. The Bubble Mower even has a realistic start-up switch and throttle. Your child supplies the noises! The one-touch refill process makes it easy to swap out bubble containers on the go.
Melissa & Doug Verdie Chameleon Beanbag Toss
– Summer is all about fun yard games! This carnival classic is great for when the fair isn't in town. Your toddler will get a kick out of tossing the bean bags into the goals. While the tossing alone is fun, think of the boost to self-esteem when he makes it in! With two sides offering different challenges, the fun never ends. Plus, it can help increase your child's hand-eye coordination, counting skills, and number recognition!
Melissa & Doug Sunny Patch Grub Scouts Sprinkler
– No room for a pool and no time to head to the neighborhood one? Turn on this cute sprinkler and let your child cool off by running through the water! Every kid needs a sprinkler, in my opinion. I loved running through them as a child, and my son gets a new one every year to cool off at home.