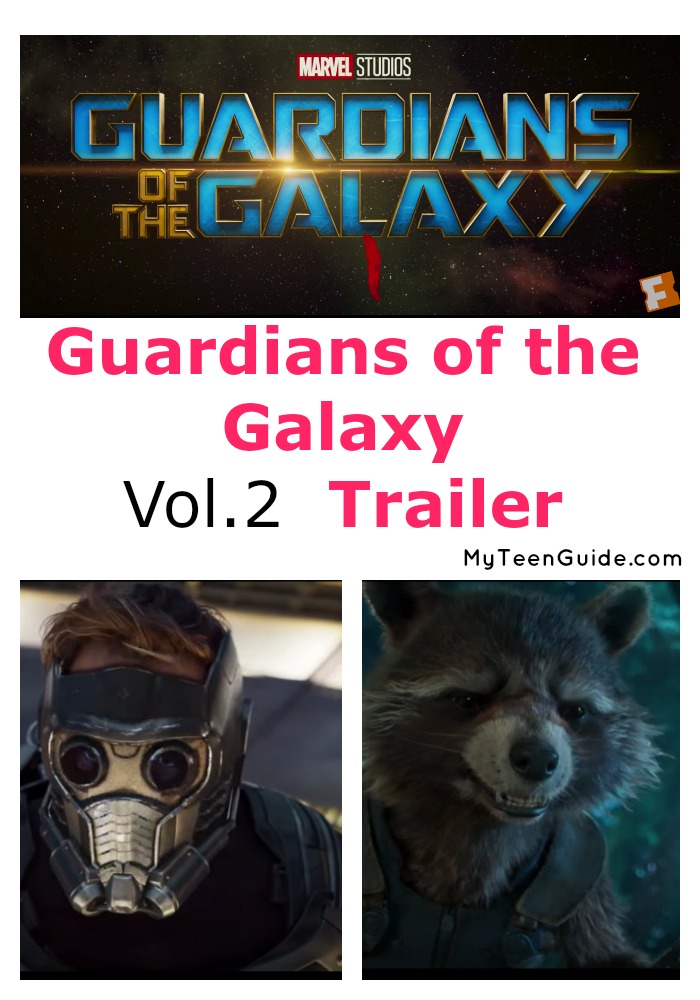 Guardians of the Galaxy Volume 2 trailer was released a few days ago, and we love everything about! Read our review to see why! This upcoming superhero movie is due out in theaters on May 5, 2017. It is based on the Guardians of the Galaxy team from Marvel Comics. The film is the sequel to Guardians of the Galaxy 2014. Watch the trailer below:
Guardians of the Galaxy Volume 2 Movie Trivia
The movie takes places two months after the 2014 one. The team travels through the cosmos as they help Peter Quill discover his true parentage.
Guardians of the Galaxy Volume 2 sees the return of several cast/characters from the 2014 movie including:
Chris Pratt as Peter Quill/Star-Lord
Zoe Saldana as Gamora
Dave Bautista as Drax the Destroyer
Vin Diesel as Groot
Bradley Cooper as Rocket
Michael Rooker as Yondu Udonta
Karen Gillian as Nebula
The film also introduces us to some new faces as well including:
Sean Gunn as Kraglin
Glenn Close as Irani Rael
Kurt Russell as Ego
Chris Sullivan as Taserface
Guardians of the Galaxy Volume 2 Movie Trailer Review
I am a huge fan of the Guardians of the Galaxy, especially Groot. In case you don't know, Groot is a tree-like humanoid. Actually, I love Vin Diesel, even if it is just his voice. However, as we see in the trailer, we have Baby Groot now. Now, at the end of the 2014 movie, we all saw a glimpse of Baby Groot dancing away, after everyone thought he had died. However, here is my question: Is this the same Groot or is Baby Groot actually Groot's son? Hmmmm…something to think about!
In the opening seconds of the trailer, a voiceover says, "The fate of the universe lies on your shoulders." Wow! What a way to open the trailer, with a deep, powerful statement. This is apparently being said to the superhero team.
The absolute best part of this trailer was about 10 seconds into it. Rocket is trying to tell baby Groot not to touch the red button, or the bomb will explode, and everyone will die. Then, Rocket asks Baby Groot to repeat what he said, and all Baby Groot can say is "I am Groot," while pointing to the red button, which annoys Rocket. This scene is absolutely hilarious.
If the 2014 movie's success is any indication, this film is sure to be a huge hit. It grossed $773 million worldwide. Also, it was the highest grossing superhero movie of 2014 and the third highest grossing movie overall of 2014. In case you are wondering, the highest grossing film of 2014 was Transformers: Age of Extinction, which grossed just over $1 billion, followed by The Hobbit: The Battle of the Five Armies, which grossed $700 million.
Did you get the chance to watch Guardians of the Galaxy Volume 2 Trailer? Are you looking forward to watching the movie? Tell me in the comments below.