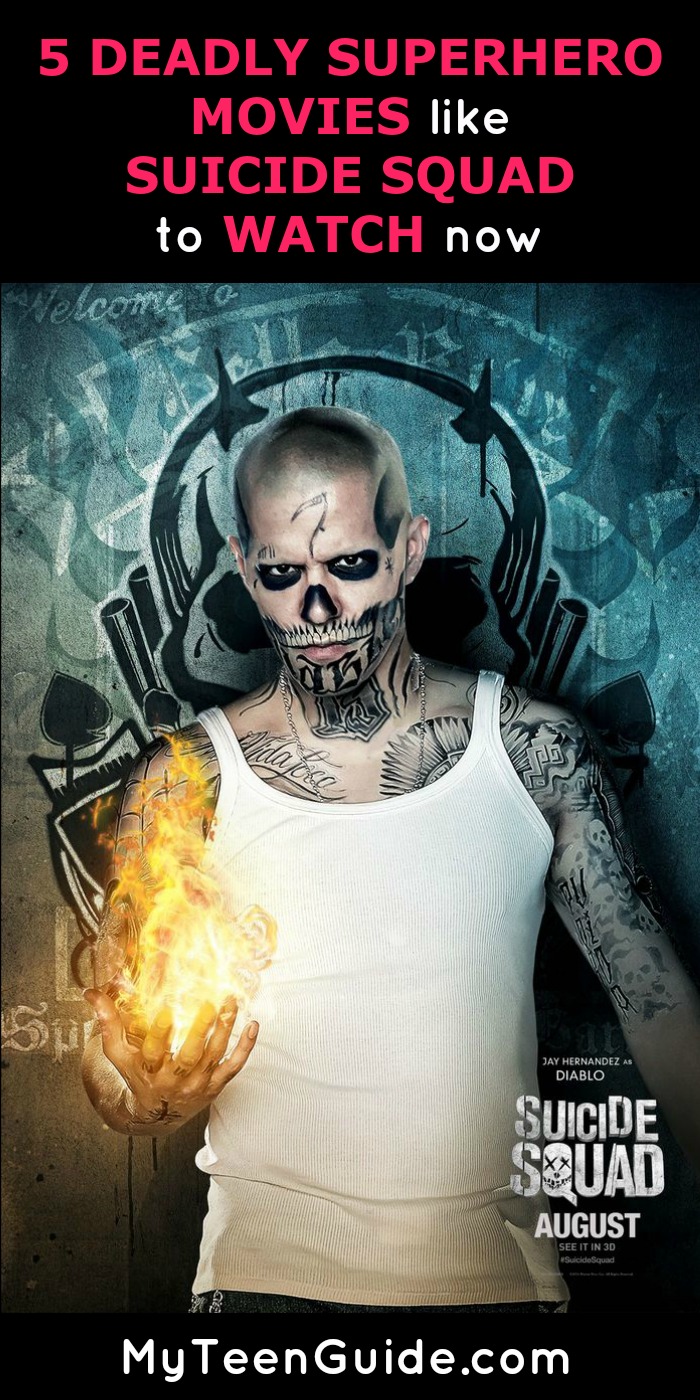 Twisted, dark and full of action these movies like Suicide Squad should be added to your binge list. This film is the newest kid on the block, and the story has us curious. What does happen when you recruit a bunch of bad superheroes out of jail and ask them to fight for good in exchange for freedom? If you like movies similar to Suicide Squad with the dark, brooding intense superheroes that may also have a touch of crazy, this is your list!
 5 Deadly Superhero Movies Like Suicide Squad To Watch Now
Not sure  about Suicide Squad? This trailer should get you started. The new film hits theaters on August 5, 2016!
Now check out all the other movies similar to Suicide Squad! This list will hold you over for now, you know until you can see Harley Quinn's crazy for yourself on the big screen.
Related: All The Insanely Intense Suicide Squad Movie Quotes And Trivia
https://www.instagram.com/p/BIGsMJogG67/?tagged=suicidesquad
Batman vs. Superman: Dawn of Justice
https://www.youtube.com/watch?v=yViIi3gie2c
Batman vs. Superman: Dawn of Justice is a 2016 superhero movie that features the characters of Batman and Superman from the DC Comics. The film stars Ben Affleck as Bruce Wayne/Batman and Henry Cavill as Clark Kent/Superman. Also starring in the film are Amy Adams as Lois Lane and Jesse Eisenberg as Lex Luthor. The movie is about Batman being manipulated by Lex Luthor into going into battle with Superman.
Thor: The Dark World
Thor: The Dark World is a 2013 superhero movie that features the character Thor, from Marvel Comics and is the sequel to the 2011 movie Thor. The film stars Chris Hemsworth as Thor, along with Natalie Portman as Jane Foster, Tom Hiddleston as Loki, Christopher Eccleston as Malekith and Anthony Hopkins as Odin. The movie features Thor and Loki teaming up to save the Nine Realms from the evil Malekith, the leader of the Dark Elves.
Related: 5 Dark Movies Like Deadpool You Have To See
Man of Steel
Man of Steel is a 2013 superhero movie that showcases the character of Superman from DC Comics. It is the first movie in the franchise of the DC Extended Universe. So far, in the franchise, there have been two movies, with nine more to be released in theaters between 2016 and 2020. The film stars Henry Cavill as Clark Kent/Superman and Amy Adams as Lois Lane. When Earth is threatened, Clark Kent must reveal his true identity in order to save mankind.
Catwoman
Catwoman is a 2004 superhero movie that showcases the Catwoman character from DC Comics. The movie stars Halle Berry as Patience Phillips/Catwoman. Catwoman tells the tale of Patience Phillips, a shy graphic designer, who is transformed into a woman who has cat-like senses, agility, speed and strength, after stumbling upon the secrets of a corporate conspiracy.
Watchmen
Watchmen is a 2009 epic neo-noir movie that is based on the Watchmen series by DC Comics. The movie features an all-star cast including Jeffrey Dean Morgan as Edward Morgan Blake/The Comedian, Jackie Earle Hayley as Walter Kovacs/Rorschach, Billy Crudup as Jon Osterman/Doctor Manhattan, Patrick Wilson as Daniel Dreiberg/Nite Owl II, Matthew Goode as Adrian Veidt/Ozymandias, Malin Akerman as Laurie Jupiter/Silk Spectre II and Carla Gugino as Sally Jupiter/Silk Spectre. The movie takes places in the year 1985, as the team of Watchmen are investigating the murder of Edward Morgan Blake, when they suddenly unearth a conspiracy that is not only elaborate but deadly as well.
So lovelies, have you seen any of these twisted movies like Suicide Squad? Which of these films are you adding to your watch list? Tell me in the comments!
Image Via Wikia