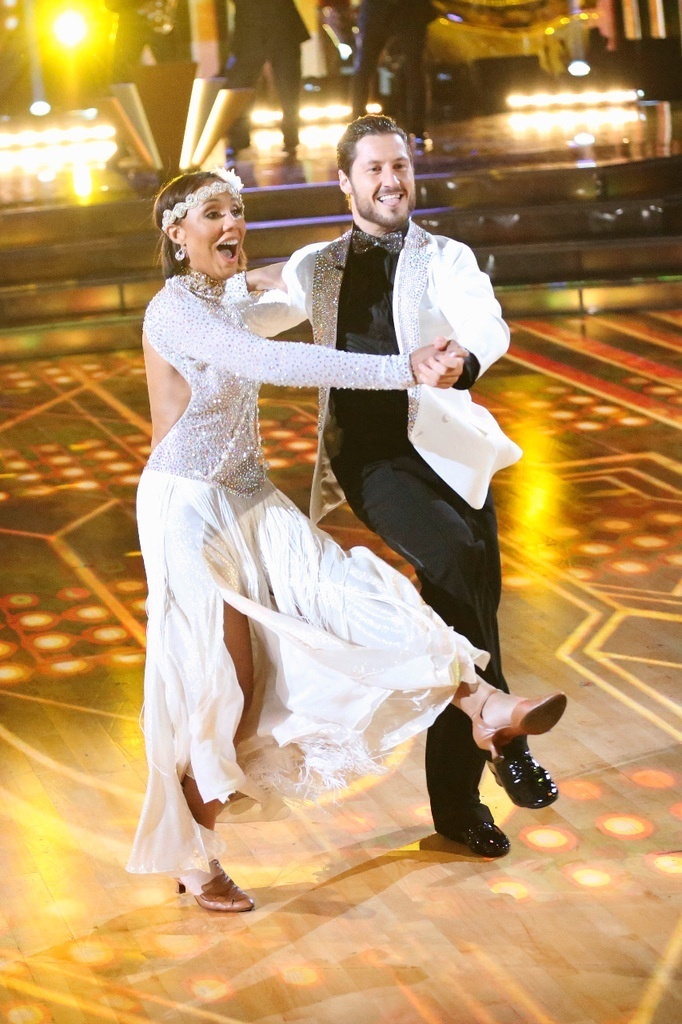 Even though the goal of the competition is to compete until the end, sometimes circumstances occur that doesn't allow that to happen. People get hurt, or personal issues come up that need attention right away. It's really sad when it happens, but as they say, the show must go on! Here is your guide to Dancing with the Stars injuries and withdrawals.
Dancing with the Stars Injuries and Withdrawals
Romeo– Romeo is a rapper that was formerly known as Lil Romeo. In Season 2, his father, rap mogul Master P, replaced him in the competition after he sustained a basketball injury. Master P and his partner Ashly DelGrosso placed 7th overall. Romeo did come back to compete with Chelsie Hightower during Season 12, where they placed 5th.
Sara Evans– Country singer Sara Evans withdrew during Season 3, Week 6. She cited the reason was that she was dealing with the turmoil of a divorce. She was partnered with Tony Dovolani, and there was no elimination that week.
Vincent Pastore– Actor Vincent Pastore, best known for his role as Salvatore on The Sopranos, had to withdraw after one week of training during Season 4. After a week of training, Pastore realized that he wasn't going to be able to handle the physical demands of the show. His pro partner was Edyta Sliwinksa, whom she was paired with John Ratzenberger, Pastore's replacement.
Misty May-Treanor- Misty May-Treanor is a retired professional volleyball player, who won three gold medals throughout her career. She left DWTS during Season 7, week 3 because she ruptured her Achilles tendon while rehearsing with her pro partner Maksim Chmerkovskiy. There were no eliminations that week.
Jewel– Jewel is a singer, songwriter, author, poet, producer, guitarist, and actress. Jewel was injured before the season even started, so she didn't compete at all. She was replaced by Holly Madison, partnered with Dmitry Chaplin. Jewel fractured the tibias in both legs.
Nancy O'Dell– Nancy O'Dell is a well-known television host and entertainment journalist. Like Jewel, O'Dell was also injured before the start of the season, so she also didn't compete. She was replaced by Melissa Rycroft, partnered with Tony Dovolani. O'Dell had torn knee cartilage.
Tom DeLay– Tom DeLay was a member of the U.S. House of Representatives (Texas) from 1985-2006. DeLay left during Season 9, week 3 due to a full stress fracture in both feet. He was partnered with Cheryl Burke and was listed as safe that week. Since he didn't announce his exit until after he was declared safe, Debi Mazar was eliminated that week.
Dorothy Hamill- Dorothy Hamill is a retired gold medal, figure skater. Her pro partner was Tristan MacManus. She exited the competition during Season 16, week 1 under her doctor's advice. She suffered lower back sprain as a result of practice.
Billy Dee Williams– Billy Dee Williams is best known for his role of Lando in two of the Star Wars movies. Billy Dee Williams was eliminated during Season 18, week 3 under the advice of his doctor because of chronic back problems. He was partnered with Emma Slater, and there was no elimination that week.
Kim Zolciak-Biermann– Kim Zolciak-Biermann is the former star of The Real Housewives of Atlanta. She exited DWTS during Season 21, week 3 when she suffered a blot clot from a mini-stoke. Her pro partner was Tony Dovolani, and no elimination took place that week.
Tamar Braxton– Tamar Braxton is the host of The Real and former member of the R&B group, The Braxtons. Tamar was forced to withdraw from the show also during Season 21, week 9. She and her partner, Valentin Chmerkovskiy, placed 5th. Tamar was diagnosed with blood clots in her lungs.
We feel for those who suffered Dancing with the Stars injuries and had to withdrawal for personal or medical reasons. Did any of your favorites end up leaving this way?