Jeff Dunham is a ventriloquist, producer and comedian. He has had six Comedy Central specials: Jeff Dunham: Arguing with Myself; Jeff Dunham: Spark of Insanity; Jeff Dunham's Very Special Christmas Special; Jeff Dunham: Controlled Chaos; Jeff Dunham: Minding the Monsters and Jeff Dunham: All Over the Map. Tonight, his show is on NBC titled Jeff Dunham: Unhinged in Hollywood.
Highlights from  Jeff Dunham: Unhinged in Hollywood
Jeff has had several puppet characters he has worked with over the years but his most popular were on the stage tonight. The show featured Walter, Bubba J, Little Jeff, Peanut and Achmed. In case you haven't seen Jeff Dunham's acts before, Walter is a retired, grumpy old man who always has his arms crossed; Peanut is an energetic purple-skinned woozle; Bubba J is a beer-drinking redneck; Little Jeff is a mini version of Jeff Dunham and Achmed the Dead Terrorist is a skeletal corpse of an incompetent suicide bomber.
Jeff Dunham: Unhinged in Hollywood took place at the Dolby Theater in Los Angeles. At the beginning of the show, the producer didn't want Achmed on the show because he is a terrorist. He devised a plan to get rid of Achmed by tossing him in the dumpster outside. Dunham took the stage and it didn't take him long to introduce his "puppets in the trunks."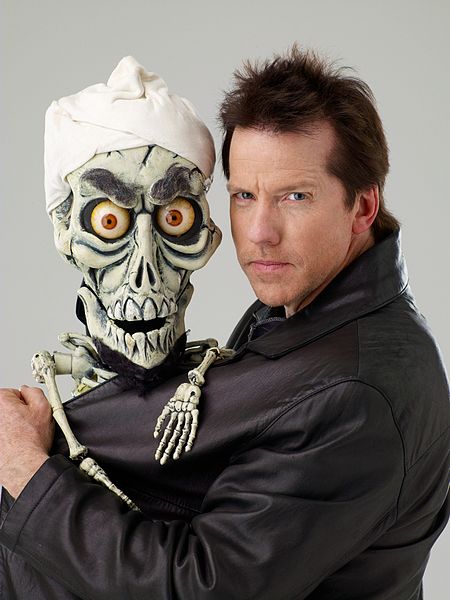 First up was Walter. As always, Walter isn't too happy about much of anything. He tells the audience how weird LA was and described seeing Aqua Man on Hollywood Boulevard. When Jeff asked him why Aqua Man was on Hollywood Boulevard, Walter replied that there is a drought and he was probably homeless. Jeff asked Walter if he wanted his wife to have plastic surgery like some folks in Hollywood. Walter didn't think it would do much good since, as he put it, "Putting new headlights on a minivan doesn't make it a Corvette."
Bubba J came on stage in his usually t-shirt, jeans, cowboy boots and baseball cap. Bubba J is one of my favorites. He loves NASCAR and he loves shopping at Walmart. When Jeff asked him if he drank beer every day, Bubba J said only on his days off, to which Jeff responded, "You don't have a job." The backdrop of the stage fit Bubba J's character well as it has a small trailer and old car.
I didn't like the skit that Dunham did with his puppet, Little Jeff. The skit was supposed to be an infomercial of sorts where Little Jeff is the star. It was a short skit but wasn't particularly funny as the two mainly argued back and forth.
Achmed has found his way out of the dumpster and into the studio when he happens upon UFC fighter Chuck Liddell in the audience. It was a brief encounter as Achmed makes his way backstage.
Peanut has to be my absolute favorite character. He is hyperactive and just hilarious. His stage backdrop was a beach setting complete with lifeguard chair, surfboard and bicycle. Tonight, Peanut is a bit more hyper than usual as a result of too much Starbucks coffee. Peanut says that Jeff is the Donald Trump of ventriloquism because he has no idea what he is doing but he is really good at it nonetheless.
Country singer Brad Paisley takes the stage to perform his song, "Country Nation" and then performs a short duet with Walter.
Achmed finally makes it on stage in a souped-up gold car. Jeff asked him what he thought about the TSA and the X-rays at the airport and Achmed responded they were like taking selfies.
Overall, it was a great show just as Jeff Dunham's shows always are.
Did you watch the Jeff Dunham: Unhinged in Hollywood special? What was your favorite part?