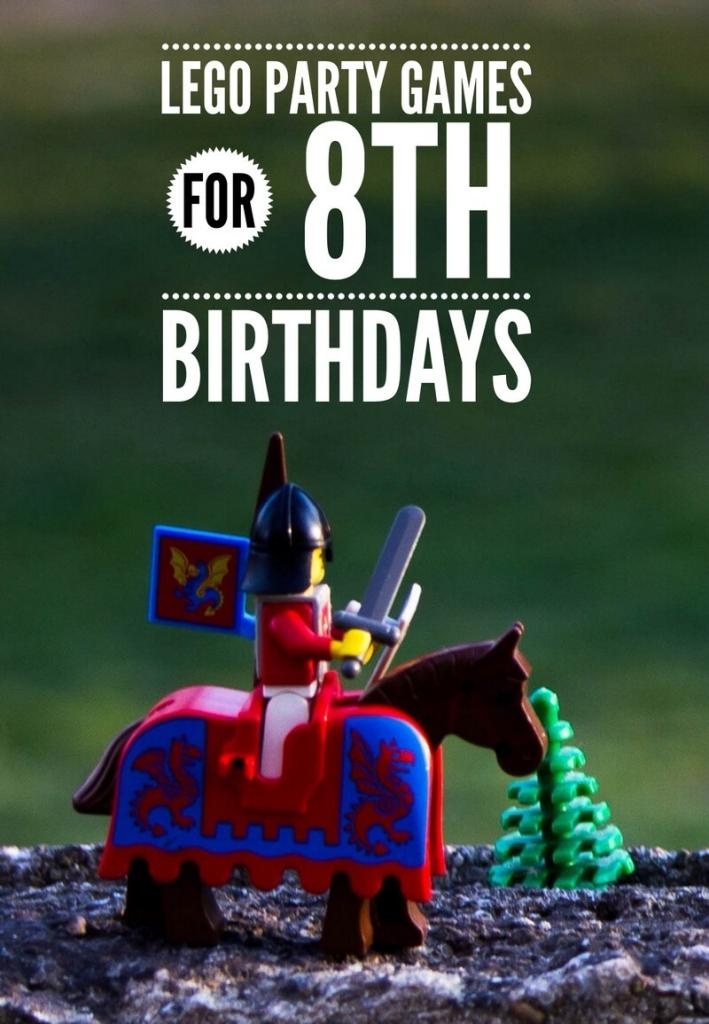 Planning LEGO party games for 8 year olds is easy because this age group is ALL ABOUT LEGOs.
Don't believe me? Just ask them what their favorite movie was last year!
I bet you five red bricks I can guess the answer. I absolutely love planning LEGO party games for kids because you can go in so many directions with them.
Just like the blocks themselves, the possibilities are limitless.
Plus, you have to admit, they are pretty awesome!
Related: 6 Awesome Lego Party Supplies
LEGO party games for 8 Year Olds
Affiliate links include below. We earn a commission if you make a purchase.
Lego Scavenger Hunt:
Hide some Lego bricks around the house.  You can break the kids up into teams of 2 and give them each a color they have to find.  If the blue team finds a red brick, they have to leave it.  Make it a little more interesting by hiding a Lego man, made out of paper.  Hide only one and the team to find it gets a special prize!

Lego relay 2nd edition:
This LEGO party games for 8 year olds is similar to a typical relay using spoons and Lego bricks only with an added twist.
Separate the kids into teams of 2 and have them form 2 lines across from one another.
One team member holds the spoon with 1 Lego piece.
Once he makes it to the other side without dropping it, his teammate will add another Lego brick and bring it back to him.
This will go back and forth, adding Legos, until there is only one team left standing.

Related: Benefits of Legos for Kids You Never Thought Of
Lego man blindfolded:
This is a variation of the classic pin the tail on the donkey.
Each guest will get a piece of the Lego man body to build, an arm, a leg, the head, the body, you get the idea (and you can either draw and cut these out, or find an image online and cut it out).
Blindfold each guest, spin him around and point him in the direction of the poster where he is going to place the body part.
 You can have the kids give hints to the person blindfolded or they can keep quiet and see what happens!
Blind builder:
Give each guest a bowl of Legos and a blindfold.
Just make sure each bowl has the same amount of Legos.
Set the timer and see what they can build before the timer goes off, but they must be blindfolded!
Take a picture of each guest and his or creation, you can send it in the thank you cards.

These LEGO party games will keep your 8-year-olds guests busy and entertained (and maybe even talking about it Monday at school!)
 Has your child been to a Lego party?  Or maybe you have planned some fun LEGO party games for kids yourself.  What are some ideas you have for games?  Share your ideas with us all below!