This Monsters University post contains affiliate links.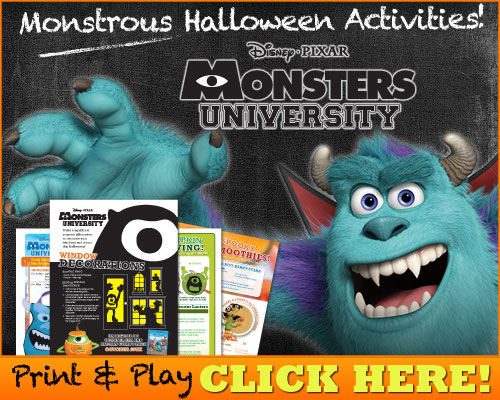 Halloween is just a few days away! I have a horrible secret: I am way WAY behind in carving my pumpkins this year. As in, I just got them yesterday! I'm so late, the pumpkin patch was almost sold out! I don't know how time got away from me so fast. I mean, I just ordered my son's Halloween costume this past week. Thank goodness for Amazon Prime, right? So now that I have the costume, I just need to get to work on those pumpkins!
Thankfully, Monsters University is hear to save the day with tons of great print & play activities, including a template to make my own Mike pumpkin. I am not very talented at carving, so thankfully this template looks pretty easy. The downloadable PDF also has a few monstrously delicious smoothie recipes that your kids will love. The fact that they're also healthy can be your little secret. I think Art's Purple Oddness sounds really interesting, especially since I've never had dragon fruit! I'm going to have to find out where I can buy that.
The printable PDF also has some really cool window decorations! These are perfect for younger children who may be a bit freaked out by scarier decorations. My son is just starting to get over his fear of the creepier elements of Halloween, so I'm always thrilled to see Halloween decorations that aren't too scary. If you're still in need of more fun decor that kids can make on their own, check out our Creepy Pipe Cleaner Spider craft!
Monsters University
is releasing on DVD tomorrow (October 29th), just in time for Halloween! I didn't get to go, so I'm really looking forward to watching it with my son. Monsters Inc. is one of our all-time favorite Disney movies.
Are your kids excited about seeing Monsters University? Did they already see it in theaters?