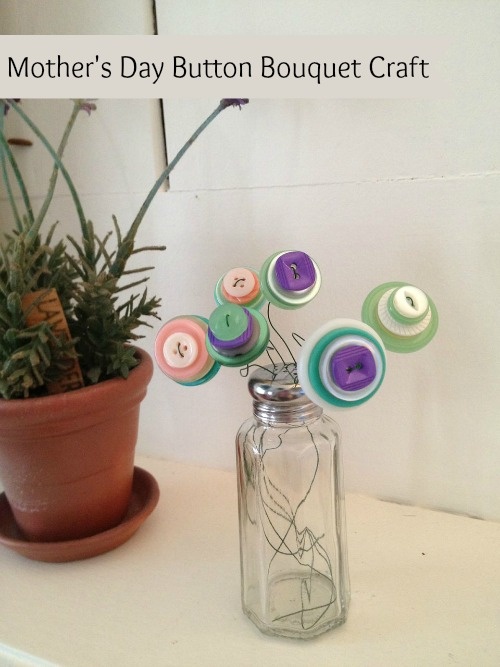 Mothers love receiving flowers on Mother's Day! But the reality is fresh flowers can be expensive, and don't last very long. This Mother's Day, why not give mom something a little more fun and creative? If you have a handful of buttons, you can create a beautiful button bouquet for mom that will last her forever! A button bouquet is a fun and frugal gift that is perfect makes the sweetest Mother's Day gift, plus it is fun craft to enjoy doing with kids.
You don't need a lot of supplies or time to create your own beautiful button bouquet. So gather your materials and the kids and start creating! Here is what you will need to get started.
How to make this cute Mother's Day craft for kids
Materials:
Assorted buttons (Found at most thrift stores or crafting stores)
Florists wire (Found at most craft stores for around $1.99)
Scissors
Small vase
Shredded green paper (optional)
Directions:
1. Cut your wire into 5-6 inch lengths. These will be your stems. You can choose to make your stems longer or shorter if you wish.
2. Fold the top inch or so of each wire over into a "U" shape.
3. String your first button on the "U", starting with smallest first.
4. Repeat this step again using your next button, getting larger in size as you go.
5. Continue to stack the buttons smallest to largest in this manner until your "bloom" has formed. Use a pattern of colors or just go random!
6. Typically, 3-5 buttons is sufficient, but you can stack to your desire to get the look you want.
7. Make a few tiny buds by repeating this step and only using 2 buttons.
8. Once your buttons are on, twist the head to hold them in place securely.
9. Assemble your blooms in a small vase as you see fit.  Add shredded paper to act as a filler and hold your stems in place if you wish!
These colorful and creative blooms are so fun to make! Assemble them in a cute vase or tiny salt shaker and they are ready to give. They look so adorable in a kitchen window or as a centerpiece as they add an instant pop of color.  Just be creative and have fun with them!
As you can see, these beautiful button bouquets are so easy and a great alternative to fresh flowers. Mom will surely get a kick out of them, and love that she won't have to water them or work hard at keeping them alive! You will love how inexpensively you can make them, and how great you feel giving them! If mom loves sewing, don't forget to check out our adorable Mother's Day Pin Cushion craft for kids! And if crafts simply aren't your thing, try enjoying a nice Mother's Day on the couch with the family. There are so many different viewing options out there, it's important to stay up on the trends and know what your kids might be watching. Keep your kids safe while watching TV by enjoying the day with them, or using some great services to keep them safe and happy while you enjoy your special day.
Happy Mother's Day, and Happy Crafting!