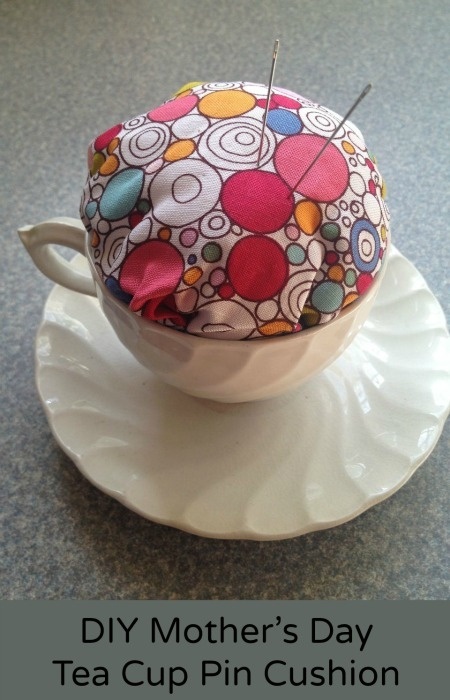 Mother's Day is going to be here before you know it! Nothing shows Mother's how much they are loved and appreciated like a homemade gift. But how do you know where to begin? What if you are on a limited budget? No worries! If you have a few minutes and just a few basic supplies, you can whip up a fun, fancy, and frugal gift in a jiffy with this Mother's Day craft for kids. These Mother's Day Tea Cup Pin Cushions are perfect for the mother who likes to sew, loves tea, or just loves a beautiful homemade gift. They are easy to make and so practical! If you'd like to make one, here's what you'll need. You can make it along with Mother's day craft for kid: a button bouquet. And this mother's day gift pendant.
Mother's Day  Craft for Kids: Tea Cup Pin Cushion
This post contains affiliate links. Thanks for the support.
Supplies needed: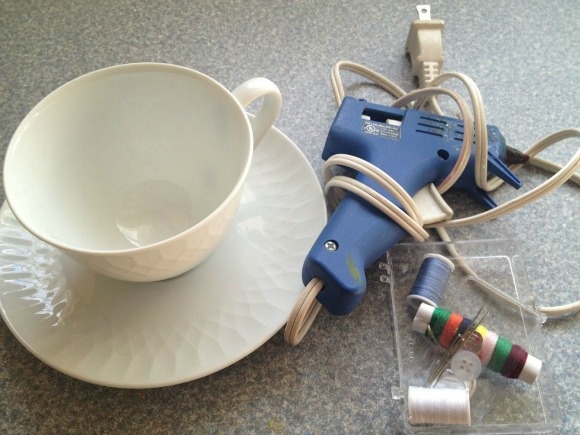 A small teacup (affiliate link) and saucer (if you don't have one just check out your local thrift store or even dollar store for a simple cup and saucer set.)
Poly stuffing (affiliate link) or even fabric shredding will suffice (you can use scraps you already have!)
6-inch circle of coordinating cotton mid-weight fabric
Needle
Thread
Hot glue gun
Sewing pushes pins
Directions for this cute Mother's Day craft for kids:
1. Thread your needle, no knot, and sew a big running stitch all around the wrong side perimeter of the circle of fabric. Leave a long tail so you don't pull your thread through.
2. Gather your circle of fabric into a little pouch, leaving a small hole to stuff through, and tie off the ends securely.
3. Stuff until it's nice and smooth.
4. Using small pieces of stuffing will make this look nicer. Squash it around to make it look even.
5. Apply hot glue in the bottom and sides of your cup. Squash your pincushion down firmly into the glue. Use caution as the glue will be hot!
6. Put some coordinating pins in it and you are done!
As you can see, since hot glue and pins are used, you will want to supervise this craft for kids very closely.
You can add more embellishments such as buttons or rick rack if you wish. Dress this piece up as much as you wish or leave plain. When the glue has had time to set, your cup and saucer are complete and ready for gift giving. I do not even think you need to wrap these as they are attractive enough just as they are!
You can pair your tea cup pin cushion with other sewing notions for gift giving or just give as it is. It is so fun and whimsical, and can be left out as a decorative display piece when not in use. The recipient is sure to find it charming and practical, and you will be sure to find it easy to whip up!
Give a charming, homemade gift from the heart and hands this year! Mom is sure to love it, and so will your budget!
Happy crafting!