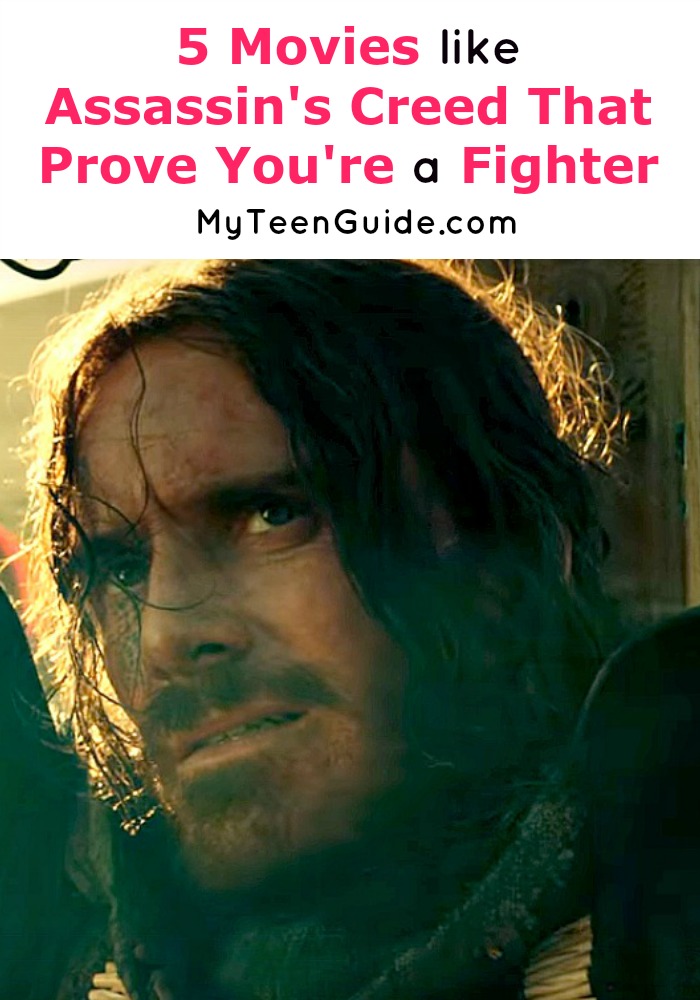 Assassin's Creed 2016 has been very much awaited by so many games, but there are some other movies like it that have a similar feel of heading on an epic and deadly quest. To be honest, I may or may not have binged some of these over the weekend. Rainy days are perfect for a movie like this and I can't wait to see it in theaters soon. I've heard it's supposed to be a much bigger hit then Warcraft was. Whether or not you play the video game, you need to check out all the epic movies like Assassin's Creed!
Related –> The Assassin's Creed Movie Quotes That Will Make You Feel Like A Badass
5 Movies Like Assassin's Creed That Prove You're A Fighter
Assassin's Creed movie is an upcoming action adventure film that is based on the video game series of the same name. It is due to be released in theaters on December 21, 2016, and focuses on Callum Lynch, a career criminal who takes part on a mission orchestrated by the Templar order. Michael Fassbender stars as Callum Lynch. Here are some other great movies like Assassin's Creed.
Shooter
Shooter is a 2007 conspiracy action thriller movie that is based on the 1993 book titled Point of Impact by Stephen Hunter. The movie is about Bob Swagger, a Force Recon veteran who is framed for the assassination of the archbishop of Ethiopia by a group of rogue military agents. Shooter stars Mark Wahlberg as Bob Swagger.
Max Payne
Max Payne is a 2008 neo-noir action thriller movie that is loosely based on the Max Payne video game series. The movie is about Max Payne, an NYPD detective, who is set on getting revenge for the murder of his wife and daughter. He teams up with Mona Sax, the sister of his deceased wife, who also happens to be a Russian assassin and wants to avenge the death of his sister. Max Payne stars Mark Wahlberg as Max Payne and Mila Kunis as Mona Sax.
Prince of Persia: The Sands of Time
Prince of Persia: The Sands of Time is a 2010 action fantasy movie that is based on the 2003 video game of the same name. The movie focuses on Prince Dastan, a fugitive prince, and Princess Tamina, who team up to stop Nizam, a villain who possess a special dagger that can destroy the world. Prince of Persia: The Sands of Time stars Jake Gyllenhaal as Prince Dastan, Gemma Arterton as Princess Tamina and Ben Kingsley as Nizam.
Killer Elite
Killer Elite is a 2011 action thriller movie that is based on the 1991 book titled The Feather Men by Ranulph Fiennes. It showcases the story of Danny Bryce, an assassin who must complete a mission to save Hunter, his mentor. Bryce's mission is to kill Steven Harris, Steven Cregg and Simon McCann, former Special Air Service troopers who are responsible for the deaths of Sheikh Amr's three sons during the Dhofar Rebellion. Killer Elite stars Jason Statham as Danny Bryce, Rodney Afif as Sheikh Amr, Lachy Hulme as Steven Harris, Grant Bowler as Steven Cregg, Daniel Roberts as Simon McCann and Robert de Niro as Hunter.
Hitman: Agent 47
Hitman: Agent 47 is a 2015 action thriller movie, is a reboot of the 2007 movie Hitman and is based on the Hitman video game series. The movie centers on Agent 47, an assassin who is employed with a top secret organization, who joins forces with Katia van Dees in order to find her father, Doctor Piotr Litvenko, who has mysteriously gone missing. Hitman: Agent 47 stars Rupert Friend as Agent 47, Hannah Ware as Katia van Dees and Ciaran Hinds as Doctor Piotr Litvenko.
So are you a fan of the video games? What do you think of these movies like Assassin's Creed, close yes? Nothing will replace the original, but these films do give you that same sense of quest and adventure. Which movie will you add to your list?