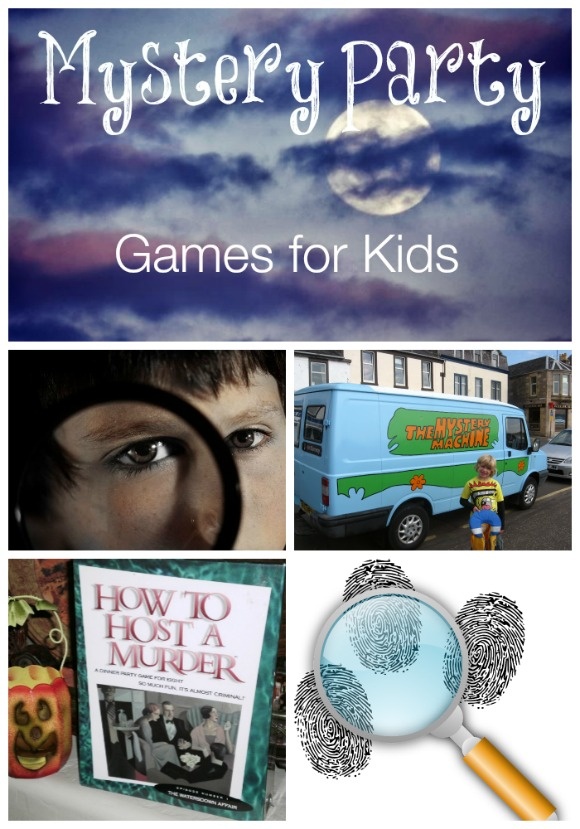 Turn your kids into super sleuths with these fun mystery party games for kids! When you throw a party, having a theme can add a layer of excitement. No theme is more exciting than a good mystery themed party. These parties vary from epically decorated extravaganzas to simple whodunit type fun, but they are never boring. The best part of a good mystery party are fantastic mystery party games. Here are several mystery party games for kids you can incorporate the next time you want to throw a great party!
Mystery party games for kids
Affiliate links included below.
Scooby Doo Scavenger Hunt
This game is perfect for children. All you do is hide little items throughout the party area and create some clues to lead the kiddos to them. The clues can be elaborate or simple depending on the age and you can use Scooby Doo stickers for all the clues and index cards. This game is awesome for the younger investigators. For more Scooby fun, check out our Scooby-Doo party craft for kids!
Host a Murder Mystery
There are countless murder mysteries out there just waiting to be solved and if you are not wanting to create one of your own, plenty of folks are sharing their ideas. Just type in "murder mystery ideas" and you will get all you can ever need. Invite a large group, make up some finger foods and have a ball figuring out who the guilty party actually is. Make it even more challenging by leaving clues using our mystery ink science project!
Dinner Party Mystery Games
This is very similar to the one above, but it is played around the dinner table through mental deduction and reason rather than physical investigation. You never leave your seat to solve this particular brand of mystery. It is wonderful for an evening centered around dinner and a mystery.
Clue
If you have only a handful of guests, a good old fashioned game of Clue can do wonders for your evening. Why make it complicated when the game was the one that started the entire mystery evening craze? Whip out the old board game and have a great evening of laughter and fun.
Costumed Murder Mystery Parties
This is like the murder mysteries noted above, except everyone dresses up and plays a part in the mystery. You actually get to live the mystery and participate in the fun. You can wear costumes, speak in a foreign dialect or possibly even be the killer! Assign positions in the game and let them know well ahead of the evening so everyone knows the part to play. Only the killer should know ahead who is guilty. (Except you, the host, of course).
Despite the fact that mystery party games require a little innovation and preparation, they are well worth the effort in the end. These types of parties are a great deal of fun and they work for all ages. Spend some time organizing one and you will quickly see why they have gained so much popularity over the years. Mystery party games are here to stay!
For more great party ideas, check out our Party Games Pinterest board!
Supplies and Mystery party prize ideas:

 Do you have any favorite mystery party games for kids? Tell us in the comments!