Kids can't quite make it to midnight on New Year's Eve? Planning to go out but still want to do something special with them before your evening on the town? Check out these fun party ideas for kids to ring in the New Year!  This post contains affiliate links.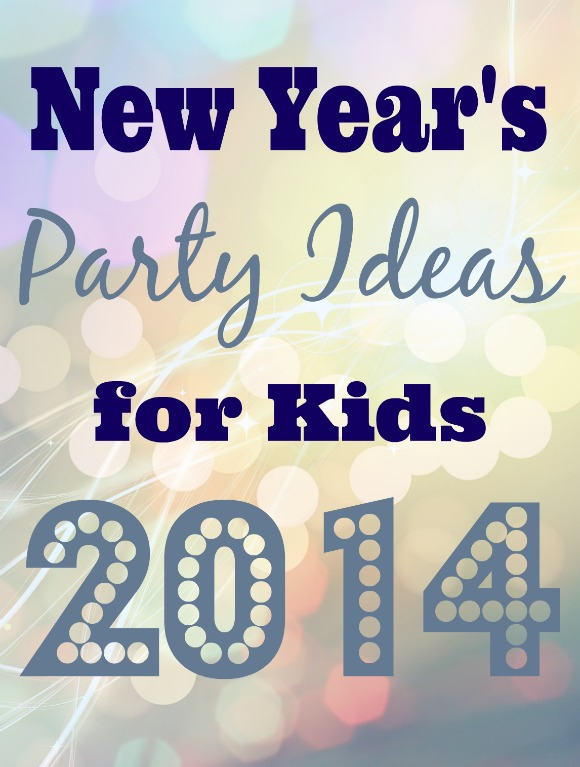 5 Fun New Year's Eve Party Ideas for Kids
1. Bring Times Square to Your Backyard! Trekking to New York City with kids is not fun on New Years Eve. Trust me, I did it as an adult on one of the coldest New Year's Eves in my lifetime! While it was quite an experience, unless you're watching from the comfort of a hotel room (which, alas, I was not!), it's just not a practical place to bring the kiddos. Instead, turn your own backyard into Times Square and host your own kid-friendly version of a Rockin' New Year's Eve Party. Have your kids make their own ball and suspend it from a tree. When the clock strikes "midnight," either real or your own version of midnight, drop the ball from the tree! Make sure to make a few party drinks for kids!
2. Party around the world! It's always midnight somewhere! Use The World Clock to coordinate your party times with midnight in other countries. For example, if you are on the East Coast and want your party to end at 3pm, you can have a Dubai-themed party. Choose foods and decorations from your chosen country. Want to really go all out? Celebrate several different countries throughout the day and evening! This is one of my favorite party ideas for kids because it gives them a chance to experience other cultures.
3. Host an "out with the old" party. Did you get a lot of new toys for kids this holiday season, yet find that you are running out of room in the toy chest? If you have a lot of items that are in great shape, consider donating them to your favorite charity. Make it a fun event by hosting a get-together. The "cover charge" can be an old toy or other item that can be donated. Take the theme further by asking your children to write down an "old" habit that they want to try to break in the New Year.  Put all those "old" habits into a box and bury it in your back yard. Next year, dig it up and see how far you've come! This is one of those party ideas for kids that really helps give back too!
4. New Year's Eve Movie Marathon- Don't have the time or money for the other party ideas for kids on New Year's Eve? A movie marathon can be incredibly inexpensive and easy to put together. Grab a few movies from Redbox, stream them from Netflix or even pull out some of your favorites that you own. Shut the curtains and dim the lights. Set up a comfy nest of blankets and pillows, then settle in with some popcorn. You can either chose a variety of different movies, allowing each family member to pick one, or go with a complete saga. If you're starting early, the Harry Potter Hogwarts Collection is a great family-friendly choice!
5. Get crafty with a New Year's Eve crafting party! Kids love crafts? Gather them around for a fun day of creativity! Start with our Chinese New Year hand dragon and you'll be all set for that holiday. Make a collage from magazines showing off your kids' favorite things about the previous year. Kids can also make sparkly New Years banners, drums out of old coffee containers and more. If you have several kids joining the party, set up different stations throughout the work room.
With these fun New Years Eve party ideas for kids, your children won't even miss staying up until midnight! How do you celebrate New Year's Eve with the kids?