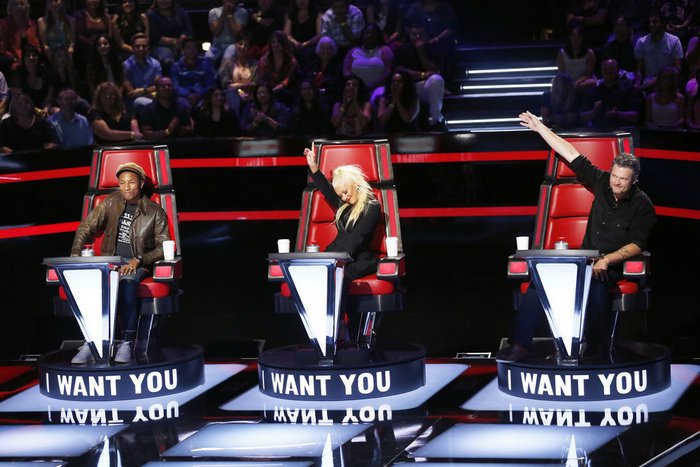 The Voice returned last night for season 10. Miss the action? We have your The Voice Season 10 Blind Auditions #1 and #2 recap right here! Check it out and find out what everyone is talking about! The only coach not returning from last season is Gwen Stefani, although she will return as a mentor this season for Blake Shelton. The 4 coaches for season 10 are: Christina Aguilera, Adam Levine, Pharrell Williams and Blake Shelton. So, let's get this party started!
The Voice Season 10 Blind Auditions #1 and #2 Recap
Paxton Ingram- Dancing on My Own by Robyn- Paxton is a huge fan of Michael Jackson, was a backup dancer for Jennifer Lopez and Britney Spears and now is a hip hop teacher for children. He sings really well but he kind of has a generic voice if you ask me. Pharrell, Blake and Adam turn but he chooses Blake.
Caity Peters- Jealous by Labrinth- Caity is currently in school to become a music teacher, but she loves performing. Her voice is amazing, featuring soul and emotion. She gets a 4 chair turn but ultimately choose Pharrell.
Nick Hagelin- Lost Stars by Adam Levine- Nick chooses to perform an Adam Levine song, very bold move. Nick has a touching story: he was a pro ballet dancer, who decided he wanted to be a musician full time, with encouragement from his wife. His young son was born with joint and muscle disabilities. Nick is definitely a heartthrob here. He has a beautiful voice, lots of emotion and knows how to work the stage. Christina, Blake and Pharrell turn but he chooses Pharrell.
https://www.youtube.com/watch?v=f_eq63Vg-i8
Maddie Poppe- Dog Days Are Over by Florence and the Machine- Maddie is a high school senior, who plays local gigs. She is pitchy and off-key. No turns for Maddie.
Mary Sarah- Where the Boys Are by Connie Francis- Mary is 20 years old, a native of Texas, currently lives and works in Nashville at a shoe store and previously had a record deal but it didn't do a thing for launching her music career. She has a decent voice but I was expecting more of a vintage tone from her with this song. All 4 turn their chairs, but she chooses Blake.
https://www.youtube.com/watch?v=KFvNKjeJQ1s
Mike Schiavo- Talking Body by Tove Lo- Mike dropped out of college to move to Los Angeles to pursue his music career. I really like his voice, it is full of soul and so raspy. Adam, Pharrell and Blake turn, but Mike chooses Adam.
Queen Sassy- Show Me Love by Robin S- Queen is from the Bronx, with a former dance music producer as a father. She is way too confident. This was a huge song but she doesn't have the vocals to sing it properly. She didn't get any turns.
Bryan Bautista- The Hills by The Weekend- Bryan auditioned last season but didn't receive any turns. This time around he is doing much better, with more confidence and some huge notes. Christina and Blake turn, but Bryan chooses Christina.
https://www.youtube.com/watch?v=t8BLe2n2sVA
Abby Celso- Should've Been Us by Tori Kelly- Abby works as a server at the Beer Market in Rochester, New York. She currently sings in a cover band and she recently lost her mom to an aggressive form of cancer. She has a voice that is clear and silky and does a great job hitting the high notes. Adam and Pharrell turn, with Abby choosing Pharrell.
John Gilman- Don't Be Cruel by Elvis Presley- John lives in a log cabin with no cable and no internet. Wow, who does this these days? I really don't like his voice at all. Only Adam turns for him. No surprise there.
Alisan Porter- Blue Bayou by Linda Ronstadt- Alisan played the role of Curly Sue in the movie starring Jim Belushi. She struggled with alcohol in her life but has been sober for 8 years. She has an extremely beautiful voice. She takes this powerful song and totally owns it. All 4 chairs turned, but she chooses Christina.
Here we are for another night of Blind Auditions!
Joe Vivona- Dreaming with a Broken Heart by John Mayer- Joe's family owns and operates an amusement park in New Jersey. I really like his voice, it is a combination of soul and rock. Adam, Blake and Pharrell turn, and he ultimately chooses Pharrell.
Shalyah Fearing- What Is Love by V. Bozeman- Shalyah is just 15 years old, with 3 sisters and 4 brothers. She sings lead in the family band, mainly performing in local coffee shops. She has an amazing voice that sounds so mature. If I didn't already know how old she was, I would guess she was in her early 20's. Only Christina turns for her.
Adam Wakefield- Tennessee Whiskey by Chris Stapleton- Adam was born in New Hampshire and now lives and works in Nashville. His brother died of a drug overdose, which affected him pretty hard. I like his voice. It is strong and raspy. He definitely has a country tone with some blues and soul tossed in. Adam and Blake turn and ultimately Adam chooses Blake.
Caroline Burns- So Far Away by Carole King- Caroline is 15 years old and auditioned last season, with no turns. Like last season, she still sounds way too young. Adam and Blake turn, with her choosing Adam.
Natalie Clark- All Right Now by Free- Natalie is a former teacher and her dad is a jazz guitar player. She has a good voice, rocker style of sorts. The problem is her pitch is all over the place. No chairs turn for her.
Emily Keener- Goodbye Yellow Brick Road by Elton John- Emily lives in Ohio on land that is forested. She started playing guitar at age 10 and started writing songs at age 12. She kind of reminds me Lorde as far as vocals and tone. All 4 chairs turn and Emily chooses Pharrell.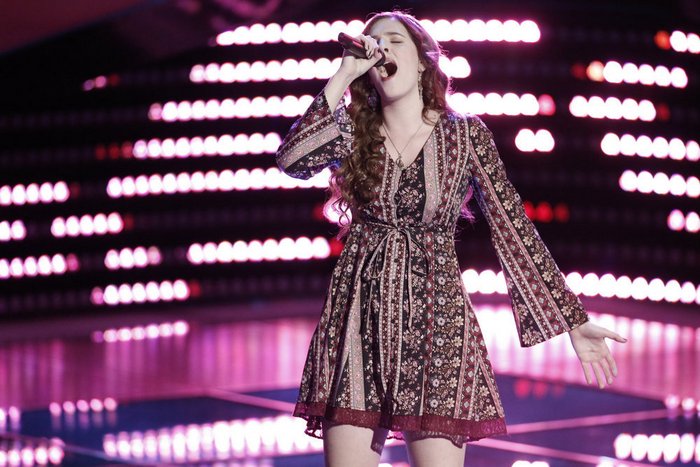 Laith Al-Saadi- The Letter by Joe Cocker- Laith is 36 years of age, sang in a choir when he was younger and learned to play guitar as a teenager. He has been touring as a musician since the age of 16, opening for greats like Greg Allman and BB King. Pretty impressive so far. And boy can he play a mean guitar. Blake and Adam turn their chairs, and Laith chooses Adam.
Angie Keilhauer- I Hold On by Dierks Bentley- Angie moved to Georgia from El Salvador. She worked on a cruise ship as a singer. She has a great country voice. I love her. Beautiful country tone. Adam, Pharrell and Blake turn, where she ultimately chooses Blake.
https://www.youtube.com/watch?v=CR1dz4RGCmQ
Theron Early- Amazed by Lonestar- Theron started his singing career in a youth choir. He currently performs in a piano bar. He has a good voice but I don't think it is just good enough. He doesn't get any turns, no big surprise.
Kata Hay- Redneck Woman by Gretchen Wilson- Kata grew up in Oklahoma but moved to Nashville to pursue her music career. She learned in her early 20's that she was adopted and just recently lost her mom. She has a great voice and a ton of personality. After her performance, she makes out with Christina. Okay, that was awkward and weird. Anyways, Christina, Adam and Pharrell turn and yes, she chooses Christina.
Smooches! Watch #ChristinaAguilera lock lips with a contestant on #TheVoice! https://t.co/ia4GggAHhm pic.twitter.com/1lLk6npqEQ

— Perez Hilton (@PerezHilton) March 2, 2016
Next week will be Blind Auditions #3 and #4. Here is who is who on each of the coaches' team!
Team Blake
Paxton Ingram
Mary Sarah
Adam Wakefield
Angie Keilhauer
Team Pharrell
Caity Peters
Nick Hagelin
Abby Celso
Joe Vivona
Emily Keener
Team Adam
Mike Schiavo
John Gilman
Caroline Burns
Laith Al-Saadi
Team Christina
Bryan Bautista
Alisan Porter
Shalyah Fearing
Kata Hay
So, who are you cheering for after reading our The Voice Season 10 Blind Auditions #1 and #2 Recap? Tell us in the comments!