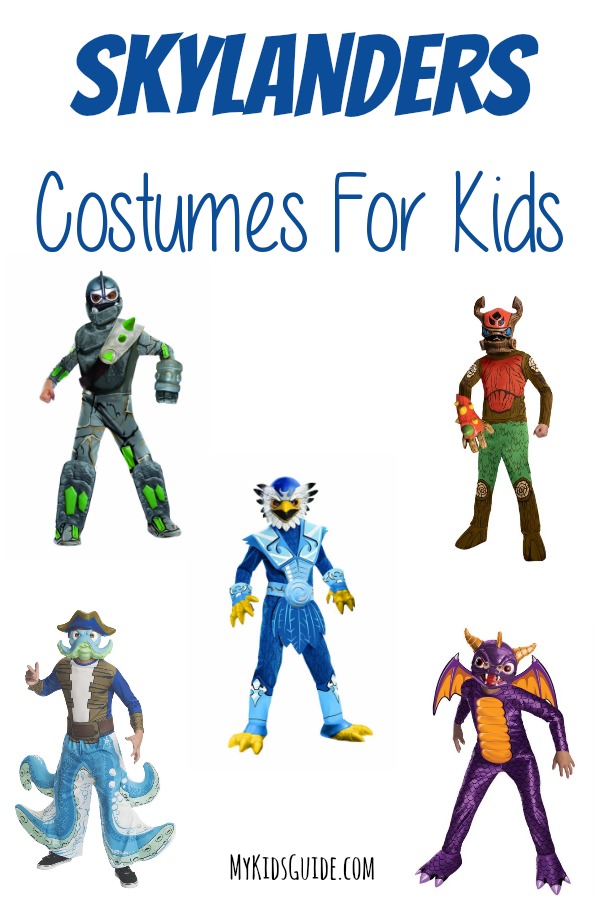 With Halloween just around the corner it is time to start thinking about great fun costumes for your kids.  If you have a Skylanders fan in the house, here are some awesome Skylanders Costumes For Kids!  Not only are they their favorite characters, they are great quality and deluxe editions so most won't require extra stuff to be purchased to complete the look.  This year dress your kids in style with their own fun Skylanders costume from our favorites list!
Related Posts:
SKYLANDERS COSTUMES FOR KIDS
This post contains affiliate links. Thank you for the support.
Spyro The Dragon Costume:  Don't let your kids miss their chance to be imaginative and play their favorite dragon this Halloween.  This Spyro The Dragon Costume comes in multiple sizes to fit your kids!

Skylanders Swap Force Stink Bomb:  Available in multiple sizes this one is a ton of fun to wear for Halloween parties and events!

Skylanders Box Tree Rex:  This one is a favorite in our house and can be the perfect costume for your kids this year too!  Available in multiple sizes you can't go wrong with Box Tree Rex!

Skylanders Giant Deluxe Crusher Costume:  Everyone loves Crusher and this is a fun perfect costume for all ages!

Skylanders Chop Chop Costume:This one is the one all the boys want to be!  Master of magic and technology Chop Chop is always popular!

Skylanders Swap Force Wash Buclker:  Another fun costume for the Swap Force.  This one is playful and easy for any age to wear!

Skylanders Giants Deluxe Jet Vac Costume: Available in multiple sizes, your son can dress up like Jet Vac this year and feel more powerful than ever!

Dressing up for Halloween is always fun.  Going with Skylanders costumes for kids theme will keep your kids up to date on the latest trendy characters and games.  Whether they want to be a good guy, bad guy or simply mix it up and create a whole new theme, these costumes are great deals.  Most costumes are available in sizes small to extra large, and suitable for kids of all ages.
Check with school rules regarding costume wear before buying for a school function just in case.  Many schools won't allow masks or weapons of any kinds on a costume.  While these are mostly tame without weaponry, the masks could pose a problem if that happens to be your child's school rule.  No matter which costume you choose, Skylanders is sure to be a great theme for your kids this year!
Which of these Skylanders costumes for kids would your child love the most?