Don't miss a single craft for kids, sign up for our WEEKLY NEWSLETTER. & Get Your Bonus Code for our Giveaways.
This fun Spider-Man Mask Craft for Kids post contains affiliate links. We only recommend stuff that we'd use ourselves!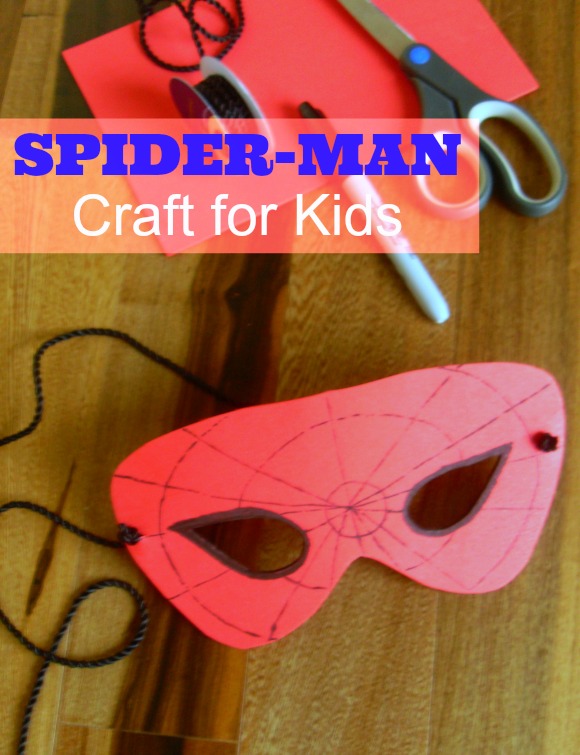 If you've decided to throw a Spider-Man party then you've probably already taken a look at our ideas for Spider-Man Party Games for Kids.  In between playing these great party games, take some time to have the kids create a fun Spider-Man mask craft!  This Spider-Man mask is perfect for kids of all ages, is easy to make and they'll want to wear it for the remainder of the party.
Spider-Man Mask Craft for kids
Supplies:
elastic or cording
hole punch
scissors
permanent marker
While this example is for a Spider-Man mask craft for kids, you may want to have other colors of foam for children to make masks to represent their favorite super hero or villain.
Instructions:
Step 1
Before the party, take time to cut the craft foam into mask shapes.  This can be done easily by folding the foam in half to ensure the mask is the same on both sides.
Step 2
Allow the children to draw on the masks with the markers or to decorate their mask with additional craft foam and glue depending on their super hero choice.  Spider-Man was very simple and children can easily draw their own web onto the mask.
Step 3
Carefully use the hole punch to create a hole for the elastic or cording to be attached.
Step 4
Slip a length of cord or elastic through the hole and tie a knot so it will not slip back through.  Repeat this step on the other side too.  Tie a knot at the other end of the cord to keep it from fraying.
That's it!  Each child at the party will have a fun and creative mask to wear during all those fun Spider-Man party games! Isn't it a cute craft for kids?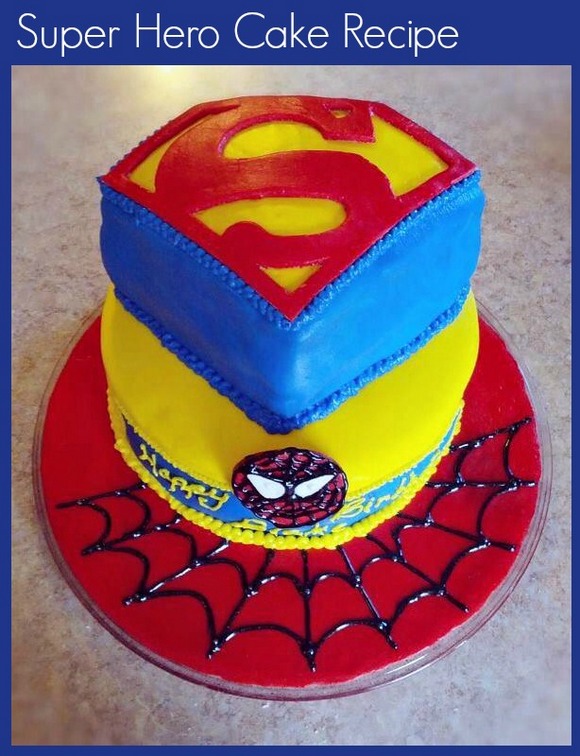 Spider-Man Party Food ideas
In addition to this great Spider-Man mask and party games for kids,  no party is complete without party food!  In addition to a great Spider-Man Cake recipe, consider some of these ideas for snacks and treats.  Of course cupcakes and cookies decorated with our hero's face are a great option but what about Spider-Man face individual pizzas?  Use English muffins or bagels for individual pizza crusts and let each child create their own face with fun pizza toppings.
Spider-Man deviled eggs are another fun idea.  Make your deviled eggs as you normally would but add some red food coloring to the filling.  Cut and use black olive pieces to make spiders for the tops of each egg!  Bright red berries mixed with blue berries are a colorful and healthy snack that would work perfectly for a Spider-Man Party as well.  Be sure to check out our Spider-Man Cake for the perfect dessert for your party! Looking for other party ideas suggestions, check out our party ideas section.
OTHER SpiderMan Related Posts
Want more Spiderman inspirational finds? Follow Our Pinterest Board
Follow MyKidsGuide's board Spiderman Crafts & Games For Kids on Pinterest.