We received Granny's Candies to facilitate this Super Duper review about educational games for kids. All opinions are our own.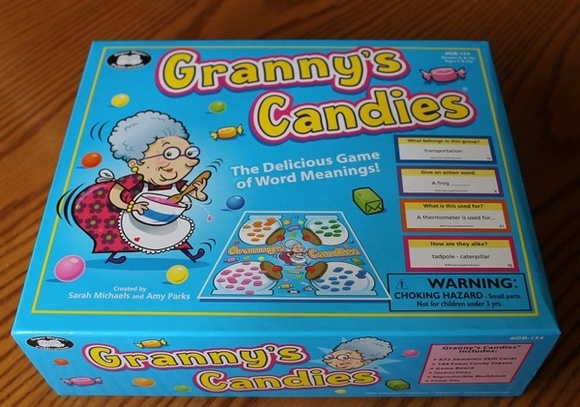 I've been madly in love with Super Duper ever since I found out about them last year. If you haven't heard of them, they're an incredible resource for educators, homeschoolers and parents looking for educational games for kids. Like insanely incredible. Their online catalog is just massive. At Super Duper, you'll find games for kids of all ages and learning levels. They also offer a massive library of occupational tools for kids with different challenges, such as language and auditory delays, autism and more.
Prevent Summer Slide with Granny's Candies & other Educational Games for Kids
You've seen us review other Super Duper games for kids in the past. Olfa checked out a few of their fun games like Lids'n Lizards & Fun Deck cards with her daughter last summer. Right before Christmas, Katie did an amazing Super Duper review about all the fun educational toys for kids they offer that make great stocking stuffers and gifts. This time, I checked out Granny's Candies with Jacob, since we're both really into word games.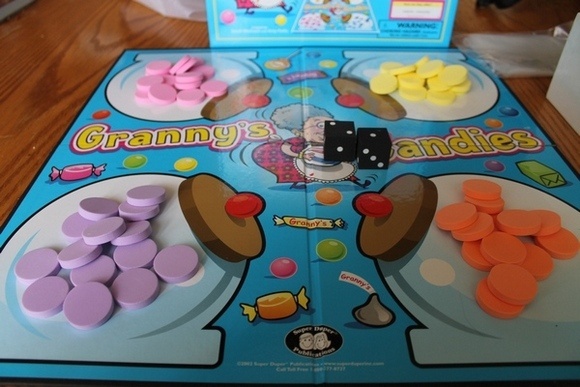 Granny's Candies comes with a whopping 672 question cards across eight different categories, plus a game board, dice and plenty of "candy" to go around. To play:
Put the candies in the candy jars on the game board. Pass around category cards to all the players (or, if you have enough players and you want to be the "asker," skip this step and just keep the cards in front of you).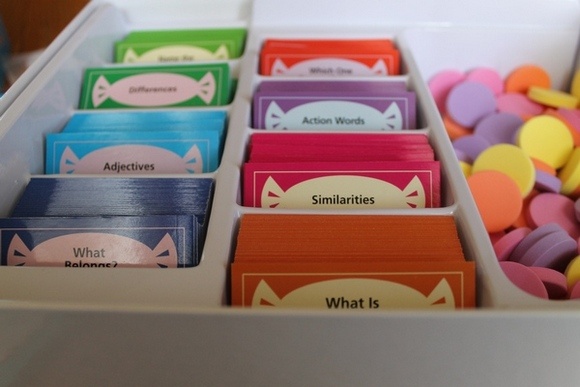 If you're playing with just you and your child, take turns asking questions. You can either stick with a category that your child needs to work on, or switch up categories.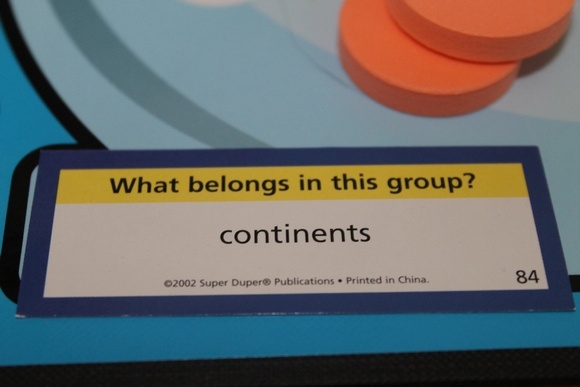 When a player gets the right answer, he rolls the dice, then gathers that many candies from one of the candy jars.
The game ends when the jars are empty, or after a set amount of time.
Like most Super Duper games for kids, this game has several variations. Want to make it a shorter game? Give each child a set number of candies and ask them to "stock the jars." Each correct answer allows them to put the number of candies on the dice back in the jar. The child who is out of candy first wins. Make it a longer game by giving out all the candies to start with. Personally, I like playing it the first way, where they remove the candies. Why? Because it's easier to clean up! All the kids have their own "candy bags," so for cleanup they just have to dump them back into the box!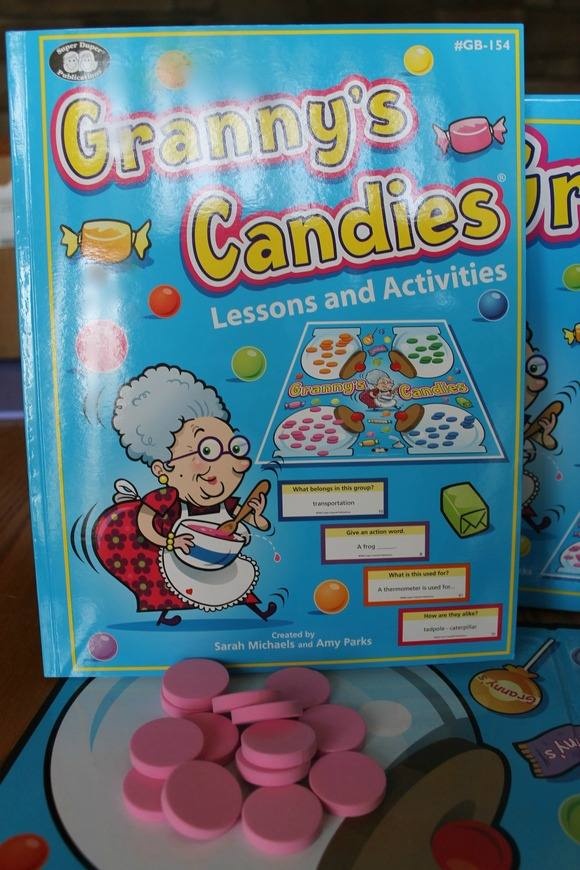 The directions are also an activity book! Kids can take the game even further by completing the different worksheets in the book. The book also has answers for the questions on the cards, although you're free to decide what types of answers you'll accept.
More fun Educational Games for Kids from Super Duper to Stop Summer Slide
Looking for more great educational games for kids from Super Duper to help your kids retain all that knowledge they learned during the school year. A few other amazing games include:
Say and Glue- With several different variations, these activity sheets help kids learn phonological and language skills. Kids cut out the scene, say the words at the bottom of the page, then glue the pictures onto the different scenes.
Sentence Fill-In Deck– This is one of my favorites. Kids look at hilarious cards, then fill in the missing parts of the sentence with their own ideas of what is going on. Each card has four potential answers at the bottom, but only one is correct. Of course, if you want to make it more challenging, hide those words and ask kids to come up with their own.
Understanding Sentences deck:  This activity deck challenges kids to make connections between what they see, hear and read. In the first level, kids look at the picture, then listen to or read a sentence that fits. In the second level, it gets more challenging because kids hear the sentence first, then find a matching picture.
Super Duper Publications has hundreds of different educational activities and games for kids to help stop summer slide. Visit the Super Duper Website to view their massive, beautiful online catalog. I've spent hours on their site exploring, so be forewarned. Check out Super Duper on Facebook, Twitter, Youtube and Pinterest.
Super Duper Giveaway
Over. Congrats to Wendy H.