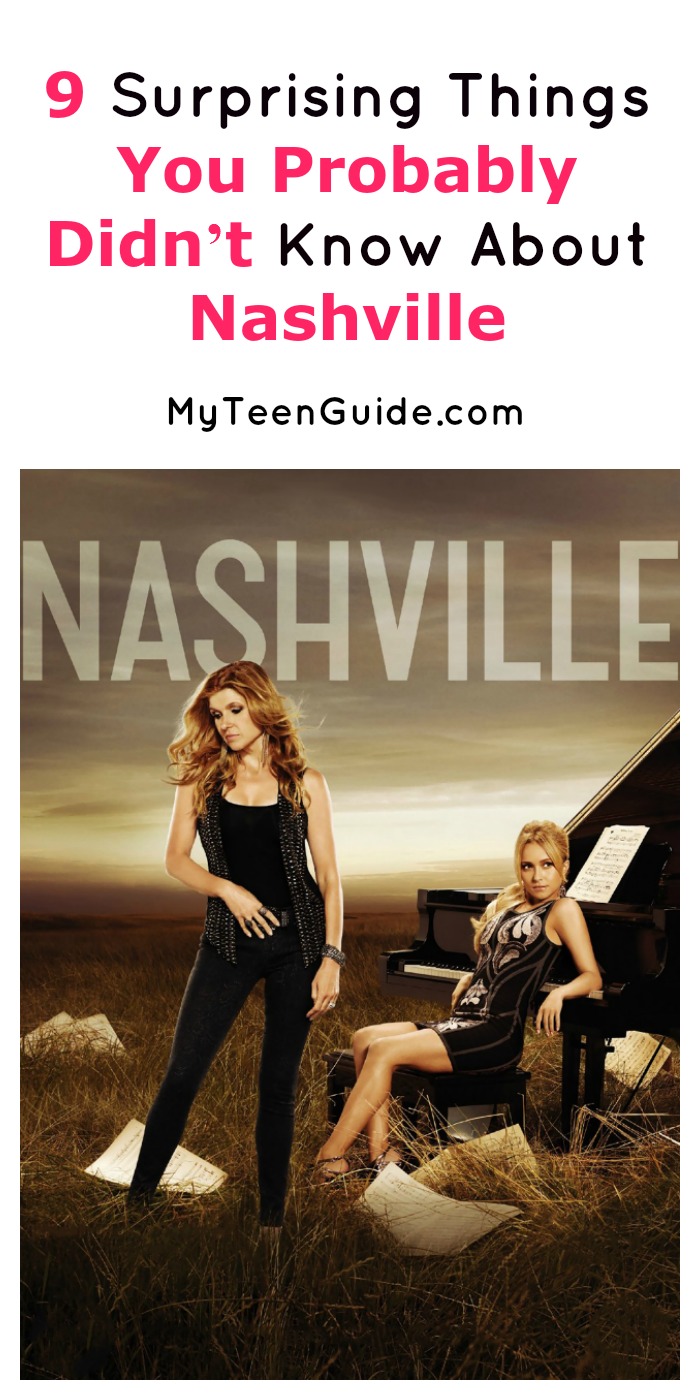 Think you know everything there is to know about the Nashville TV show? We're betting you didn't know these 9 surprising Nashville trivia facts! I'm guessing you already know the basics, like the fact that that Nashville is one of the hottest musical drama television series around. You probably even know that it features a ton of guest stars who play themselves.  But did you know that show's creator is married to the show's music producer? Here is that and some other surprising things you likely may not have known about Nashville.
Nashville Trivia: 9 Surprising Facts About the Show
Callie Khouri, Nashville's creator and executive producer, is married to T-Bone Burnett, Nashville's executive music producer for season 1.
2. Sam Palladio, who plays the role of Gunnar Scott, is from the United Kingdom. When he auditioned for the role of Gunnar, he did so online, since he had never been to the United States before.
3. Sam Palladio and Clare Bowen, who plays the role of Scarlett O'Connor, are faking their southern accents on the TV show. Palladio is from the United Kingdom and Bowen is from Australia.
4. Jonathan Jackson, who plays the role of Avery Barkley, is best known for his role on General Hospital as Lucky Spencer. He played the role of Lucky, the son of Luke and Laura Spencer, from 1993 to 1999, 2009 to 2011 and in 2015. He has played the role of Avery on Nashville since its inception.
5. Maddie Conrad and Daphne Conrad are sisters on the TV show, but did you know they are sisters in real-life too? Lennon Stella, who plays Maddie, was born on August 13, 1999 and Maisy Stella, who plays Daphne, was born on December 13, 2003.
6. Lennon Stella went to the prom, in April of 2016, with Chase Puskar. Chase is the real-life son of Charles Esten, who plays the role of Deacon Claybourne, Maddie's father on Nashville. Did you all follow that?
7. Oliver Hudson, who played the role of Jeff Fordham is seasons 2, 3 and 4, is the real-life brother of actress Kate Hudson and the real-life son of actress Goldie Hawn.
8. If you thought the episode titles of the first season of Nashville sounded familiar, that is because they are. Each episode of the season was named after a song by Hank Williams, including There'll Be No Teardrops Tonight, Lovesick Blues and Someday You'll Call My Name.
9. And while we are on the subject of season titles, season 2 titles were named after songs by female country artists, including I Fall to Pieces by Patsy Cline, Hanky Panky Woman by Loretta Lynn and It's All Wrong, But It's All Right by Dolly Parton. Season 3 and 4 episode titles were songs done by various country artists.
So, how did we do? Were you surprised by any of these Nashville trivia tidbits? Share any other surprising facts about Nashville that you know in the comments!